As stated by CRN, in 2021 the annual revenue of Amazon Web Services hit the $71B record point. With the largest customer base on the market, AWS is one of the top three providers of Cloud services. Such entertainment giants as Twitch and Netflix have already leveraged the AWS infrastructure to host their scalable applications. As a result, these companies were able to quickly expand their infrastructure to cover millions of customer requests and cut down spending on physical servers.
Whilst AWS provides enterprises with a broad range of services for Cloud migration and development, businesses struggle to choose which options best suit their business needs. That is when they rely on AWS consultants—dedicated specialists who analyze the client's business needs and current system's state to build a cost-effective Cloud strategy. But what to expect from cooperation after you find AWS consultants? What characteristics describe a qualified AWS Cloud computing expert? And why shaking hands with AWS Advanced Consulting partners like N-iX is a win-win agreement?
Discover answers to these and other questions in our article.
Why do you need to hire AWS consultants?
Going for AWS consulting offers a wide variety of advantages, from avoiding redundant Cloud spending to improving infrastructure reliability, and enhancing the app's performance. Let's tap into the other benefits AWS consultants can provide:
Resilient and adaptable architecture
Utilizing architectural best practices ensures the high scalability and sustainability of your Cloud applications. One of the ways to create a solid foundation for your system is to find AWS consultants that incorporate the AWS Well-Architected framework. This is a set of principles that cover the six pillars of operational excellence, security, reliability, performance efficiency, cost optimization, and sustainability. By measuring your system against the Well-Architected framework, you develop a consistent approach to risk management and increase the business value of your solution.
As a member of the AWS Well-Architected Program, N-iX has proven to have solid AWS knowledge and can help you thoroughly assess and enhance Cloud workloads.
One of the most important advantages of partnering with AWS consulting experts is cost optimization. By implementing the AWS best practices you can pinpoint the mismanaged resources, eliminate them and, as a result, take control of your expenses. N-iX is one of the tech vendors with the AWS Advanced Consulting Partner status—a verification of our vast technological expertise and customer success within the AWS ecosystem. N-iX clients, such as Gogo, Lebara, TuneIn have already cut down spending after implementing AWS cost optimization strategies.
Smooth Cloud migration processes
Knowledge is power, and this is especially true when we talk about potential risks. There are aspects you want to know before you embark on your Cloud journey, such as whether your workloads are Cloud-compatible, what hindrances might occur during Cloud migration and how to deal with them.
So, if your project scope spans Cloud migration, you need an in-depth analysis of your current system. For instance, AWS consultants at N-iX conduct the migration readiness assessment (MRA). Our experts carry out a comprehensive check-up of your Cloud infrastructure to identify Cloud optimization prospects and security vulnerabilities. As a result, the AWS migration consultants will have an understanding of the system's strengths, weaknesses, and possibilities in terms of the Cloud and will know if the migration is possible. The assessment allows you to perform effective Cloud transformation, without wasting costs on migrating the malfunctioning workloads.
Related: Top 30 Cloud migration companies in the world
Stable system performance
Another reason to hire AWS consultants is the enhanced app stability—they can help businesses set up or optimize application performance management workflows. Jointly with Cloud computing specialists, you can implement autoscaling patterns to reduce Cloud consumption and enhance the system's stability under the increased load.
Moreover, your team of AWS consultants for hire will assist you in monitoring the system's health. With effective error detection in place, your Cloud developers are able to timely identify and troubleshoot the root cause of app performance issues.
What are the key experts in the AWS consulting team?
When you hire AWS consultants, keep in mind that the required tech skills, expertise areas, and even the involved roles would differ from project to project. Let's say, you need to implement a Cloud-based solution that could be used to collect and analyze your business data. In this case, you require AWS specialists with backgrounds in Big Data, Data Analysis, and Machine Learning. Some vendors, like N-iX, hold the official AWS Data & Analytics Competency partner status, meaning they have a rich portfolio of AWS data-related projects and strong information security policies in place.
However, no matter of your project specifics, all Cloud specialists on your team need to have profound knowledge of AWS services, as well as network deployment and Cloud security principles. The project's success depends on the joint efforts of every member of the AWS Cloud computing team which typically includes:
1. Solution Architects
The certified AWS Solution Architects will help you analyze your current business problems and develop a solution strategy. Since resilient architecture is the foundation of the application's effective performance, hiring qualified Solution Architects that apply the best industry practices is a must. For enterprises that already have a Cloud architecture in place, the tech experts conduct thorough assessments of the infrastructure and identify the vulnerabilities. At this stage AWS migration consultants at N-iX might offer you a Well-Architected review—in other words, check whether your architecture aligns with the best practices and suggest upgrades.

Another aim could be to find AWS consultants that will focus on defining the vision of the final product. In this case, AWS Solution Architects perform the Product Discovery—the team makes the initial decision on the Cloud development or migration strategy based on your business needs. Look for tech consulting specialists that can present you with a clear strategy for how Cloud computing will impact your business. For example, AWS consultants at N-iX conduct AWS Immersion Day workshops, where they introduce a client to a particular AWS service and describe its key advantages for business.
2. Delivery Managers
After the client and Cloud consultants agree upon the project strategy, that's when Delivery Managers step in. They act like mediators, ensuring smooth communication between the client and the team. Delivery Managers are accountable for the timely delivery of the AWS project and its matching to the required performance targets. Some other tasks of Delivery Managers in AWS projects include managing expenses for Cloud-native services, ensuring the agility of processes, and preparing compliance reports. With seasoned Delivery Managers, you can expect high-quality and successful deliverables, so you won't have to pay twice for redevelopment.
3. Cloud developers and DevOps engineers
The implementation of your Cloud application is in the hands of your engineering team. It consists of developers responsible for coding and scaling solutions in the AWS environment. Every specific project might involve engineers of different specializations such as Big Data or Machine Learning, depending on the solution. Other essential experts on your team are DevOps engineers who set up the infrastructure, build the development and updating processes, as well as implement automation that will let developers focus on their tasks. Moreover, skilled DevOps experts can help you optimize the costs for Cloud applications by selecting the AWS services that best suit your business.
4. QA engineers
The stable performance of your system and its scalability under a given workload are of utmost importance. This is the main task of QA engineers, who pick the right testing strategies, run load and performance tests, as well as develop scripts to run automated tests in a Cloud environment. Moreover, QA specialists perform Cloud security testing to ensure that the infrastructure can safely host the confidential data of your enterprise.
What features differentiate qualified AWS migration consultants?
Your Cloud computing team composition depends on your project size, business needs, and even industry. However, there are some general requirements you will have to consider when looking for skilled AWS experts:
1. Practical tech competencies
Profound tech skills are a must if we are speaking about partnering with seasoned Cloud computing experts. Let's look through a checklist of essential expertise your AWS consultants for hire should possess:
Analytical skills that allow them to define tech requirements for an AWS-based solution and decide upon AWS services that match your business needs;
Solid command of the AWS core services, namely, computing, networking, databases, storage, as well as Cloud infrastructure deployment and management;
Deep understanding of network technologies, such as DNS and ELB services, AWS Direct Connect, and Amazon Virtual Private Cloud;
Practical knowledge of the AWS security features, including encryption, key management, and threat detection;
Hands-on experience with the Amazon Infrastructure as a Code tools, namely AWS CloudFormation;
In-depth knowledge of the architectural best practices, such as AWS Well-Architected Framework.
2. AWS certifications and designations
If you want to find AWS consultants with industry-recognized credentials, look for Cloud specialists with the "AWS certified" status. Accreditations from the provider validate advanced technical skills and strong Cloud experience. The list of in-demand certifications among AWS experts includes AWS Certified Solutions Architect, AWS Certified DevOps Engineer, and others.
In addition, you might also research your potential partner's AWS designations to check whether they align with the competencies you look for. As of November 2022, N-iX has received six AWS designations, including Public Sector, AWS Lambda Delivery, Amazon RDS Delivery, Amazon Kinesis Delivery, Amazon DynamoDB Delivery, and Amazon Gateway API Delivery. These recognitions issued by the provider confirm the proven customer success within the field and guarantee successful project outcomes.
3. Qualification level
The average seniority level of your AWS consultants for hire has a direct impact on your project's outcome. Cloud specialists with a solid track record in AWS are more likely to systematically analyze Cloud setup possibilities and provide services of the highest quality. In fact, to receive some recognized professional certifications, such as the AWS Certified Solutions Architect, one must have no less than two years of hands-on experience in designing and deploying Cloud architecture on AWS. Therefore, if you are looking for AWS specialists, pay attention to Middle and Senior experts with 5+ years of proven experience with Amazon Web Services.
For instance, the average experience of Middle AWS consultants at N-iX spans over 5 years, while our Senior specialists have mastered their AWS competencies for around 12+ years. The vendor's Lead experts have no less than 12 years of experience in AWS Cloud computing.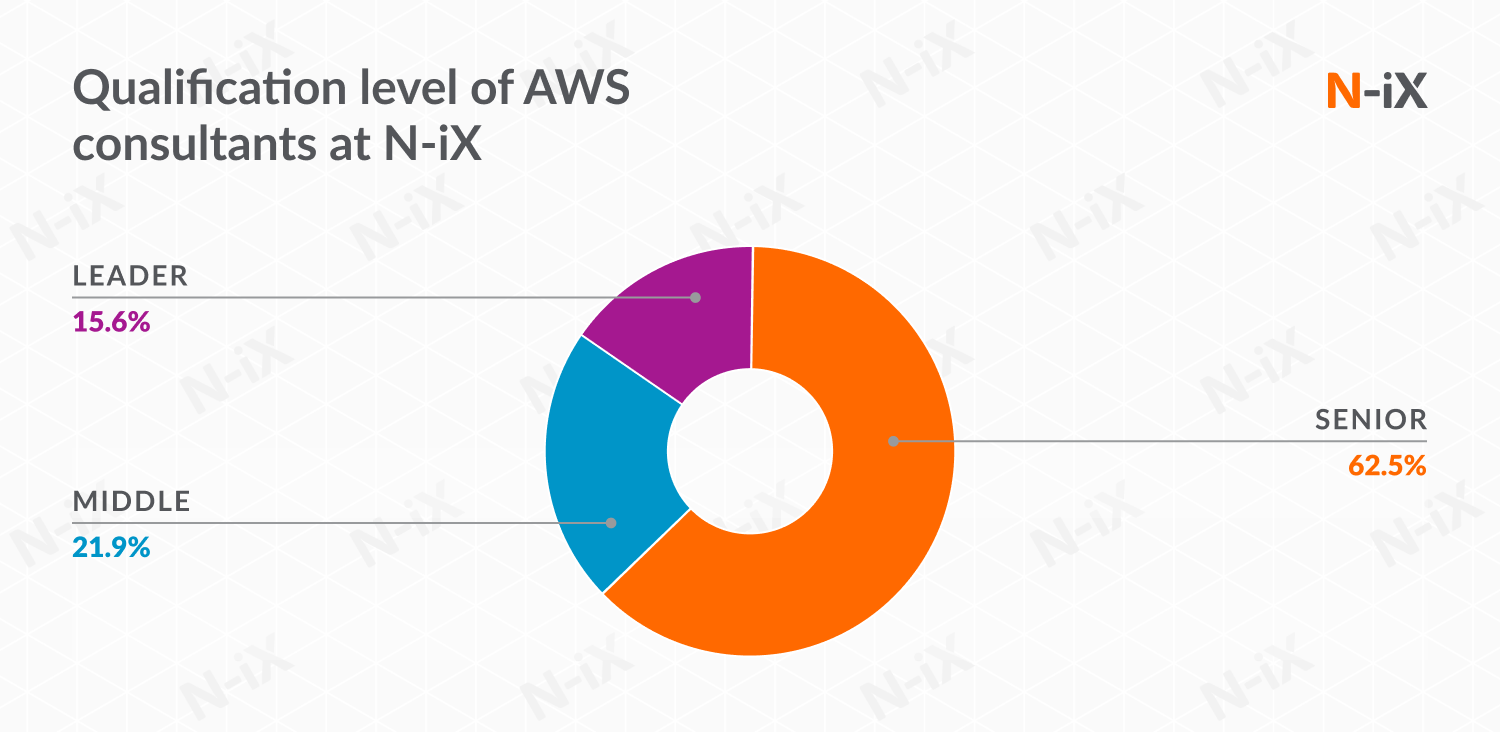 The high professionalism and vast experience of your Cloud computing team members ensure sustainable business outcomes. Let's view how it worked in the case of cleverbridge and N-iX.
Success story: Expanding of a global e-commerce provider with an AWS-based solution
Cleverbridge is a German-based fintech enterprise that provides e-commerce and subscription management solutions for monetizing digital goods, SaaS, and online services across multiple domains. The vendor needed to provide one of its largest clients with more detailed and visually informative data analytics reports. The key cooperation aim was to upgrade the existing solution so that it could present the client's subscription dynamics in a more visually informative way.
N-iX engineers approached the challenge by performing an extensive Product Discovery. During the project, our team of AWS consultants elaborated an effective data strategy as well as implemented an AWS-based data platform. First of all, the company's experts have utilized AWS DMS to identify and extract data from the client's on-premise database in near-real-time mode. Moreover, they implemented the data transfer to AWS S3 where all the information has to move through three layers: bronze (raw data ingestion), silver (filtered, cleaned, and transformed data), and gold (business-level aggregates). Subsequently, the consolidations of data from the gold layer ended up in Power BI. Moreover, the N-iX team introduced data governance hosted both on AWS and Snowflake.
As a result of cooperation with N-iX, cleverbridge managed to:
Satisfy the needs of its important customer and gain actionable visual insights into their business data. This, in turn, helped them to perform data-driven decision-making and attract more customers.
Enhance information security related to effective data governance of the data platform.
Increase business decision-making capabilities by allowing to use the application internally to be able to analyze client performance.
Why should you rely on AWS consultants from N-iX to make the most of your Cloud journey?
N-iX is a global tech consulting and software development service company with 20+ years of market experience in manufacturing, logistics and supply chain, fintech, telecom, retail, and other domains;
Our 400+ Cloud specialists are well-grounded in a wide range of services, including AWS infrastructure analysis, Cloud infrastructure setup, Cloud migration, Cloud performance optimization, well-architected review, and more;
We have 50+ certified AWS professionals on board and possess 6 AWS designations, including AWS Lambda Delivery, Amazon RDS Delivery, and more;
N-iX is an AWS Advanced Consulting partner, has established a partnership with Google Cloud Platform, and received the Microsoft Gold Cloud Platform Competency status;
Our Cloud portfolio spans over 150 successful AWS cooperations with market leaders such as Gogo, cleverbridge, Currencycloud, Fluke, and others;
N-iX specialists adhere to recognized standards, namely ISO 27001:2013, ISO 9001:2015, GDPR, PCI DSS, and more.
Have a question?
Speak to an expert
Orest Furhala
Head of Partnerships
---