When it comes to outsourcing software development, Eastern European and Asian countries are among the most common choices for Western companies. However, these two IT outsourcing destinations contrast a lot in terms of culture, mentality, and way of doing business. So what about their IT industry development?
To answer this question, we've made a comprehensive analysis of software development market dynamics in Ukraine (the biggest Eastern European IT outsourcing hub) and in leading Asian countries. We hope our analysis will help you choose a reliable partner to fit your specific business needs.
Software development market in Ukraine
IT is one of the most vibrant and rapidly developing sectors of the Ukrainian business ecosystem. According to PwC, IT sector in Ukraine has grown by 15-20% over the last 4 years (from $2.5B to $4.5B). The country holds its number one position among European countries and 4th globally by the number of IT talents. Over 192,000 IT specialists are employed in 1,600+ IT outsourcing companies in Ukraine, providing a wide array of services related to technology development. According to Bloomberg Innovation Index, the country is ranked 53rd for its adoption of innovations and came ahead of India by four places. Moreover, Ukraine has moved 25+ positions up over the last few years in the World Bank's Ease of Doing Business 2019 and now holds the 71st place, while India, for example, is ranked 77th.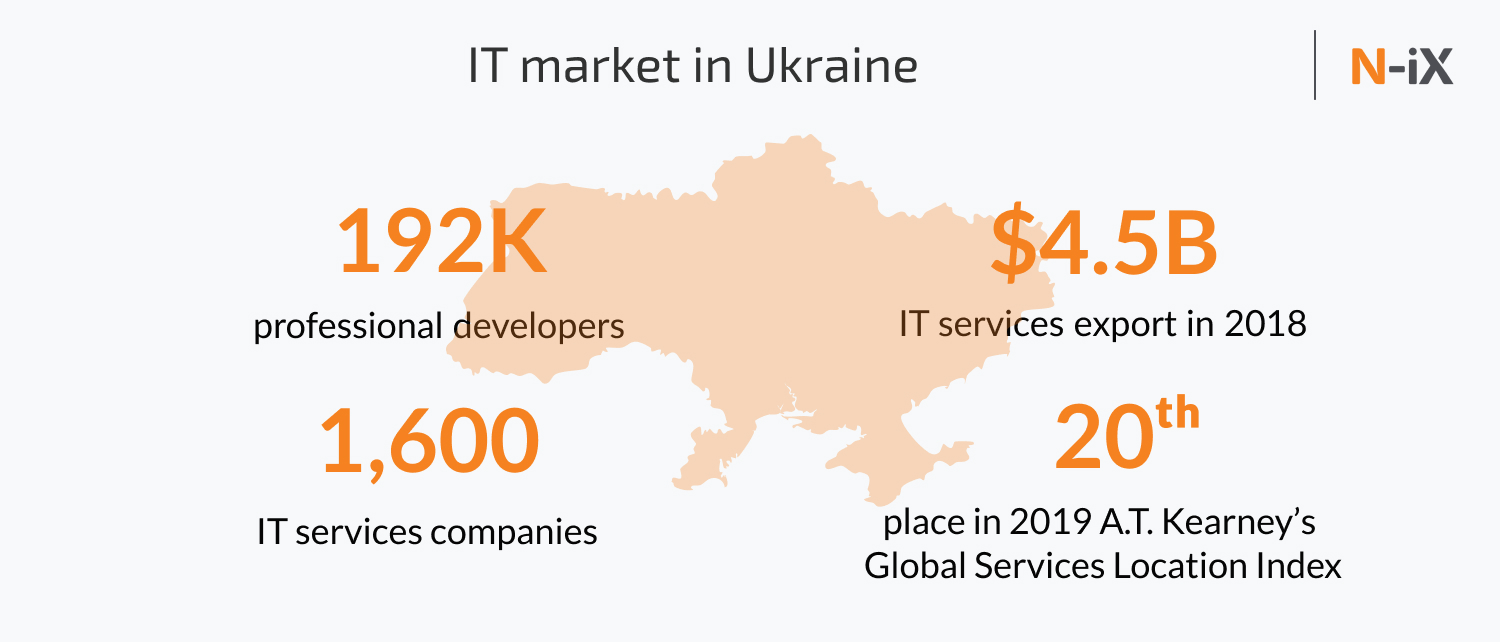 Ukraine is attracting numerous international companies to set up their innovation centers here. More than 100 R&D offices of global giants such as Microsoft, Samsung Electronics, Apple, Boeing, Skype, eBay, Siemens, IBM, etc. are located in the country. Moreover, 15 Ukrainian IT companies, including N-iX, have been recognized among the best outsourcing providers in 2019 Global Outsourcing 100 list by the International Association of Outsourcing Professionals (IAOP). No wonder Ukraine was named the Offshoring Destination of the Year by Global Sourcing Association (GSA) and was included in Gartner's top 30 offshoring and outsourcing destinations.
An Overview of Key IT Outsourcing Destinations in Asia
Forrester forecasts that business and government spending on tech goods and services in Asia Pacific will grow by 3.3% in 2017 and 5.7% in 2018.
India
India remains an undisputed industry leader among Asian countries due to its breadth of English-speaking labor. In 2019 A.T. Kearney's Global Services Location Index, the country holds its number one position in terms of financial attractiveness and talent availability. According to Nasscom, Indian IT sector employs more than 2.75M professionals with the inflow of over 230,000 employees during the last years.
Currently, there are around 200 multinational corporations operating in India and around 500 companies offering outsourcing services to clients from 66 countries. The Indian IT market generated revenues of $181B during 2018 compared to $146.5B in 2015, at a CAGR of 10%. Such software development growth rate is attributed mostly to the country's population size, which is around 1.36B, and a high youth rate (about half the population under 25).
However, the president of the software association Nasscom highlighted the need to upgrade the skill base in India for digital and consulting domains. Thus, despite the vast availability of resources within the country, it still struggles to compete with the majority of the US and European countries in terms of digital technology adoption. In addition, India faces competition for its BPO workforce from smaller countries which can offer niche strengths or higher service quality that outweighs any cost advantage.
China
Many researchers believe that China is just a few steps away from catching up with India as the leading Asian IT outsourcing destination. A.T. Kearney ranks China the second largest exporting country. Its IT talent pool reached 590K software developers in 2018. Furthermore, the country's software development industry is expected to generate $940B in 2018, growing strongly at CAGR of 13.9% over the last five years. This growth is stimulated by a strong demand from downstream software users and solid pricing levels.
Chinese IT industry development has also been supported and encouraged by the government. A number of policies favoring the software and electronic industry were introduced, fostering significant growth in these sectors. Nevertheless, according to Amcham China survey, around 52% of respondents believe that the risk of IP leakage and data security threats is greater in China than in other Asian regions. This remains a major bottleneck for many international companies that look for a reliable software outsourcing partner.
The Philippines
The Philippines are also gaining ground in high-value fields such as software development and BPO. Last year, PSIA president Jonathan De Luzuriaga said that Philippines global IT market share will increase from the current 12% to about 15%. According to the PSIA (Philippine Software Industry Association), around 190K software developers are employed in the country, and this number is expected to reach 210,000 by 2022. Local IT industry is now worth around $3.2B and is expected to grow its share to up to $5 by 2020.
The Philippines have a high presence of growing youth population, being one of the world's largest English speaking nations. Accenture, Visa and other global companies have recently opened their delivery centers in the country. While the World Bank estimates that BPO revenues can potentially grow to more than $50B and provide 2.6M more jobs (twice more than today), A.T. Kearney's analysis is significantly less optimistic. Due to unstable political situation in the country and lack of properly educated employees, IT and BPO sectors development in the Philippines are likely to slow down.
Malaysia
Malaysia maintains the third place in 2019 A.T. Kearney Global Services Location Index ranking 15 years in a row. The country remains an attractive IT outsourcing destination in the areas such as gaming and animation services. Moreover, its government is striving to increase the ICT contribution to GDP to 17% from 13.1%, which was mentioned in the 11th Malaysia Plan (2016 – 2020). The Globalization and World Cities Research Network (GaWC) has rated Malaysia's capital Kuala Lumpur as a number one city, which means it remains a vital contributor to the local and global economy. Even though software development companies in Malaysia are increasing in numbers, there is still a shortage of skilled candidates for the growing number of positions. According to Hays Recruiting company, the country lacks qualified specialists in the areas of IT security, business analytics, iOS & Android development, and SAP Consultancy.
Singapore
Singapore is an internationally-recognized hotspot for commerce and business. Along with developed business infrastructure, sectors such as software development, IT outsourcing and consulting are also actively deploying robotics and automation solutions. The software market reached $4.5B in 2018 with an estimated pool of 180K professional developers. The 2019 A.T. Kearney's Global Services Location Index puts Singapore at the 34th place, and World Bank's Ease of Doing Business 2019 scores Singapore as the 2nd best country.
Moreover, Singapore is the offshore home to many global corporations, including Citibank, Credit Suisse First Boston, Hewlett-Packard, IBM, and Microsoft. What's more, multinational venture capital companies like Wavemaker partners, Sequoia Capital and East Ventures and GIC, Tamasek and multiple developmental funds and initiatives have made local business ecosystem attractive to entrepreneurs and investors. Nevertheless, Singapore has a limited IT talent pool. That is why many local IT companies import workers from India, China, and other Asian countries or simply outsource the job to subcontractors.
Wrap-up
On the whole, countries like China, the Philippines, Singapore and Malaysia face increasing competition from Eastern European dedicated service providers. Regardless of India still being preferred for its inexpensive price rates and a huge labor force, European IT outsourcing destinations such as Ukraine can easily compete in terms of service quality and reliability. Ukraine is constantly building up strengths regarding its competitiveness, availability of expertise, quality of IT services, and the size of the IT industry. The country offers a great price to quality ratio and a developed IT infrastructure to scale projects of any complexity.
In case you have any questions regarding the topic or want to establish a long-term partnership with a dedicated team from Ukraine, feel free to contact our experts.

---