Developing a solid tech infrastructure and keeping it up-to-date with industry standards is no easy task. Some companies don't have sufficient resources to manage technical capacities independently. That's when IT consulting services shine bright. The global tech consulting niche now accounts for nearly 20% of the global consulting market, also showing a compound annual growth rate of 2.5%. Consulting, in this regard, can include developing new products, modernizing legacy systems, or improving your product with tech advisory.
If you need to leverage innovation fast, getting a helping hand from a reliable consulting company is an intelligent solution. Finding a reliable vendor can be complicated if you want to cover a specific consulting request, such as refining product design or assessing security threats. For that reason, we've prepared a list of twenty IT consulting companies that can help you fulfill your business needs. Let's explore these top IT consulting firms together.
Selection criteria
With more IT consulting companies emerging on the market, making the right choice can be more complicated. According to Clutch, over 22,000 global IT companies are providing consulting services. To help you select the most reliable vendor, our team has prepared a list of the leading IT consulting companies. We referred to Clutch as a reliable source of client reviews when compiling the list. What's more, the crucial selection criteria we relied upon were:
250+ skilled tech experts. Midsize and large enterprises provide access to a vast pool of tech specialists;
10+ Clutch reviews with high review scores (4.7+) to prove the vendor's reliableness and responsibility;
10+ years of expertise in IT consulting services and market presence;
A well-rounded portfolio of IT consulting projects with client references and testimonials.
We focused more on consulting rising stars than well-known vendors, such as Accenture or McKinsey, to help you gain an insight into other market players that can consult and deliver IT services. This way, we don't ignore established industry leaders, offering you a different perspective on rising consulting providers with proven domain expertise.
20 best IT consulting companies across the globe
We've included only IT consulting providers with a history of making their clients more self-reliant in adopting new digital standards. Besides merely listing these companies, we've added relevant information on their founding year, the number of employees, HQ, and key clients. Let's find out what these top IT consulting firms are one by one.
1. N-iX
N-iX is one of Europe's top software developers and tech consulting vendors, with 2,000+ experts on board. Since 2002, the company has formed strategic partnerships with Lebara, Gogo, Fluke Corporation, and numerous Fortune 500 enterprises. With delivery centers across Europe, this company delivers product discovery and data analytics services. N-iX has also been featured in various industry ratings, such as GSA UK, Software 500, IAOP, CRN, Forbes, and others.
This vendor has diverse expertise in the consulting niche that addresses diverse technological needs. In particular, the company provides tech consulting in Cloud Transformation, ML, AI, Business Intelligence, Data & Analytics, Embedded Software, IoT, RPA, and Enterprise platforms. The crucial benefit of N-iX is that it combines consulting with software development delivery capacities. The result is a stunning range of case studies in manufacturing, retail, fintech, telecom, healthcare, agritech, energy, and logistics.
2. ELEKS
A notable name in the domain of IT consulting, this company has been operating on the market since 1991. It has provided consulting services in finance, healthcare, logistics, retail, and other industries. Initially founded in Lviv, Ukraine, the company is headquartered in Tallinn, Estonia. The company has 1,500+ experts with a dedicated tech consulting department.
3. Avenga
Headquartered in Cologne, Germany, this vendor has 3,000+ tech-savvy experts on board, focusing on software development and consulting services. The company specializes in Cloud, AI, CRM, and Business Intelligence solutions. As for the industries, Avenga has a portfolio of projects delivered for the automotive, insurance, real estate, and finance industries.
4. Sigma Software
Another notable name in the tech consulting niche, the company was founded back in 2002. The company has delivered dozens of advertising, marketing, education, and automotive projects, with key clients being Volvo, Scania AB, and AstraZeneca. The team has extended resources for consulting purposes, featuring more than 2,000 experts on the board.

5. Skelia
One of the top IT consulting firms and a well-known software provider from Ukraine, Skelia has 300+ experts focusing on engineering, team extension, and consulting. The company's portfolio includes projects delivered for SiteCore, GS1, and Valo Intranet. This vendor also has delivery centers in Poland, Ukraine, and Luxembourg.
6. ITRex Group
One of the most notable European software providers, ITRex Group, also delivers tech consulting services to its clients. Headquartered in Aliso Viejo, US, this vendor has been operating for 12+ years on the international market. With delivery centers in Ukraine, Poland, and Georgia, ITRex Group provided consulting services to companies such as Dollar Shave Club, Warner Brothers, and Walmart.
7. Grid Dynamics
This software vendor has been operating since 2006 and has delivered various projects in Data Science, Machine Learning, and Computer Vision Solutions. With 1300+ tech experts on board, Grid Dynamics offers varied engagement and contractual cooperation models. The company's portfolio features solutions delivered to Fortune 500 companies and custom consulting solutions for midsize enterprises.
8. CHI Software
This Ukraine-originated vendor has 16+ years of experience delivering custom software and consulting services. Currently, CHI Software has 600+ experts and 500+ satisfied customers, which are astonishing numbers on their own. Concerning tech consulting, the company has sufficient expertise in Cloud Computing, IoT, AI, Machine Learning, and Big Data.
9. Future Processing
Founded in 2000, Future Processing is a Polish software vendor and provider of tech consulting services to global customers. Headquartered in Gliwice, Poland, this company also has delivery centers in Ukraine, Germany, the UK, and Switzerland. This reliable partner provides consulting services on strategy, discovery, BI, and digital transformation.

10. Mentormate
For 20+ years, Mentormate has been one of the top IT consulting firms that has also shown excellence in software development. With 800+ tech experts, Mentormate operates across 7 global offices and provides services in 19 countries. Originating in Bulgaria, Mentormate now serves clients globally by delivering tech consulting solutions in Cloud Leadership, Big Data, Foundational Research, and Design Strategy.
11. Polestar Solutions & Services
Founded in 2012, Polestar Solutions & Services has acquired decent experience in software development, tech consulting, and cloud technologies. Headquartered in Noida, India, the vendor positions itself as a regional leader in Data Analytics & Cloud Infrastructure consulting. With 400+ experts on the board, this vendor has delivered projects to Fortune 500 companies and was named one of India's fastest-growing companies.
12. Techno Global Team Inc
Since 2012, Techno Global Team has been one of the top IT consulting firms combining offshoring and consulting services under its umbrella. Having 250+ experts on the board, this vendor has partnered with solid clients, including PACE Technical, TechMD, and Scorptec Computers. With primary expertise in offshoring, tech consulting services are provided by request.
13. CISIN
This software development and tech consulting vendor has 10+ commercial experience in providing these services worldwide. The company's profile looks credible, with a solid portfolio of clients, including UPS, Nokia, and Amcor. Not to mention that the company has 1,000+ experts specializing in ML, AI, Business Intelligence, and AR/VR technologies.
14. BEETSOFT Co
This service provider has specialized in BPO, custom software development, and tech consulting since 2014. With 250+ tech experts on the board and a vast portfolio of global projects, such as NEC, Hyundai, and Annotell, Beetsoft has earned its badge in this list. As for the specialization, this Vietnamese-originated company focuses on solutions integrations and technical reviews.
15. Kyanon Digital
Kyanon Digital is one of those IT consulting companies with 10+ years of experience delivering digital transformation and development solutions. In its expertise range, the consulting department of 250+ experts focuses on digital transformation, technical assessments, and digital user experiences. With two delivery centers in Vietnam and Singapore, this vendor also features a solid portfolio with delivered projects for Starbucks, Samsung, and Accenture.
16. Uplers
Headquartered in Surry Hills, Australia, Uplers positions itself as a company allowing clients to hire top Indian developers for their project needs. With 1,000+ specialists on the board, this vendor now provides tech consulting services. Its primary expertise areas have been product discovery, infrastructure updates, and design services.
17. WillDom
This software development and consulting vendor has been operating in the LATAM market for 10+ years. The company's primary profile has been delivering sports, healthcare, cloud management, and entertainment projects. Except for its outsourcing profile, it's one of those IT consulting companies with a solid portfolio of projects for GoDaddy, McDonald's, and Sephora.
18. BairesDev
This software development and tech consulting vendor provides its services to clients across the globe. With a strong presence in the form of delivery centers in Argentina, Bolivia, El Salvador, Paraguay, and Ecuador, BairesDev has a team of 1,000 experts. Its portfolio includes midsized clients in healthcare, information technology, and finance.
19. Keyrus
Headquartered in New York, US, Keyrus is a well-known provider of consulting and development services on the global market. With 2,000+ specialists on the board, the company focuses on developing innovative data and digital technology solutions for performance management. Its portfolio cooperates with well-known companies, such as Danon, Shake Shack, and Heineken.
20. Softwire
An IT service provider with 20+ years of experience, Softwire also provides tech consulting services for its clients. With a solid portfolio of cases for BBC, RSA, and David Lloyd Clubs, this vendor has 250+ experts on board to work on your specific project. Its primary focus on consulting includes Cloud, DevOps, AI, Business Intelligence, and Technology Strategy.
Read more on the topic: Top 12 tech consulting firms for your digital transformation journey
Wrap-up
While the overall number of companies providing IT consulting services is impressive, it can become harder to choose a reliable vendor. The mentioned IT consulting companies are established service providers in the tech consulting niche. They are well-known for their expertise and a portfolio of delivered projects. Still, it's of good use to pick the vendor from the list and learn the criteria for choosing one, as follows.
How to choose the best IT consulting company
Once you have a long list of consulting companies, it's the right time to find one that will become a reliable partner for your project. Below, you can find essential steps that make the selection process smoother:
Identify the expertise you need to improve. Whether it's a technology adoption, modernization, or solution scaling, point out your business objective. This way, it'll be easier to match your needs with a particular vendor's expertise in the field.
Review the tech expertise. Some IT consulting companies deliver only technology advisory. In contrast, others capitalize on dedicated R&D. If you need help with product discovery or cloud transformation and advisory, opt for the consulting vendor with a proven track record in the field.
Assess the company's portfolio. Reviewing the vendor's portfolio is crucial when identifying the needed expertise. Opt only for consulting companies with a proven record of successfully delivering cases.
Browse through client reviews. As an extra measure, you might look at some client reviews at Clutch. They usually include information on tech expertise and project specifications, which you can find helpful in your project.
Make up your mind. After thoroughly considering tech expertise, portfolio, and reviews, it's time to contact a selected vendor and negotiate the project details.
Why choose N-iX among other consulting companies
N-iX is a reliable global vendor with 20+ years of experience and a proven record in tech consulting, software development, and strategy execution;
The company's diverse expertise in tech consulting includes Experience and Product Design, Cloud Transformation, Data & Analytics, Data Science and Machine Learning, Embedded Software and IoT, and Robotic Process Automation;
N-iX's portfolio comprises tech consulting projects for Lebara, AVL, OVO Energy, and a range of fortune 500 companies;
The company has a reputation as a trusted service provider, which is proved by numerous awards and industry ratings, such as IAOP, GSA, CRN Solution Provider 500, Clutch, and others;
N-iX adheres to international industry standards, namely, ISO 27001, ISO 9001, PCI/DSS, and GDPR.
Have a question?
Speak to an expert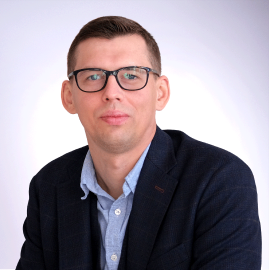 Dmytro Ovcharenko
Director of Technology Office
---