As stated in the Kearney report, Poland is the most alluring outsourcing destination among CEE countries. Since 2019, it has climbed up 11 points in the ranking, mainly because of its financial attractiveness and increasing activity of start-ups. Due to high service quality, wide domain expertise, and developed infrastructure, many top businesses choose Poland as a location for their custom software development project. Here are the other factors that contribute to the popularity of offshore development in Poland:
The country has an impressive tech talent pool of around 525,100 IT specialists.
Clutch lists over 1,230 Polish tech companies, which is one of the most significant numbers in CEE. In comparison, Ukraine is home to approximately 970 IT outsourcing vendors, and around 550 companies reside in Romania and the Czech Republic combined.
Such tech giants as Google, Amazon, Microsoft, and others have chosen Poland to establish their R&D centres here.
What are other reasons to opt for offshoring to Poland? How to choose a reliable vendor in Poland? How to make the most of offshore development in Poland? Let's find out together.
Offshore development in Poland: Market overview
In this part, we will cover critical aspects that define Poland as an offshore software development destination.
Poland boasts the 6th largest GDP in the EU, which amounts to $570.2B, with a share of IT export of $10.513M.
As an EU member, Poland is a reliable and secure offshore development destination. Also, the country is subject to the General Data Protection Regulation (GDPR).
It is a favorable location for business, according to Doing Business 2020, where the country is ranked 40th among 190 countries around the globe.
A.T. Kearney recognizes Poland as one of the most prominent (13th) outsourcing destinations for its financial attractiveness and favorable business environment.
Poland is ranked 14th among the top 50 digital nations, according to the Tholons Services Globalization Index 2021.
The professionalism of Polish specialists is proven by various rankings. For instance, developers from Poland have made it to third place in the SkillValue ranking and to tenth in the TopCoder.
Offshore development in Poland: Education and tech expertise of Polish developers
According to the recent ABSL report, nearly 33% of Polish tech specialists are working for Shared Services Center (SSC) / Global Business Services (GBS) companies, 32% are working for IT outsourcing vendors, and an additional 18% are employed by BPO outsourcing firms.
High qualification level
Poland houses experienced talent: 42% of the overall number are middle developers, and 32% are senior specialists and tech leads. The largest part of junior experts is among QAs and Data Science experts.
Diverse tech and industry expertise
As for the technology stack in the country, the most popular programming languages and technologies are JavaScript, Java, C#, C++ and .NET.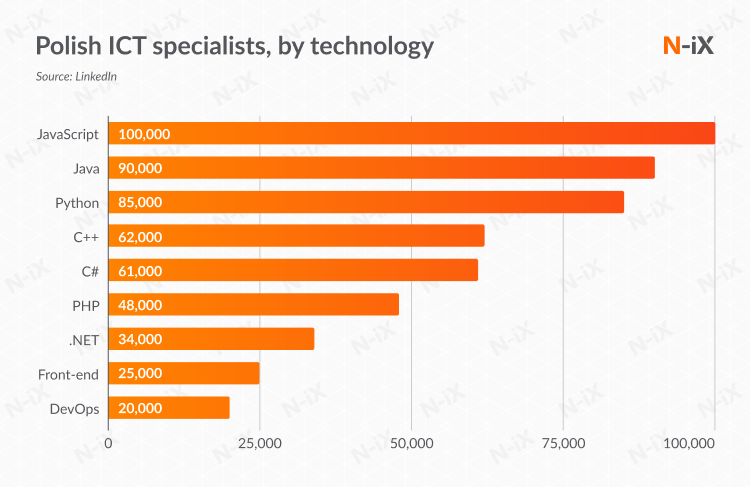 Polish professionals leverage their tech experience to help businesses from a wide array of industries. Financial services, e-commerce, business services, healthcare, consumer products and services, and telecom domains benefit from cooperation with Polish vendors the most.
Strong ICT education system
According to the Bulldogjob report, the vast majority of Polish software engineers have a university degree. 38% of professionals have Masters degrees, and 27% have Bachelor's or Engineer's degrees.
Every year about 13,500 ICT students graduate from Polish universities, and about 68,000 students are studying to become software developers. Over half of Polish tech professionals (55%) have studied computer science, and 30% have degrees in other technical fields.
Strong command of foreign languages
Developers in Poland have a high foreign language proficiency. All respondents surveyed by Bulldogjob speak English. That is also proven by the English proficiency index, where the country is listed 13th (very high proficiency) among 100 countries in the world. Other languages that appeared in the survey were German, Spanish, French, and Italian.
Professional conferences
30% of surveyed specialists state that conferences and meetups are an important source of new information. One of the reasons for this is that many tech conferences are conducted in the country. For instance, the ACE! Agile conference, the largest tech event in Central Europe, takes place in Krakow.
Now, we will explore Polish IT hubs such as Warsaw, Krakow, Wroclaw, Katowice, Tri-City, Lodz, and Poznan.
Major IT hubs for offshore software development in Poland
Poland is known as the country with the most significant talent pool in CEE. The country has seven major hubs, which are home to over 85% of all tech professionals in the country. The vast majority of them live in Warsaw and Krakow.
1. Offshore software development in Warsaw (Poland)
Warsaw houses over 82,500 Polish software professionals. However, the competition for talent in the capital is fierce as the number of outsourcing companies and R&D centers here is one of the most significant in Poland. The city is recognized by Tholons Services Globalization Index 2021 as one of the best cities in terms of digital innovation.
Also, Warsaw is a source of annual talent inflow with over 3,000 ICT graduates entering the market annually.
2. Offshore software development in Krakow (Poland)
Krakow boasts the most significant number of tech professionals in the country. This number exceeded 93,000 experts in 2022. The number of IT outsourcing companies is lower in Krakow than in Warsaw, so the competition for tech talent is also lower.
On par with Warsaw, Krakow is also recognized as one of the top cities in terms of digital innovation in the world. Also, Krakow houses over 200 startups, including Brainly, Airly, Synerise, Sinterit, FindAir, and others. The city has also been recognized as one of Europe's top 60 startup- and scale-up cities, according to the European Digital City Index.

3. Offshore software development in Wroclaw (Poland)
Wroclaw is home to a talent pool of 59,500 professional developers. Wroclaw is known for its collaboration with city authorities to create a healthy business environment and the availability of offices across the location.
4. Offshore software development in Katowice (Poland)
Katowice houses a rather impressive number of Polish software developers. In 2021, the number of tech professionals in the city reached almost 29,500. 1,400 ICT graduates join the market annually in this IT hub. IT outsourcing vendors in Katowice work mainly with businesses from Poland, the US, and France.
5. Offshore software development in Tri-City (Poland)
Tri-City is a combined area of Gdansk, Gdynia, and Sopot and has united a tech talent pool of 34,000 software developers. Due to the developed city infrastructure and the level of wages, this region is known as an alluring outsourcing spot. Сompanies of Tri-City work with clients from the US (37.9%), Nordic countries (16.4%), and Poland (16%), according to ABSL.
6. Offshore software development in Lodz (Poland)
Unlike other IT hubs in Poland, companies from Lodz cooperate primarily with Asian countries. Also, local professionals have experience in collaborating with businesses from Nordic countries. The business services sector in Poland 2021 report by ABSL recognizes Lodz for a significant increase in the number of new R&D centers, joint programs with tech universities, and high wages level.
7. Offshore software development in Poznan (Poland)
Poznan is known for working primarily with businesses from North America. 23.9% of local IT companies offer services to the US clients. 21.9% of clients that opt for offshore software development in Poznan are based in Germany. This city is the smallest on our list and houses only 22,000 professional developers.
Now, let's proceed to the main reason why you should opt for offshoring software development to Poland–cost-effectiveness. What are the rates of Polish professionals?
Offshore development in Poland: Compensation strategies
The cost of living in Poland is lower than in Western European countries. The cost of living index amounts to 44.7, as compared to Germany with 66.0, the United Kingdom with 63.6, and the USA with 74.2.
No wonder the rates are also 20-50% lower than those in Western Europe or the United States. The average salary of a developer differs between the cities. Warsaw and Wroclaw have the highest monthly rates. According to Bulldogjob, on average Polish software engineers in the capital get around $2,000 per month, which is almost four times lower than the same salary in the USA, However, that does not hamper the quality of services provided, as the cost of living is also lower.
What's more, the country boasts favorable tax conditions for businesses. Krakow, for instance, is one of 14 special economic zones which grant income tax exemptions to interested investors. In doing so, the local government creates favorable conditions for the growth of the tech market.
How to choose a reliable partner for offshoring software development in Poland?
Analyze the major IT hubs of offshore software development in Poland in terms of their rates, availability of talent, and the experience of the local developers;
Compile a long list of vendors in the chosen location and assess them based on their service quality, expertise, and security standards, such as ISO 27001:2013, PCI DSS, ISO 9001:2015;
Keep in mind the size of your potential provider of offshore development in Poland as mid-size and large vendors are more likely to have enough recruitment capabilities and resources you need internally;
Look for a provider of offshore development in Poland with a strong portfolio of software products similar to yours, preferably in your industry;
Review the customer references and testimonials of your potential provider of offshore software development in Poland;
Make sure your provider of offshore development in Poland complies with key crucial international security regulations;
Ask your potential partner for offshore development in Poland these questions to ensure the provider is reliable.
Wrap-up
Poland is a prominent IT outsourcing country that provides high-quality services to businesses worldwide. This destination has both human capital and versatile expertise, making businesses opt to offshore software development to Poland over other countries.
Here are the top four reasons for offshore software development to Poland:
Vast tech talent pool (more than 525,100 tech professionals);
Versatile expertise in different industries;
Attractiveness of a business landscape proven by high positions in numerous rankings;
IT hubs all over the country and convenience of the location.
Why choose N-iX as your offshore development partner in Poland?
Founded in 2002, N-iX has been a major player in the global IT market ever since. The company has provided offshore development services to such industry leaders as Bosch, Siemens, Lebara, Opentext, Gogo, and a wide array of Fortune 500 companies. With R&D centers in Krakow and Wroclaw (Poland), we help clients cooperate with the best talent in CEE. In addition to that, we hire top experts across 25 destinations in Europe and Latin America, providing you access to the talent pool of 1M+ seasoned professionals. N-iX also boasts an excellent reputation that is supported by industry recognition (awards by Clutch, GoodFirms, OpenText and Microsoft partner, GSA, Inc. 5000, Software 500, IAOP, and many others).
References
The 2020 A.T. Kearney Global Services Location Index
Future of IT 2023 Report by Emerging Europe
The Tholons Global Innovation Index
Polish IT community 2022 report by Bulldogjob
Business services sector in Poland 2022 by ABSL
Ease of Doing Business Worldbank Group Report
TopCoder Country Rating
EF English Proficiency Index 2023
European Digital City Index
PayScale
---