Costa Rica has recently emerged as an outsourcing hotspot in the Latin American tech scene, attracting major industry players like Amazon, Intel, HPE, and VMware. The country has gained recognition due to its stable business climate, skilled workforce, and governmental support of the ICT domain. What are the other key reasons major organizations opt for software development in Costa Rica? And what aspects should you keep in mind when partnering with local vendors to build a custom solution? Read on to find out.
Tech talent pool in Costa Rica: Key insights for businesses
Costa Rica has become a go-to destination for many businesses from North America and Europe looking to access a large pool of skilled technology professionals. The local workforce is highly skilled in software development, cloud computing, legacy system support and cybersecurity. But what else besides the diverse tech expertise makes Costa Rican tech talent stand out in the Latin American market?
A large number of ICT professionals
One of the key reasons for staff augmentation in Latin America are extended talent pools, and Costa Rica is not an exception. The country has over 45,000 tech specialists, concentrated mainly in major IT hubs such as San Jose, Heredia, Alajuela, and Cartago. According to Tholons, San Jose, the country's capital, is one of the top three cities in Latin America in terms of talent availability and level of skills, together with Sao Paolo and Santiago.
Vast tech expertise
Another factor driving companies to opt for software development in Costa Rica is the diverse expertise of local engineers. Many local engineers specialize in more than one programming language. The most popular are JavaScript and Java, with 15K and 14K local developers specializing in the languages. They are followed by C# and Python–the primary technologies for 10K engineers. Furthermore, there are 7,100 software developers with expertise in .NET and 6,300 experts who focus mainly on C++.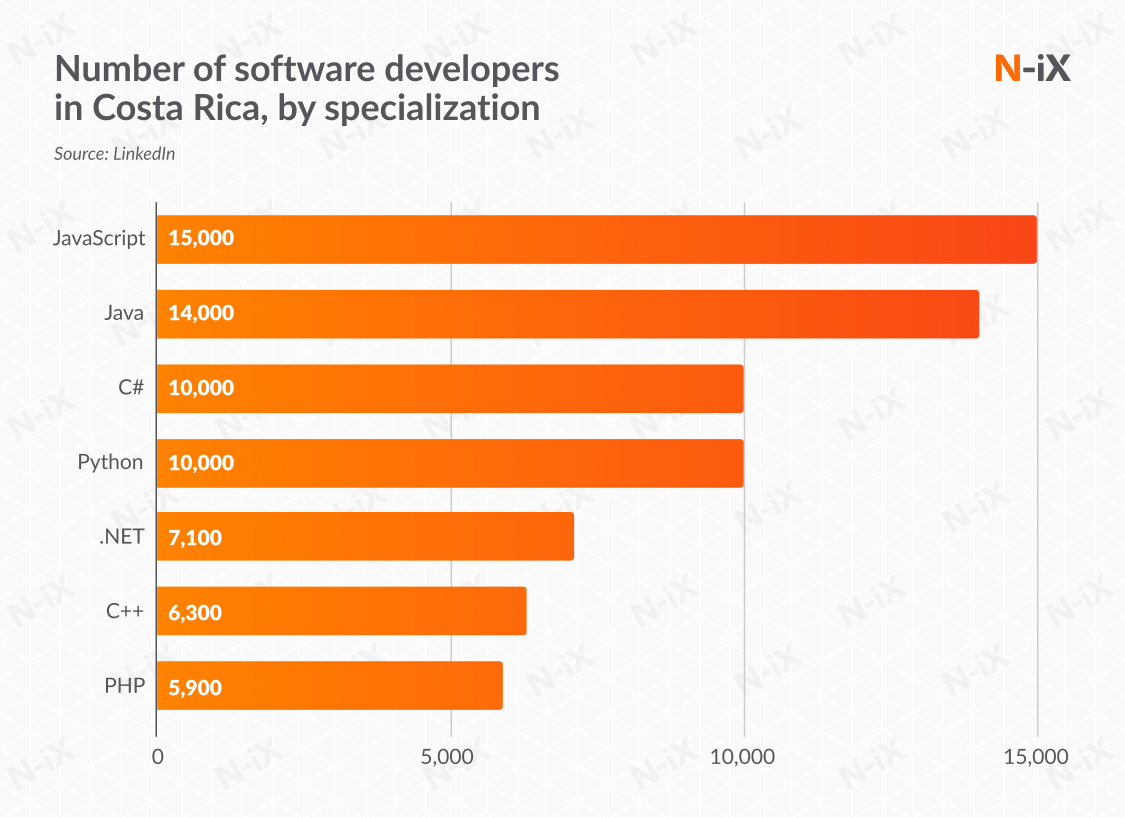 Costa Rican software developers are well-renowned for their high service quality. According to the Global Skills Report by Coursera, the country holds the 6th position in the field of software development.
Strong English proficiency
The communication barrier is one of the key concerns of companies that decide to set up engineering teams or development centers in remote locations. However, enterprises that choose software development in Costa Rica can find common ground with local developers. According to the EF English Proficiency Index, Costa Rican ICT specialists have a good command of English. For businesses, it translates into fewer misunderstandings between local teams and international stakeholders.
Software development vendors in Costa Rica: Characteristics of local potential tech partners
By partnering with a reliable outsourcing vendor like N-iX, businesses can access the top talent pool of Latin American countries, including Costa Rica, Colombia, Chile, and others. Moreover, there are more than 135 companies in Costa Rica that can help enterprises hire the professionals they need. Let's break down Costa Rican tech companies by their size, delivered services, domain expertise, and client type.
The vendors' size
According to Clutch, the majority (around 66%) of Costa Rican vendors are small companies with under 50 tech specialists. Furthermore, over 24% of local enterprises employ up to 250 experts. Around 10% of tech vendors in Costa Rica are midsize vendors, with 250-999 ICT specialists on board.
Service offerings
In Costa Rica, the range of delivered IT services is quite diverse, catering to various business needs. Over 40% of 137 vendors that offer custom software development in Costa Rica specialize in mobile solutions, while around 36% focus on building web applications. In addition, approximately 20% of companies provide IT-managed services, which include ongoing technical support, system updates, and network management. Local tech vendors also handle advisory requests, including IT strategy and cloud consulting.
Industry focus
Financial services, information technology and healthcare are the top three industries serviced by Costa Rican vendors. Local tech enterprises also have experience in delivering projects to businesses that operate in e-commerce, business services, as well as consumer products and services. Some other industries that benefit from cooperation with local vendors include education, advertising and marketing, as well as retail.
Client type
Organizations of various sizes and financial scopes opt for software development in Costa Rica. The lion's share of clients are midsize and small businesses with revenues up to $1B. Around 20% of Costa Rican software development companies deliver engineering and consulting services to large enterprises.
Software development in Costa Rica: Market overview
In recent years, the export of ICT products from Costa Rica has increased. By 2026, the exports of ICT products are expected to reach $1.75B. To compare, in 2021, the country ranked 46th globally, exporting $1.4B. What factors contribute to the growth of the software development market in Costa Rica?
Favorable business climate
Researching the business environment of your outsourcing destination is crucial, as it has a direct impact on the success of your engineering projects. Risks of project disruption and operational stability are related to the outsourcing country's economic conditions. In this context, Costa Rica offers a business-friendly environment that makes the country attractive for foreign partnerships and investments. The services sector, which also includes ICT, makes up around 66.9% of the country's GDP. Besides economic growth, the ICT domain in Costa Rica greatly contributes to creating new job opportunities. Between 2016 and 2020, local tech enterprises generated an average of around 118,000 job opportunities.
Advanced tech infrastructure
Due to the high rate of innovation adoption and developed technological infrastructure, Costa Rica is an attractive destination for software development outsourcing. The country has made it to the top seven in the Global Innovation Index among the 18 locations in Latin America and the Caribbean. Сosta Rica outperforms the regional average in five areas, including institutions, human capital and research, knowledge and technology outputs, business sophistication, and infrastructure. As for the latter, the country's internet penetration rate is 81.6% of the total population, which is a relatively high figure compared to other outsourcing locations. For example, only around 49% of people in India use the web.
Governmental support for the IT industry
The Costa Rican government encourages technological advancement. It has launched several initiatives to support foreign investment and the growth of the tech sector:
The National Council for Scientific and Technological Research, or CONICIT, is a governmental institution that provides grants and financial aid for projects related to tech research. It funds both startups and established companies in their R&D activities.
Costa Rican Coalition for Development Initiatives (CINDE), a private organization, focuses primarily on attracting foreign investment and supporting businesses that choose to set up operations in Costa Rica. This institution provides a wide range of support services for companies, including helping with legal procedures, licensing, and finding suitable locations for operations.
Development of an Artificial Intelligence strategy rooted in the agreement between Costa Rica and UNESCO. According to the document, the Costa Rican government agrees to create an AI strategy in compliance with the UNESCO "Recommendation on Ethics in Artificial Intelligence".
Tech hubs
Most of the country's tech talent and software development enterprises are сoncentrated in major tech hubs. These cities boast many coworking spaces, training programs, and tech conferences, serving as magnets for tech talent and software development companies. The leading technology centers in Costa Rica are:
The country's capital, San Jose, is home to a wide variety of tech enterprises and R&D centers of industry giants like Microsoft, IBM, and Intel.
Known for its high-tech industries, such as biotechnology, Heredia is located in Costa Rica's Central Valley and hosts diverse technology companies. Heredia has many companies–from startups to multinational corporations like Amazon, Cisco, and Procter & Gamble.
Alajuela is another big spot for tech in Costa Rica. Alajuela's specialists are well-versed in fintech, digital marketing, and cybersecurity.
Cartago is one more prominent IT hub, with local IT experts primarily specializing in software development, IT services, and engineering.
Time zone advantage
The time zone overlap is a big reason companies choose nearshore software development in Costa Rica. The time zones in Costa Rica fully or partially match with those in North America, making real-time communication and collaboration easier. This, in turn, leads to efficient project management and teamwork, as well as quick problem-solving.
Outsourcing software development to Costa Rica: Business considerations to take into account
Despite numerous advantages, enterprises that outsource their tech projects to Costa Rica also should be aware of the potential challenges and know how to deal with them. Here's a list of some key considerations:
You will have to deal with cultural gaps. According to Hofstede's report, Costa Rican engineers significantly differ from specialists from the US and the UK in terms of individualism, long-term orientation, and other factors. Therefore, even if you do nearshore software development in Costa Rica, the work culture and expectations of stakeholders and a remote team may vary.
N-iX tip: We recommend conducting cultural training for both teams to align work styles and avoid misunderstandings in the long run.
Intellectual property rights and data protection laws may differ. In Costa Rica, relying solely on U.S. trademark and patent registrations may not provide adequate protection for your intellectual property. To gain complete legal protection, you have to register the contract under Costa Rican laws, such as PRODHAB.
N-iX tip: Partnering with a trusted LatAm outsourcing company like N-iX can ensure adherence to relevant data protection regulations. Check the compliance of your potential partner to ensure that they are well-versed in both the US and Costa Rican intellectual property and data protection laws.
Maintaining consistent quality standards when the team is remote can be difficult.
N-iX tip: An effective way to ensure code quality is to perform regular code reviews and rigorous quality checks, as well as use project management tools to keep everyone on the same page.
Wrap-up
Overall, Costa Rica is a prominent location for outsourcing software development, offering a range of business benefits, such as a highly skilled workforce, stable economic conditions, and advantageous time zones for US-based companies. With a trusted software development partner by your side, you can get access to top expertise in distant locations like Costa Rica and avoid cultural, legal and project management issues. Here, at N-iX, we deliver solutions tailored to your specific needs, aligning the project requirements with your budget and timeline. Due to our presence in 25 countries across Europe and the Americas and our office in Medellin, Colombia, we can help clients tap into the global talent pool, including LatAm countries. Moreover, N-iX is well-renowned in the industry: it has earned numerous industry recognitions, including CRN Fast Growth List, IAOP Global Outsourcing 100, and Forrester ranking.
MARKET REPORT
Get a complete overview of the 2023 software development market in Latin America!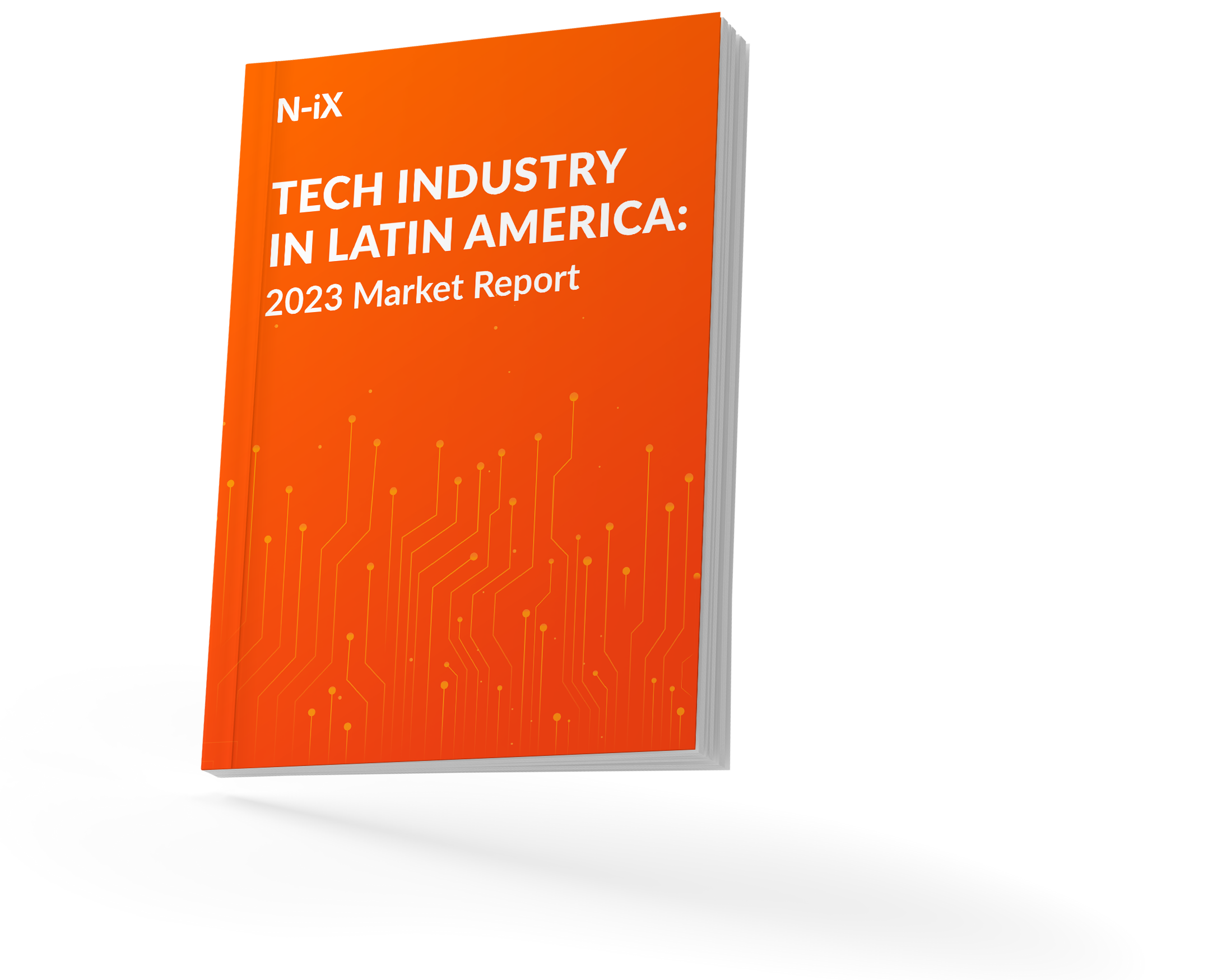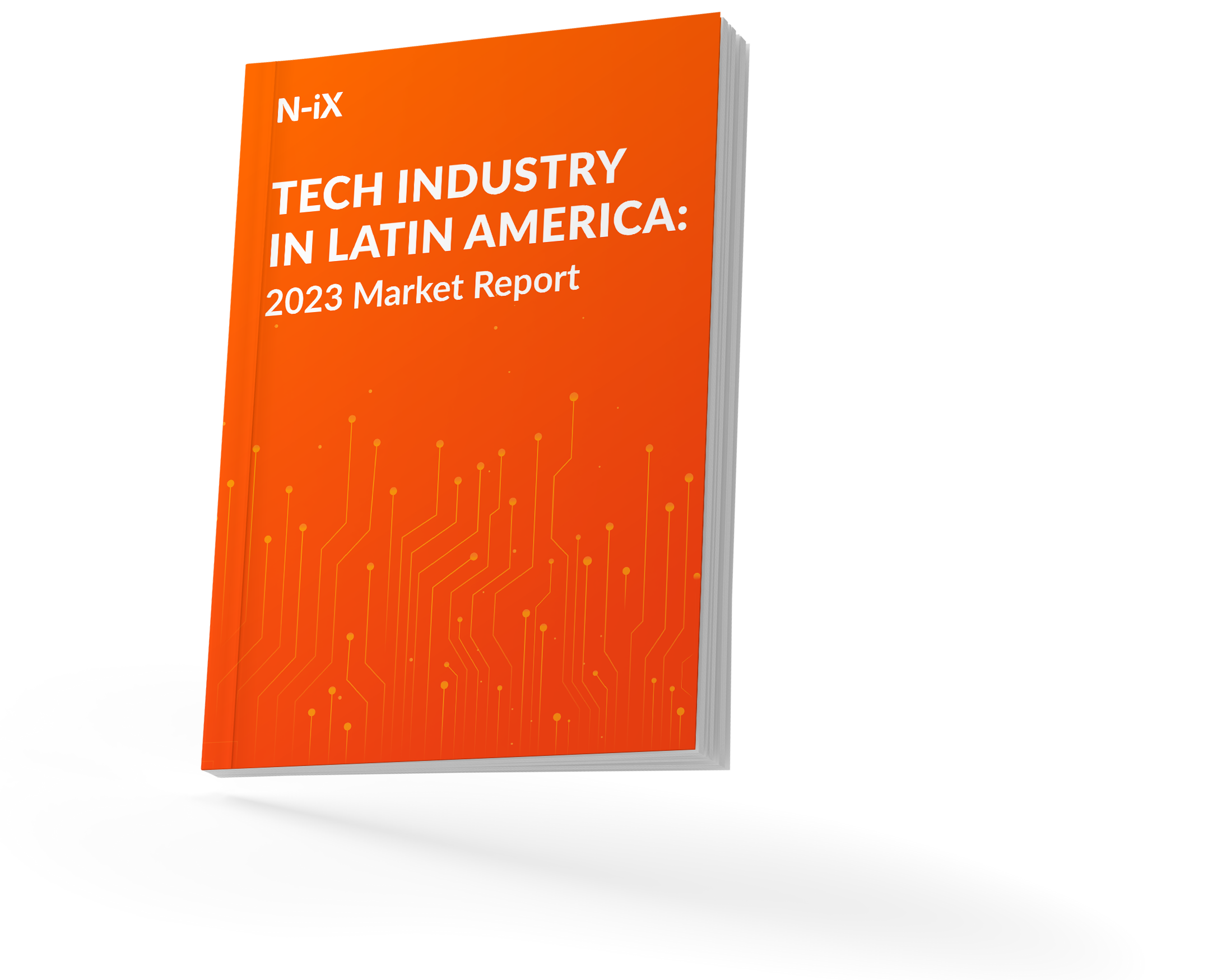 Success!
We are always happy to share our expertise with you! If you have any questions, don't hesitate to contact us.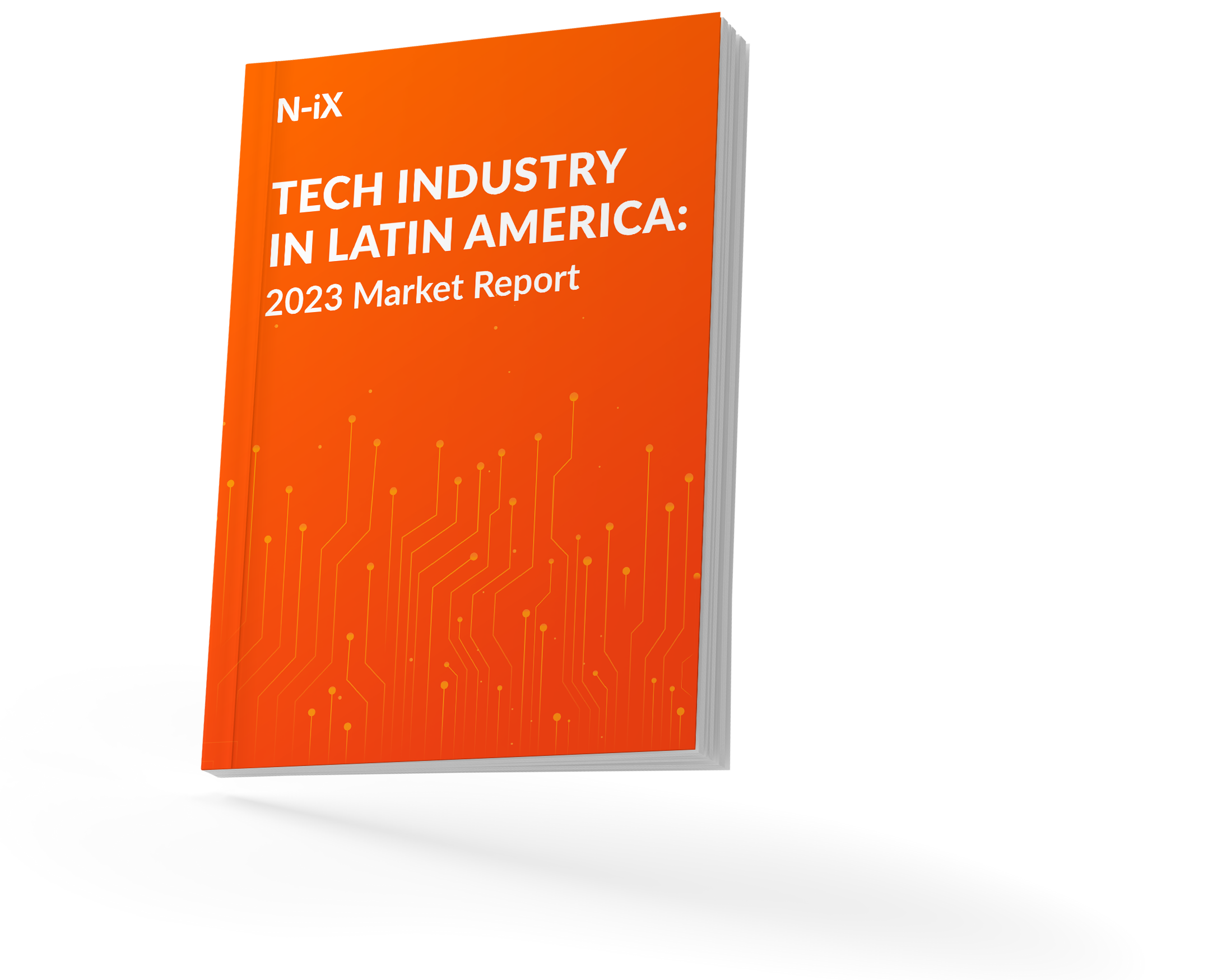 Have a question?
Speak to an expert
Erika Gutierrez Cardenas
Location delivery director @ N-iX Colombia
---