The tech talent shortage is soaring. To tackle the challenge, many global businesses, including Fortune 100 leaders, have opted to hire remote software developers and set up their development centers abroad.
Establishing your remote software development center gives you access to the global talent pool and extensive industry expertise.
How to overcome the challenges on the way and benefit most from working with remote software developers? And where to set up your development center? In this article, you will discover:
A remote software development center is a company's tech unit located anywhere across the globe. That means you can have, for example, a fully dedicated engineering team operating onshore, nearshore, or even offshore. Here is how you can benefit from remote software development:
Access a global tech talent pool and hire top software developers all around the world.
Adopt new technologies faster and partner with an experienced technology team that has broad domain and tech expertise.
Achieve superior service quality when working together with the best global tech talents.
Enjoy flexibility - scale the team up and down whenever you need it.
Find rare tech experts more easily.
Why establish a remote development center?
The first thing to clarify is whether you need to build a remote development center. We've prepared a checklist to understand if it is worth the effort:
You need to hire 30-40+ experts for your project;
You have a big and complex project or even several of them;
You want to cut your operational and development costs;
You work with security-sensitive software;
You aim to expand your company's presence to other countries;
The establishment of a remote development center in a foreign country can be quite complicated. Mitigating risks, handling the HR and administrative processes, building your brand to attract the best talents are only a few things on the list you will face. Instead, many companies prefer to cooperate with an IT outsourcing vendor and delegate all these tasks to reliable hands.
There are some of the benefits you get when partnering with a remote software development company:
Strong employer branding on a national market plays a vital role, as it enables companies to hire skilled talents better and faster. If you decide to cooperate with the vendor who works on its reputation, you'll get a reliable partner and a company with a large candidate pool. For example, N-iX has collected an extensive internal base of candidates since 2002, and it comprises over 57,000 highly qualified experts.
Flexibility and scalability
Together with your partner, you can build your remote development team based on your business requirements and current needs. That means you can scale up or down your remote team whenever you need.
Also, you can choose the best cooperation model for your business and regulate the control level you have over the process. For example, you can either interview all the specialists yourself or delegate this task to the vendor.
Mitigating security risks
A reliable company will offer you to sign a contract to protect you from legal risks. Pay special attention to information security clauses and whether the company corresponds to all the security requirements and compliances.
Moreover, each country has its own rules and legislation, and the remote software development partner will help you figure out these legal details.
Delegating the administrative processes
Human resources management, administrative, and infrastructure processes are time-, energy- and cost-consuming tasks. But you can easily avoid this overhead with the help of a reliable remote software development company that has a strong employer brand, a large pool of candidates, well-established processes, and agile company culture.
Choose the location that has the most favorable conditions for remote software development. Most companies opt for Eastern Europe or Asia.
List the companies according to your business needs - consider the industry expertise of the company, services they provide, their size, etc.
Research the shortlisted vendors' websites and social media. That will give you an overview of their expertise, business culture, values, and employer brand.
Check out their clients' feedback on platforms such as Clutch, Google, Manifest, Goodfirms.
Make sure the company complies with international security standards - ISO, PCI, GDPR, HIPAA, etc.
Success story
Lebara is Europe's fastest-growing telecommunications company with five million active customers. The company was searching for a partner that could help them build a dedicated R&D center and optimize their business processes. As a result, N-iX and Lebara have established a strong partnership since December 2014.
Together with Lebara, we've built a remote software development center helping them with software development, quality assurance, business intelligence, big data and cloud, migration to microservices, application and infrastructure support, and more.
"Working with N-iX helped us go to market with new digital products quickly. Essentially, and very importantly, the partnership allows us to service our global migrant customers better wherever they might be," - Chief Technology Officer, Lebara
In today's competitive and dynamic business landscape, the choice of the location is a strategic one. The size of the tech talent pool, business environment, the number of trusted vendors can vary from country to country. Most decision makers choose between two major locations - Eastern Europe and Asia.
Let's review the advantages of establishing a remote development center in the most desired destinations:
Eastern Europe boasts between 4,000 and 6,000 software development companies. It's a great choice if you want to access a big talent pool of 1M professional developers and get high-quality services. That's why such tech leaders as Microsoft, eBay, Samsung, Skype, and many others, chose Eastern Europe as their remote software development destination.
Ukraine and Poland take the lead in the number of tech companies in this region, so let's review these countries in detail:
Ukraine is one of the fastest-growing IT outsourcing destinations in Eastern Europe. Extensive expertise, a vast talent pool, strong tech education, and efficiency are only a couple of benefits of setting up a remote software development center in this country.
Ukraine is the leader by the number of IT companies - there are 1600 + software development vendors. It takes the lead in Eastern Europe, followed by Poland (800+), Bulgaria (500), and Belarus (500).
Ukrainian tech companies prove the quality of their services by receiving many significant designations. For example, in 2021, 11 software development companies were included in the top 100 outsourcing companies in the world by the International Association of Outsourcing Professionals (IAOP). This year, N-iX has entered this list for the fifth year in a row.
39,000+ engineers enter the market annually. More than 200,000 skilled IT professionals are working across different industries - from fintech to healthcare and telecom.
Poland is one of the most rapidly developing economies in Eastern Europe, with the IT sector growing at high pace. 330,000 engineers are located in Poland. However, only 60% of the specialists are available for IT outsourcing because the others are engaged in the BPO industry.
According to Clutch, there are 800+ software development companies in Poland. Annually, more than 17,000 ready-to-work professionals graduate from Polish universities.
Specialists have a high English level - the country ranked 11th for English skills, according to the EF English Proficiency Index 2019.

Asia is another popular outsourcing and outstaffing destination with a vast talent pool. In 2018, it reached 4M developers, and by 2021 the number has grown rapidly. In particular, LinkedIn lists over 270,000 big data professionals as well as 630,000 cloud specialists in Asia. The lion's share of professionals resides in India - 5M software engineers, and China - 325K. Crunchbase lists more than 1000 IT outsourcing companies in Asia.
Let's review the perks of hiring remote software developers in India and China:
India is the IT industry leader among other Asian countries thanks to its extensive talent pool (5M engineers) and English-speaking professionals. Indian engineers ranked among the top 10 most skilled software developers worldwide, according to the ranking by TopCoder.
One of the most appealing advantages of Indian developers are their rates- on average, they make 20$/hour.
However, the speed of the local Internet is low, so that can impact the cooperation quality. Also, despite the considerable number of talents there, digital adoption is slower than in the other outsourcing destinations.
China is well-known for its strong work culture and high-quality tech education. According to the Times Higher Education World University Ranking, there are 80 top computer science universities.
The Chinese tech talent pool is smaller than the Indian one. China is home to 325K IT professionals. But the country can boast its engineering quality - in 2021, developers in China made it to the top 4 best developers, according to the TopCoder Rank.
Clutch lists 76 software development companies, and many of them are included in The Global Outsourcing 100 by IAOP.

Summary
A remote software development center is a good solution if you want to tap into a global talent pool. But it also may imply legal risks, HR and admin overhead. That's why many businesses choose to partner with a reliable outsourcing vendor and delegate these responsibilities to them.
Feel free to contact our experts if you want to learn more about establishing a remote development center.
Why establish a remote development center with N-iX?
N-iX has 19 years of experience in the global IT market. We have established long-term partnerships with global companies from the USA, UK, Germany, Nordic countries, and other locations;
N-iX is one of the leading Eastern European software development vendors with development centers in Ukraine (Lviv, Kyiv), Poland (Krakow), and offices in the USA (Florida) and Sweden (Malmo);
Our company boasts a talent pool of 1700+ experts, including the team of 70+ recruiters that enable a speedy staffing process;
N-iX has helped 120+ companies scale their development teams and implement best engineering practices;
N-iX offers services & expertise in such domains as cloud, big data, business intelligence, data science, artificial intelligence & machine learning, and more;
We have an extensive internal base of candidates with over 57,000 experts from all over the world;
N-iX complies with all the global security standards such as ISO 27001:2013, PCI DSS, ISO 9001:2015, GDPR, and HIPAA law.
Have a question?
Speak to an expert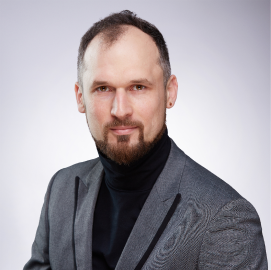 Taras Petriv
Associate Engagement Director
---