The benefits that you receive when you outsource software development are numerous. However, how do you find a reliable technology partner and build lasting cooperation that will drive your business forward?
To help you, we have compiled top 3 lists with tips, tricks, and best practices on how to make outsourcing software development work, based on real-life examples. Let's begin.
Contents
Depending on where your service provider is located, there are 3 distinct ways to outsource software development: onshoring, nearshoring, and offshoring. Let's take a closer look at each of these.
Onshoring
Onshoring is outsourcing development to a company located in the same country as you are. Time and cultural similarities are obvious benefits of such partnerships, which result in easy and effective communication. However, finding the necessary talent locally may be quite challenging. Moreover, onshoring to local experts hardly ever results in cost savings.
Nearshoring
Nearshoring involves partnering with a service provider located in a neighboring country. This way to outsource development can be viewed as a middle-ground between onshoring and offshoring. You do not sacrifice much in terms of time and cultural differences, so establishing communication with your partner requires little effort. On the other hand, you cannot count on any significant cost savings with nearshore teams. Moreover, the talent pool that you can access will increase only slightly.
Offshoring
Offshoring partners are located in distant countries. These types of outsourcing development partnerships can do wonders in terms of saving expenses. In fact, companies can save up to 58% on offshoring software development. Furthermore, you get access to a global talent pool, which allows you to easily find rare experts and quickly scale up your team. Establishing an effective working process between teams from different time zones requires effort from both sides. However, an experienced tech partner will help you implement best practices of offshore outsource development and use time differences to your advantage ( e.g ensure 24/7 control and support of your project).
Ukraine has long been the go-to destination for outsourcing software development, not only in Europe but around the world as well. The company regularly appears on various top outsourcing provider lists, such as the Global Sourcer Association's Top 30 outsourcing and offshoring destinations.
''Ukraine has one of the largest pools of IT specialists in the CEE region.'' Kerry Hallard, President of Global Sourcing Organization and CEO at GSA UK
A large talent pool of IT experts
Ukraine has one of the largest IT talent pools in Europe, currently numbering over 200K. More importantly, local engineers are renowned for their high technical skills. Indeed, TopCoder ranks Ukrainian developers as 7th most skilled in the world.
On top of this, over 35K ICT and STEM graduates enter the pool annually, making it one of the fastest-growing destinations to outsource software development.
Long-term partnerships with global enterprises
There are over 1600 IT companies in Ukraine with over 800 of them listed on Clutch.co. Many of these companies have been providing outsourcing development services for years, and, in some cases, decades. Local technology vendors have extensive experience in forming long-lasting partnerships with companies from all over the world, be it the Nordic countries, the USA, Australia, or the UK.
Furthermore, the high-quality services provided by Ukrainian software developers have made them quite renowned among leading global enterprises. Companies such as Lebara, Fluke, Siemens, Nokia, ESET, and more, have been outsourcing software development to local technology vendors for 5, 10, or even more years.
Easy communication with local teams
The European mindset of Ukrainian engineers coincides with cultural values that are shared among Western countries. Local experts are held in high esteem for their responsibility, flexibility, tolerance, and openness.
Additionally, Ukrainian outsources have a common practice of performing regular on-site visits to the client. It helps build trust and understanding between the two partners and results in smooth and transparent outsourcing development.
Finally, while many popular outsourcing destinations suffer from low English proficiency among engineers, Ukrainian developers are quite proficient in the language. As a result, finding common ground with local teams is never an issue, and establishing effective communication does not require much effort.
When it comes to cooperating with your outsourcing partner, there are 3 main work models you can choose from. Each comes with its own set of advantages and preferred uses.
Extended Team
This is the simplest and, therefore, the most common way to outsource software development. You get experts with the necessary technical skillset who essentially become part of your engineering team. You communicate with them on a daily basis and manage their day-to-day activities.
Extended Teams are extremely easy to scale up or down - a quality for which they are valued the most. However, they have a slower recruiting process compared to other models, since you have to participate in interviewing each candidate. Additionally, they require extra effort for management and knowledge retention.
If you are looking for experts to scale your engineering team or add particular technical expertise - an Extended Team is the way to go.
Managed Team
Managed Teams are separate self-sufficient development outsourcing units that are integrated into your delivery process. Their capacity and technical expertise are tailored to the specific needs of your project. Additionally, they have a dedicated project manager who manages the team's daily activities and makes sure it keeps up with the project roadmap.
Forming Managed Teams is a relatively quick process (in some cases it can be as quick as 4-6 weeks) since the entire recruiting process is handled by your outsourcing partner.
If you need to outsource development of a particular part of your product (feature, platform migration, etc.) - a Managed Team is the best choice.
Custom Solution Development
This is the most advanced way to outsource software development. It focuses on improving and changing the entire business rather than developing a particular project.
More often than not, an extensive Discovery Phase precedes such projects, where experts analyze your business, validate your idea, and provide a clear vision for your product.
A full development team is then formed that handles end-to-end solution development.
Partnerships like this usually last years, with the outsourcing team taking on a role of a dedicated R&D center. Therefore, Custom Solution Development is the best fit for bigger, more complex projects.
It does not matter whether you are selecting a service provider to outsource software development or repair your car - making the right choice is always difficult. However, there are several best practices that can make this process a lot easier.
Analyze client reviews and testimonials
One of the best ways to get a good impression about a potential partner is to look at what their clients say about them. Search for their profiles on established reviewing platforms such as Clutch.co or Goodfirms and look at their testimonials.
Clutch.co is an especially great resource to find out more about a software development outsourcing company. Each review on this platform includes an extensive interview with the client who shares a lot of information about their partnership.
A high number of reviews and a good overall rating is a good sign that you can trust a vendor with your project.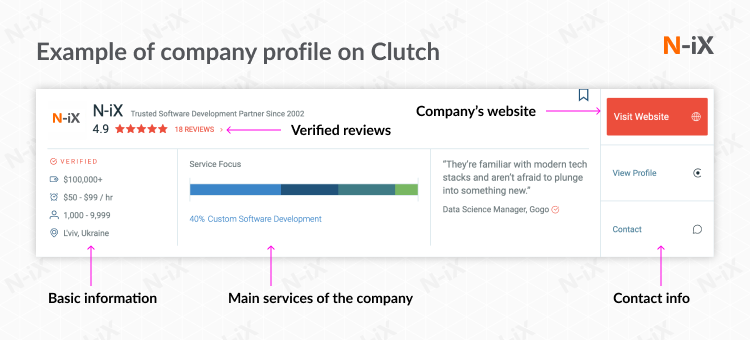 Learn more about the company's security plan
Security breaches, hacking, and other types of cyberattacks annually cause billions of dollars in damages. Therefore, it is of utmost importance to examine the security plan of a potential partner you want to outsource development to.
There are several major aspects to assess:
Does the company comply with established security standards such as ISO 27001: 2013 GDPR, and others?
Does the company perform regular internal and external security audits?
Does the company have a strict password security policy?
Does the company use secure networks to manage and store your data?
Will the company delete or transfer the data back to you after your partnership ends?
To make sure your business is protected from malicious cyber activity, only consider technical partners that have an established security plan in place. Take a look at this article if you would like to learn more about secure software development.
Find out about the company's knowledge transfer plan
It is a common practice among businesses to outsource software development to multiple offshore technical partners. Changes in service providers are also not that rare, especially on longer-lasting projects.
A lot of valuable knowledge is accumulated over the course of project development. Being able to access or share it when needed is critical and can save a lot of time and money. Therefore, before outsourcing software development, ask your technical partner about their knowledge retention and transfer plan.
A good knowledge transfer plan clearly outlines 3 key aspects:
What knowledge is collected on an individual, team, and organizational levels
Who transfers and receives this knowledge
What methods are used to collect and transfer knowledge (Q&A sessions, demos, tech talks, etc.)
Just like any other form of service, outsourcing software development can cause its own set of pains and concerns. However, an experienced tech vendor will help you solve them.
Lack of experience with outsourcing
No prior experience with outsourcing stops many businesses from taking advantage of its benefits. While it is true that outsourcing is different from most forms of partnerships, making it work is not that difficult. It all boils down to setting reasonable expectations, defining a clear project roadmap, and establishing effective and transparent communication with your technical partner.
Moreover, an experienced and reliable vendor will work with you to make the most out of your partnership. They can use their expertise to help you avoid any bottlenecks that you might not be aware of.
Challenging contract signing process
Dealing with the legal side of any partnership is never a walk in the park. However, as long as all of the following points are clearly addressed, you should feel safe about the state of your contract:
Payment terms
Notice period
Liability and warranties
Intellectual property rights
Confidentiality and data protection
Non-solicitation clause
Jurisdiction
Check out this article if you want to learn all the ins and outs of avoiding contract loopholes.
Difficulty finding a partner with the required price-quality ratio
Saving expenses is always an important aspect of any software development outsourcing. However, it should never be the top priority.
Finding a technical partner that would agree to deliver your project at a lower cost is easy. However, their lower cost usually corresponds to the quality of services they provide. As a result, your initial short-term savings can be highly outweighed by the expenses that will incur in the long run.
Therefore, it is never a good idea to cut corners or compromise with quality. Before you begin your search for a technical partner to outsource software development, establish clear expectations and a realistic budget for your project.
Besides, there are other things you can do to save your software development budget in IT outsourcing.
Let's now move on to something more practical, and take a look at 3 real-life examples of how businesses have benefited from software development outsourcing.
Lebara
Lebara - a global telecommunications company - began their outsourcing partnership with N-iX back in 2014. Over the course of cooperation, N-iX has formed an entire development center (currently numbering over 75 experts) that provides a wide range of services, including software development and testing, database administration, application support, etc.
The N-iX team has already developed a wide range of products for Lebara, such as Lebara Talk - an HD quality calling and messaging service, or Lebara Money - a cross-border mobile service for money transfers. Additionally, the expertise and capacity added by the N-iX team have helped Lebara greatly reduce the time of developing new products, implementing new features, and improving code quality.
Locinox
Locinox - a Belgian company that develops gate and fencing devices - took full advantage of the Custom Solution Development model of outsourcing. They partnered with N-iX to develop a secure control access system for fences and gates. The N-iX team performed an extensive Discovery Phase and transformed the client's idea into a project backlog with detailed requirements and functional specifications.
After the initial phase, the team began end-to-end development of the solution. As a result, they built an embedded hardware and software solution that matched the client's vision. Furthermore, the team is developing the next version of the solution based on more advanced technologies.
Gogo
Gogo is a global provider of in-flight connectivity and entertainment that has been the market leader in North America for more than 20 years. The company was looking for ways to improve the quality of in-flight Internet connectivity. They also required a system to help them better predict equipment failures that led to downtimes and wasted costs.
At first, N-iX helped Gogo migrate their on-premise data collecting and storing infrastructure to the cloud. This drastically increased their data processing capacity and greatly reduced costs that were spent on infrastructure licensing and support.
Afterward, the N-iX team used its Data Science and ML expertise to develop a Big Data platform that monitors the health of satellite antennas and predicts malfunctions. Moreover, during the course of development, the team helped identify the main cause of ill-performing antennas. This allowed Gogo to quickly address the issue that regularly led to wasted time and costs.
N-iX offers comprehensive expertise, including cloud, Data Analytics, DevOps, embedded software development, and more;
The company has almost 20 years of experience in the global IT market, specializing in Extended Team, Managed Team, and Custom Solution Development;
N-iX has established many long-term and strategic partnerships with companies from the USA, the UK, Canada, the Nordic countries, Germany, Singapore, and more.
---