As of November 2020, LinkedIn lists over 150,000 front-end developer jobs. There are over 80,000 vacancies in the US and 30,000 open positions in the European Union. Local markets are fighting for the best front-end developers, and it takes a lot of time and effort for companies to find, hire, and retain the experts they need.
Front-end developers are in high demand across the whole world right now. Comparing the interest in front-end, back-end, and full-stack developers in the USA, we can see that there has been a steep increase in searches for all these professionals since 2007. However, front-end developers generate the most demand.
The battle for tech talent in the US and Europe forces companies to seek high ground and explore various outsourcing destinations. However, choosing the right outsourcing destination, finding the right vendor, and hiring the best experts can be a challenge for many. Interested in finding and hiring the best front-end developers? In this article we are going to discuss:
Where to outsource front-end development?
In terms of front-end development outsourcing, all key outsourcing destinations have strong expertise, with Eastern Europe and South America taking the lead.
However, when it comes to outsourcing, one of the crucial things to consider are skills and engineering quality. According to the 2019 SkillValue report, Eastern Europe has the largest number of countries holding the top 25 positions in terms of the most skilled tech professionals.
Now let's take a closer look at the top destinations for front-end development outsourcing.
In recent years, Eastern Europe has attracted a lot of businesses thanks to its competitive prices, skilled tech talent, and ease of doing business.
The Eastern European tech market is growing every year. For instance, the Polish tech talent pool increased by 8% in 2018 and by 5% in 2019. It means that between 2016 and 2019 the country gained more than 66,000 experts. A similar situation happened in Ukraine, with 7% and 3.8% growth respectively. Currently, there are over a million professional developers in this region, with Poland, Ukraine, and Romania taking the lead.
How many front-end developers are there in Eastern Europe?
According to Linkedin, Ukraine is the leading country by the number of front-end developers with over 28,000 professionals, followed by Poland with a little over 22,000 front-end programmers.
Poland and Ukraine have over 50,000 front-end developers. Compared, for instance, to the USA and the UK, this tech talent pool is smaller. However, in Eastern Europe, there are fewer tech giants and large enterprises, who have more resources to lure engineers. Therefore, the competition for front-end developers is lower in CEE.
Moreover, most Eastern European IT companies provide outsourcing services. Thus the developers in this region have hands-on experience in various projects across different business domains. As a result, their experience is often more versatile and it's easier to find a software engineer with the necessary skill set.
Out of the top 10 best IT outsourcing countries in 2019 AT Kearney GSLI, seven countries are from Asia. These countries have a decent technical education, solid expertise across many domains, and a vast talent pool. The largest number of front-end developers are in India - over 100,000 experts. China holds the second place, with 30,000+ experts.
Clutch lists nearly 6,000 companies that offer outsourced front-end development services. The majority of these companies are small to medium-sized Indian vendors. There are also a little over 1,800 firms in the Philippines.
Find more about the benefits of outsourcing to Asia.
Mexico and Central American countries are known for nearshore development services for companies from the US and Canada. There are a little over 61,000 experts in the region.
When it comes to companies that provide outsourced front-end development services, this region has over 2,000 companies. However, the majority of them are small vendors with less than 250 employees.
Programmer salaries have always been a subject of discussion and one of the primary reasons for outsourcing. Sure, the final cost of the project depends on the tech stack, the size of the team, and the length of the project. However, let's take a look at the average rates in the US, the UK, Western Europe, and Australia, and compare them to the outsourcing rates. We've selected Eastern Europe as a location with both a strong talent base and an impeccable reputation. We've also selected Poland as a common example of the outsourcing market in Eastern Europe.
The top-paying countries are the United States with an average annual compensation rate of $73,387 and Switzerland with the equivalent of $96,263 for front-end development services. The UK, Canada, Australia, and Western-European countries offer lower compensations around $45-65K per annum (a similar situation happens with software engineer salary in European countries). Whereas average salaries of front-end developers in Eastern Europe vary from $15K to $27K a year.
However, we have to understand that average salaries are not entirely representative, as they depend on the ratio between the amount of junior, mid- and senior developers. To have a big picture, let's take a look at average salaries divided by the experience of front-end developers.
Front-end developer salary by experience level
Junior front-end developer is a technical expert who can work with basic technologies, complete simple tasks, and fixes. Generally, the USA market is ready to pay $70,330 to a developer with such skills. In Switzerland, junior front-end developers receive around $82K per year. The Australian IT market offers approximately $42,000 per year for such services.
Mid-career specialists possess more in-depth knowledge of technologies, can work on complex tasks without supervision and perform routine bug-fixing. Their salary often differs significantly from the junior specialists as the amount of work, as well as its complexity, is different. For example, in the USA a mid-career specialist can be paid around $82,700 per year. Whereas Swiss specialist's compensation reaches $105,453.
Senior developers have both profound knowledge of technology and unique experience in the industry, so their salaries can vary significantly from their fellow experts. The overall proportion remains the same with the USA and Switzerland paying the most – with $88,700 and $108,250 respectively. UK offers around $83,000 to senior front-end developers, followed by $65,000 in Australia and Germany.
Overall, the company that chooses to outsource front-end development can save 25-50% per developer in annual salaries (depending on your local rates and the chosen outsourcing destination). There are also overhead expenses associated with hiring a new employee, such as the money you spend on recruitment, the work of the legal and finance departments, office facilities, hardware, software licenses, etc. In case of outsourcing to a front-end development company in Eastern Europe, you delegate all these tasks to your partner. So which model of cooperation with front-end developers would suit your business needs?
There are three most common ways of working with front end developers:
Building an in-house development team;
Project-based outsourcing;
Hiring a dedicated development team.
So, what are the pros and cons of each model, and which one will fit you best?
In-house front end development
Many companies believe that only by hiring in-house personnel one can build long-lasting relationships and loyalty. Among the benefits of having an in-house team are:
Full control over the development process;
More control over product knowledge and confidential information;
No time-zone difference and geographical distance.
However, such a form of cooperation often comes with several drawbacks, including:
A longer staffing period. Due to the lack of tech experts in some cities, businesses have to wait three to nine months to gather the team.
Taking responsibility for all the risks. In comparison, outsourcing allows sharing the risk burden with your front end development vendor, such as difficulties with recruitment, changes in taxation, attrition, letting people go, and others.
Where to hire an in-house front end developer or team?
Usually, the front end team is supposed to work alongside your existing technical staff. If there is no dedicated department that handles the hiring process in your company, then you should resort to Indeed, Glassdoor, LinkedIn, or any other employment platforms popular in your location.
Such services allow you to locate and communicate with the experts, as well as see their employment history or the projects they have worked on.
If outsourcing is on the table, here are two models of cooperation to consider.
Project-based outsourcing
This popular option allows you to outsource the whole project, choosing the destination and conditions you prefer. Among the pros of such an approach are:
Solution to an existing business problem;
Enhanced focused on business processes rather than technical issues;
All risks covered by the vendor;
Any team composition required for the project, as well as scalability of such a team.
However, you need to understand the cons of this model:
Additional expenses if the requirements change;
Project management fee will be included in the cost of your project;
Due to the time zone differences, it may be a little harder to establish effective remote cooperation with your team.
Where to find the vendors for front end outsourcing?
Choosing a vendor is a complicated task as you have to pay attention to their reputation, domain expertise, hiring time, and a lot of other factors. Many clients revert to the catalogs that list the top companies of the industry, such as:
Dedicated development team (DDT)
Simply put, a dedicated team is a group of experts that work on your tasks. Dedicated development team expenses include fixed monthly salaries of team members, as well as the vendor's fee for its services. Such a form of cooperation allows you to:
Hire developers as a part of your workforce and integrate them with the in-house team;
Focus on your business tasks and the product, as your tech partner takes care of recruitment, on-boarding, control, and delivery;
Find as many developers as needed for the project;
Scale the team up or down more easily.
This cooperation model is often chosen for long-term projects. It allows companies to have full control over the process, remain the product owner of the projects, and have an extension of their own team.
Every project is unique as it has a specific mix of technologies required. If you want to understand which developer is a good fit for a particular team, the first thing to do is to define the scope of knowledge. Junior and middle front end developers possess similar skills that differ in the depth of their knowledge and the ability to deal with complicated tasks independently.
Junior & middle front end developer
Junior front end developers usually know one technology or framework, so their abilities are limited. Such developers have 1-3 years of experience and require supervision to complete the tasks. On the other hand, mid-level developers typically have a wider choice of languages or frameworks they can work with, as well as 3-5 years of experience.
In simple terms, here is what any good junior developer should have experience with:
CSS + HTML (including CSS libraries like Bootstrap)
CSS preprocessors (SASS and LESS)
JavaScript and JQuery
Primary JavaScript frameworks like ReactJS, Angular, and Vue (there are many of those)
Version Control Systems (for example, Git)
Task runners and build tools, as well as process automation tools;
Testing (unit testing, UI testing, etc.), cross-browser development, and web components.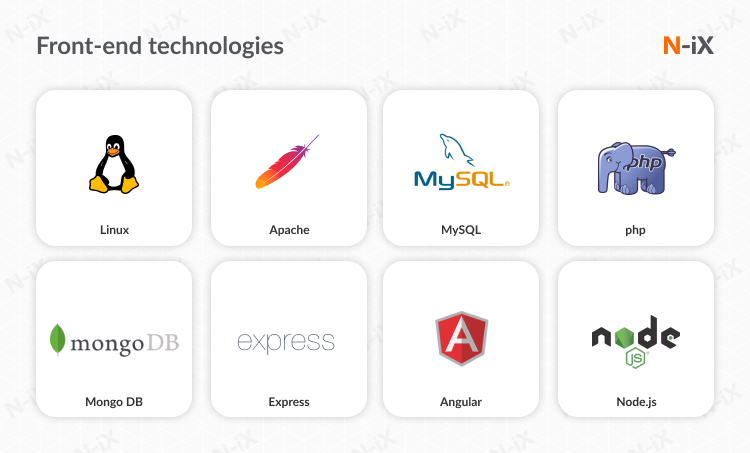 Senior front-end developer
Knowledge requirements vary depending on the company, the project, and the technology stack. However, senior developers have solid knowledge of the technologies above and also often have LAMP or MEAN tech stacks in their arsenal.
Apart from technology, an excellent senior developer also:
Has a profound understanding of SDLC;
Understands the business logic behind technical decisions;
Can come up with the solutions to complex issues.
Senior front-end developers usually have 5+ years of experience (or at least 3.5+ years) and can often lead a team.
How to choose the best vendor for outsource front-end development?
If you plan to hire a team of developers, you need to choose a proper form of cooperation. Once you understand which approach is the best in your case, you can focus on choosing the service provider or vendor to work with. Before rushing into the decision, consider the fundamental aspects of selecting an outsourcing partner:
Size of the company. You can't expect a company that has 5 to 10 employees to create a team of 20 people;
Business reputation. Nowadays, you can easily find reviews on any company in the world;
Experience in the field. A company should have solid experience in front-end development.
Time-zone and cultural fit. The team you hire should be comfortable to work with, so make sure you have at least 1 to 3 hours overlap for communication.
Here is a full list of criteria to consider while choosing a front-end development company to work with or hire dedicated developers.
Why outsource front-end development to Ukraine?
When outsourcing to Eastern Europe you have to consider a number of different aspects. Apart from the reduced costs, they include:
Tech talent pool. Ukraine has the largest number of front-end developers in Eastern Europe ― over 28,000 front-end developers.
Cultural compatibility. Ukrainian developers are an excellent cultural fit for any business and, especially, Western companies.
Suitable time zone. Ukraine is a perfect fit for all European destinations, as it has 1 to 2-hour time difference with European countries and many comfortable flight connections.
Choosing a front-end development company might be a complicated process, but it has plenty of advantages. Let us tell you more about the benefits of cooperating with the front-end developers at N-iX.
Why choose N-iX as your front end development company?
N-iX is an Eastern European provider of software development services, well-known for its reliability and many long-lasting partnerships with the leading tech companies in the world. Web-development and front-end development are among our key areas of expertise. At N-iX, we can quickly help you hire front end developers and set up a strong dedicated development team.
Cooperation model of your choice. Whether you choose staff augmentation, project-based outsourcing or a dedicated development team, we are committed to delivering the best results.
Competent hiring. We will find developers with a skill set that matches the needs of your project.
Communication is the key. N-iX will oversee each step of the project and ensure that you receive regular updates on the progress. We put special emphasis on understanding our clients and delivering on expectations.
The reputation that is recognized by the industry. N-iX is well-known for its high-quality standards.
Flexibility in communication and cooperation. We pay attention to every one of our clients and care to find the best solution to each problem.
Experience working with the US, the UK, and European clients. Our experts have successfully completed dozens of projects for the US and European clients, and have deep knowledge of standards, compliances, and regulations across all major industries.
Whether you need to hire several front end developers or a large dedicated team, N-iX can be the partner you are looking for. Contact us to find the best front end developers on the Eastern European market.
---