Lviv, a city in western Ukraine of about a million, is known for its second largest tech community in the country. Hosting about 25% of all Ukrainian developers, it is now undergoing a transformation from a popular IT outsourcing destination to a technology hub with its own software and hardware startups, as well as community initiatives to further develop human capital not only in terms of technological abilities, but also entrepreneurship. In hisrecent interview, Andrew Pavliv, СEO of a local software development company and Chairman of Lviv IT Cluster Supervisory Board shared his vision for the development of the local tech community in 2015.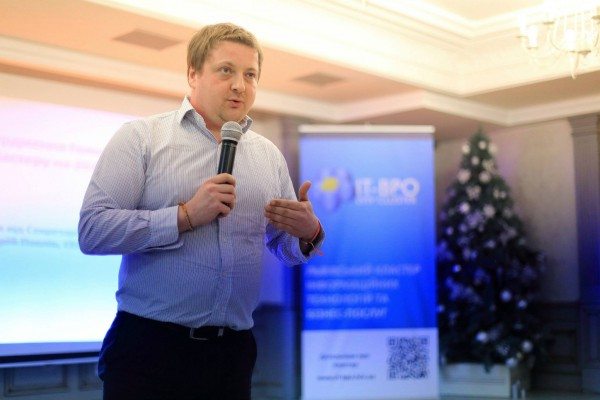 "IT cluster unites companies that require highly skilled talent, and its primary objective is to develop the human capital. This kind of project includes close cooperation with schools and universities, promotion of IT profession among youth, professional trainings, English language courses for IT students etc. ", says Andrew Pavliv, "However, our broader goal is to make Lviv a desirable place for young technicians to live and work ." This year Lviv IT Cluster is going to keep up existing projects such as regional IT roadshows, Lviv IT Arena, a tech conference that gathered about 1,000 international attendees in 2014 and a pilot infrastructure project called "IT-House" that will provide comfortable and affordable residential buildings for companies' employees. Besides, the community plans to focus on the development of startups and entrepreneurship.
International conference Lviv IT Arena held on October 2-4, 2014
New infrastructure project presentation on IT Arena 2014
Andrew Pavliv says it is important that young people not only get a technical major and make a career in the industry, but also treat new technology as an opportunity to develop their own ideas and create new companies. Another area that the community is going to undertake this year is the cooperation with venture capital funds and business incubators. Mr. Pavliv explains that many startups can be started within IT outsourcing companies. "Some members of Lviv IT Cluster have started their own projects, but very often they are self-funded. Venture investment could be a solution that would bring their ideas to a new level." Also, the community is hoping to bring high-tech projects to the area. "Ukrainian tech companies would really like to have more customers that work with innovative projects because they are capable of doing them. Some of Lviv development companies have already worked with hardware projects before, e.g. robots. Projects like these are a bit more difficult to outsource, but we should continue to gain such experience." Mr. Pavliv believes, "If Lviv IT Cluster is able to demonstrate that our city is not only a good place for software development, but also a good place for innovative hardware, design and mechanisms, it can bring positive change." Political events and a crisis in the east bring a new challenge. The community needs to be more public about the situation and keep customers confident and informed. "IT cluster can help by reporting community news. Getting serious, positive news will give readers worldwide confidence in the situation. They will understand that our companies continue to work and grow. Probably, not as fast as we planned, but steadily nevertheless". – resumed Andrew Pavliv. This material is based on the article published by Lviv IT BPO Cluster.
---