If you are looking to hire Scala developers, you have probably considered the benefits of this programming language and, maybe, even chosen it for your project. Indeed, Scala allows achieving impressive scalability. Its complexity promotes better coding practices, and it is a great technology for enterprise-level solutions.
However, hiring Scala engineers is not easy, especially in such hot markets as the USA, the UK, and most of Western Europe. A lot of companies that have difficulty hiring Scala programmers locally explore other talent pools, such as India and Eastern Europe. So where to find the best Scala experts? Is it worth outsourcing Scala development? And how much would it cost?
Interest in Scala as a programming language
Scala was first introduced to the general public in 2004, with the second version (2.0) released two years later. Since then, Scala has got its fair share of followers and a growing developer community. The TIOBE Index shows that Scala's popularity has increased five times since 2006.
Global demand for Scala developers
Excluding several spikes in the search volume back in 2004 and 2005, Google Trends show that the interest in Scala specialists emerged in 2007 and was growing ever since. ITJobsWatch reports a similar situation in the interest in Scala engineers in the UK. The number of job postings mentioning Scala on their website went up four times since 2012 [3].
Demand for Scala developers worldwide
As of April 2022, LinkedIn.com lists over 60,000 Scala jobs available worldwide. Most of them are in the US (over 27,300 jobs), the European Union (15,300 posts), and the United Kingdom (almost 2,500 positions). Another 4,700 Scala developers are needed on the Chinese IT market (according to Indeed.com). Nearly 43% of all jobs are open for the mid-level engineers, and another 25.4% of all positions available are listed for senior Scala specialists.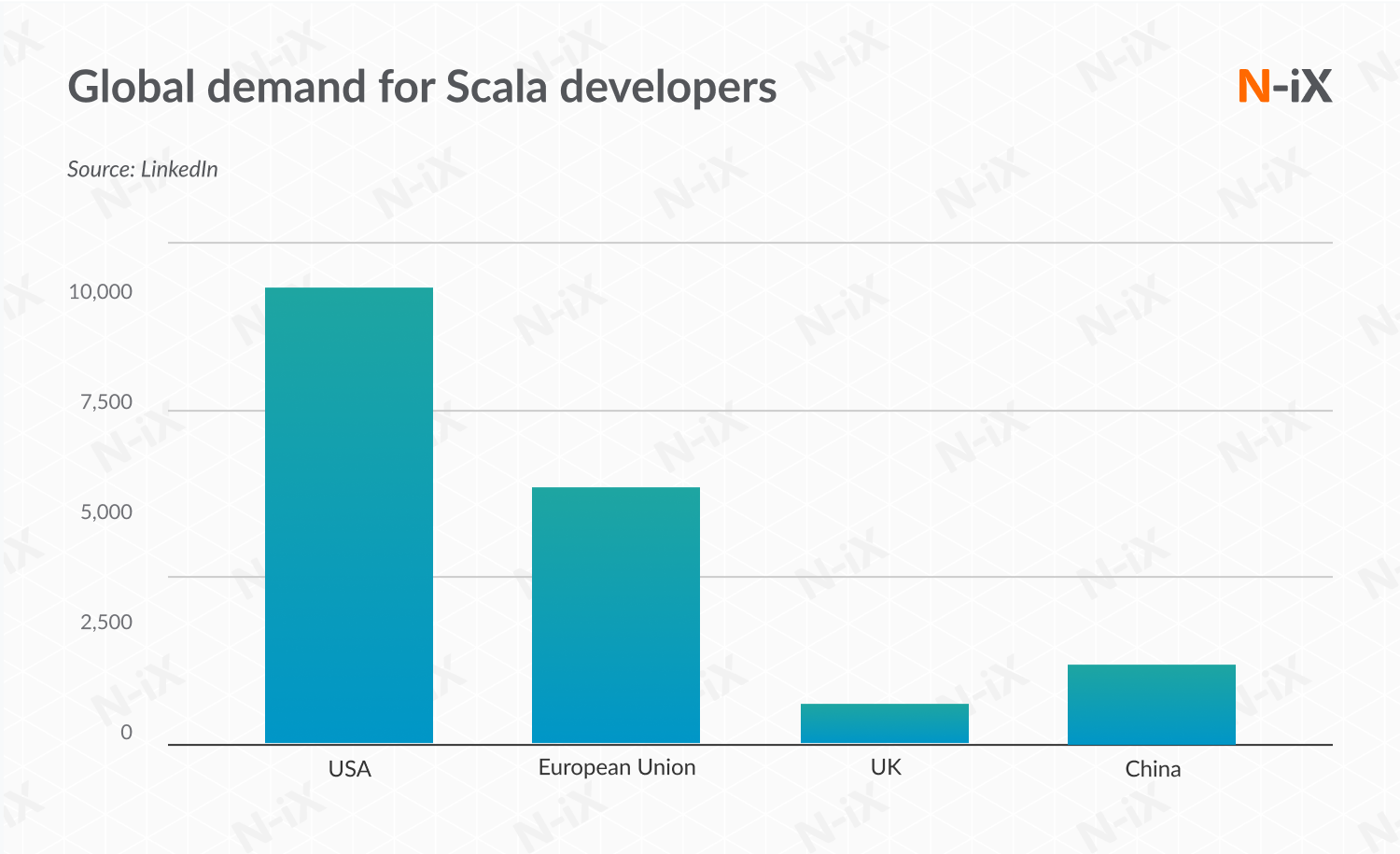 The number of Scala engineers worldwide
As of 2020, there were nearly 28M software developers in the world. Stack Overflow claims that approximately 4% of professional engineers use Scala [2]. If we search LinkedIn for a 'Scala developer', we will see that the top three locations by the number of Scala experts are the USA, India, the UK, and France.
However, the number of tech giants in these countries is high, as well as the competition for the tech talent. Companies can wait for months to hire a single Scala developer for their project.
On the other hand, the European tech talent pool is smaller, compared to the USA, yet the competition there is lower.
France and Germany are the leaders in Western Europe by the number of Scala engineers. As for Eastern Europe, Poland has over 3,500 professional Scala engineers. Ukraine has the second-largest Scala pool in CEE.
What is the average Scala developer salary?
So how much do you pay a good Scala expert? Here's a brief comparison of the average Scala developers' salaries in the USA, Great Britain, and Europe.
The US and Switzerland are the top-paying countries in terms of Scala development, with the average annual salary of $130,000+. A similar situation is in the UK, where Scala engineers earn around $125,000 a year. On the contrary, Eastern European countries offer much lower rates, for example, Poland offers an average annual payment of $60,000.
As seen from the graph above, Eastern Europe offers lower rates for Scala development. The average Scala developer salary is 25-40% lower compared to the US, which significantly reduces the cost of the project. Moreover, companies in this region have vast experience in outsourcing, top quality of services, and highly-skilled developers. Therefore, many companies choose to outsource Scala development or hire Scala developers to extend their local teams.
Success stories of outsourced Scala development
Outsourcing has many benefits: shared risks, reduced costs, a wider pool of experienced developers with the needed expertise, and much more. Among many well-known destinations, IT outsourcing to Eastern Europe has helped many companies build secure, scalable, and efficient solutions and expand their development teams.
We have selected several examples of successful Scala software development outsourcing. The companies featured in this list represent various industries and outsourced their development to companies in Eastern Europe.
MASMOVIL: Outsourced Scala development to Eastern Europe
MASMOVIL, a Spanish telecom provider, needed to scale up their development team and had difficulty staffing locally. They partnered with N-iX to create an efficient and secure software solution to streamline document management workflow. Scala was one of the key technologies used in this complex project, along with Java and JavaScript. As a result of successful collaboration, the company launched two products to help them effectively manage customer relationships.
Knip: Scala development as a part of the Big Data solution for insurance
Knip, a Swiss-based digital insurance platform, partnered with a Polish software development company to work on their analytic application for the existing data warehouse [5]. Scala was one of the primary technologies on this project. An outsourcing vendor successfully developed a module that connects the warehouse to a mobile application.
Mercanto: Outsourcing Scala, AI, and ML
Another project is Mercanto, an AI-powered digital marketing platform. It uses machine learning algorithms and natural language processing to deliver personalized and relevant content to consumers, which increases conversion rate and boosts revenue. The company has partnered with N-iX, European software development company, who provide Mercanto with end-to-end software development.
Adstream: Software product development for advertising
Adstream has chosen an IT outsourcing partner from Poland with expertise in Scala, AWS, and Angular [6]. Scala engineers were directly involved in core features development, refactoring of the products, as well as migration to the cloud. This helped the company to improve CI processes, and reduce the number of faults within the system. It also helped Adstream to initiate several greenfield projects faster.
Telefónica Germany: Big Data platform for telecom developed by an outsourcing vendor
Telefónica Germany needed to scale up the Big Data platform they already had [4]. An Eastern European outsourcing partner augmented the client's team with experienced software engineers, including Scala developers. Among several prototypes, the one that included Scala, stood out. Once the solution was implemented, it allowed the company to process large amounts of unstructured data ten times faster than before.
Gogo: Cloud-based Big Data platform from an Eastern European software development vendor
Gogo is a global inflight internet provider that needed to scale their on-premise data solutions and move it to the cloud. The client required a team of 30 software engineers with expertise in Big Data, Cloud Solutions, Data Science, and BI. Scala developers at N-iX were involved in the support of the original product, as well as the development of the new solution: a unified data platform in the cloud. Leveraging Big Data Analytics, Gogo has achieved around 80% of the true positive rate in predictive maintenance.
Afterword
Hiring Scala developers in a competitive market is a complicated and time-consuming process. Considering the deficit of Scala experts, finding a skilled engineer locally can be hard. That is why many companies decide to outsource Scala development. New tech talent pools, wide-ranging expertise, lower rates, and excellent reputation of many outsourcing partners make more and more companies worldwide choose Eastern European vendors. If you have any questions or need a reliable Scala development partner, contact our specialists.
References:
IDC's Worldwide Developer Census, 2018: Part-Time Developers Lead the Expansion of the Global Developer Population
Stack Overflow Developer Survey
Scala Jobs by ITJobsWatch.co.uk
Getting Data Running 10x Faster, Customer stories by Epam
Softwaremill Scala Portfolio
AdStream - connectivity suite for the advertising industry by VirtusLab
LinkedIn.com
Indeed.com
---