In the US, the share of AI jobs grew from 0.3% in 2012 to 0.8% of total jobs posted in 2019. The labor demand is growing especially in high-tech services and the manufacturing sectors, willing to hire the best AI developers.
From Artificial Intelligence Index Report 2019
An extreme shortage of tech specialists, combined with a growing appetite for top-notch solutions forces many companies to look for alternatives to a traditional in-house recruitment. Tap into the talent pool of AI software developers in Ukraine and other countries of Eastern Europe. Here is the why and how of building a successful software development team for your next AI-powered project in Ukraine.
ACUTE SHORTAGE OF AI SOFTWARE DEVELOPERS IN THE UK AND THE US
In 2019, $10.9B were spent on intelligent process automation and AI business operations combined. The number is projected to grow exponentially in the forthcoming years, and AI is predicted to create 2.3M jobs by 2020, according to the Gartner report.
As the appetite for AI-powered solutions increases, there is a severe talent war staged for Machine Learning and AI software developers, and both top tech powerhouses and upstarts go to great lengths to hire in-demand AI developers. For example, US companies are raising over $1B to recruit AI software developers by 2020.
And they are all doing it for a good reason. They all want to reap the harvest in the long run. For instance, BNY Mellon integrated process automation and machine learning into their banking ecosystem. And thanks to that, the bank managed to get $300,000 in annual savings.
Therefore, it comes as no surprise that companies set up AI hubs, research and development centres and snap up the best AI, Machine Learning, and Data Science specialists all across the globe, including such IT hubs as Ukraine, Poland, and other countries of Eastern Europe.
It comes natural that over the past three years alone the number of AI-related job postings on Indeed has increased by 119%, according to the platform's latest AI talent report.
As you can see, the number of companies looking to hire AI developers are much higher than the number of available experts. That is why many companies are opting for outsourcing.
Why you should look for experts in AI & Machine Learning in Ukraine
Strong educational background
Ukraine has a strong STEM-based educational background. There are universities in Ukraine that offer Master's programs in Computer Science with specialization in Data Science. The Master's Program in Computer Science/Data Science enables aspiring specialists to acquire skills in programming, data analytics, machine learning, artificial intelligence, big data system architecture, product development and provides leadership and self-development courses for its students.
Comprehensive expertise of Ukrainian AI software developers
In Ukraine, artificial intelligence is one of the fastest-growing areas of expertise. The overall expertise varies from ML to robotics and recommendation systems. Machine learning in Ukraine accounts for more than a quarter of projects that Ukrainian companies work with. Another aspect of the artificial intelligence in Ukraine of IoT, with almost the same number of projects.
In Ukraine, artificial intelligence has a wide variety of applications across many industries, including IT, fintech, marketing & advertising, etc.
Wide choice of trusted Big Data and AI software development companies
Ukraine is home to 1,600+ software development providers and 192,000+ software engineers.
Ukraine and other countries of Eastern Europe are home to a wide variety of reliable AI software development companies. According to Clutch, there are almost 150 machine learning companies and Big Data analytics companies, including such companies as N-iX, CoreValue, DataRoot Lab, SoftServe, and more. The Clutch data indicates that such countries as Ukraine and Poland take the lead by the number of Artificial Intelligence providers even compared to the Western European countries.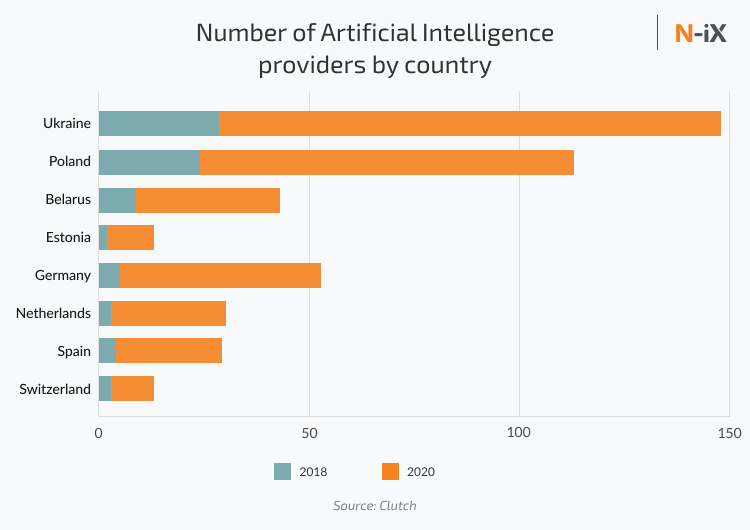 There are many companies which outsource their machine learning and artificial intelligence to Ukraine and Eastern Europe and have benefited from such cooperation. N-iX, besides AI and Machine Learning expertise, has a considerable track record of projects that use Data Science, Big Data, Business Intelligence, fraud detection, intelligent cybersecurity, and more.
Booming talent pool of AI software developers and Big Data engineers
According to Linkedin, the number of experts ready to work in artificial intelligence and machine learning in Ukraine exceeds 30,000. The country has a rich pool of software engineers that specialize in such technologies as Scala and Python that are widely used for Data Science and Machine Learning, as well as Apache Hadoop framework that is used for Big Data engineering.
Python developers in Ukraine
95% of all Data Scientists and Machine Learning engineers globally are using R and Python. Other languages they use are C and Scala.
Python is a globally preferred language for Data Science, and its market share is growing exponentially. What's more, 48% of data scientists with five or fewer years experience rated Python their favourite programming language. While R is good for making prototypes fast, data analysis and creating state-of-the-art algorithms, Python has many libraries for Machine Learning, it is good for prototyping, making analysis, putting into production, better for performance than R.
Ukrainian Data Scientists follow the global trend. Python is among the five most widely used coding languages in Ukraine, and now the market share of Python is on the rise as it is a prevailing technology among Ukrainian Data Scientists.
Thriving community of AI software developers
Ukraine has a vibrant community of AI gurus and enthusiasts. The country hosts a large number of Big Data/AI/ Machine Learning events including international conferences such as AI Ukraine Conference, AI & Big Data Day, JEEConf, etc.
Local communities also organize regular meetups and workshops for big data and analytics experts, such as Bottleneck Night AI/ML, DS Success Meetup, just to name a few.
Examples of projects Ukrainian AI software developers worked on
Ukrainian AI software developers engineers have sufficient experience as many AI-powered startups were born in Ukraine or created in collaboration with Ukrainian software engineers. These cutting-edge solutions include Cargofy, Discoperi, Datarobot, Grammarly.
Cargofy is an AI-enabled solution for cargo delivery optimizations. It works according to an Uber-like business model and connects truck drivers with customers that need cargo delivery.
Mercanto is a London-based company that has cooperated with N-iX, a leading software development company in Ukraine, to develop a ML- enabled email marketing platform. Mercanto needed a Dedicated Development Team with expertise in Big Data, Data Science, and Machine Learning to create a platform for delivering highly personalized email content, based on collecting, aggregating, and processing a huge amount of data on the buyers and product feed, and matching the results. N-iX team have developed a sophisticated NLP module and machine learning algorithms powering Mercanto platform.
Grammarly is the US-Ukrainian startup that has Natural Language Processing technology at its core. It is one of the global leaders on the market as a writing-enhancement tool.
Petcube, a highly crowdfunded Ukrainian startup, leverages machine learning models for its pet detection technology.
Discopery is an innovative startup that develops a smart solution to prevent car accidents and save lives. The solution is powered by ML algorithms.
DataRobot is a machine learning platform that helps enterprises build predictive models at speed, raised $54 million in a Series C funding round led by New Enterprise Associates (NEA). The company has an R&D office in Kyiv (Kiev), with up to 200 employees working there, according to DOU.UA, an authoritative local IT industry resource.
How to choose AI software developers in Ukraine
When looking for experts in artificial intelligence in Ukraine, it is critical to choose the one that can help you turn your idea into real KPIs. They will tell you if it's viable and offer flexible expertise as needs towards Machine Learning and AI differ drastically across different businesses.
For example, some companies will do with mere collection of data and lucid visualization (such as retail stores that need to see that some goods don't sell in certain stores or banks that need to have all the data collected from CRMs), and thus will need Big Data engineers.
Some businesses will need to apply the ready algorithms and models developed by Google, IBM, and others (for instance, e-commerce stores that need plug-and-play recommendation systems). In this case, you will require a machine learning engineer who can implement the system focusing on your specific data and business domain. The specialist needs to extract the data from different sources, transform it to make it suitable for this particular system, receive the results, and visualize the findings.
However, in specific cases, businesses need R&D machine learning projects. At N-iX, we have identified 6 common milestones of a successful enterprise R&D project in machine learning and the specialists you need.
You need an experienced software architect to execute a robust architecture design of the machine learning solution.
A Big data architect and big data engineers are responsible for constructing an appropriate big data engineering ecosystem (based on Apache Hadoop or Spark). It allows collecting, integrating, storing, and processing huge amounts of data from numerous siloed data sources. Link to Gogo
A big data architect or a machine learning engineer to run ETL procedures (extract, transform, and load) on the newly created ecosystem.
Data scientists may need to refine the data further to make it suitable for a specific business case.
Data scientists and machine learning engineers are responsible for applying appropriate algorithms, creating models based on these algorithms, fine-tuning models, and retraining models with new data.
Business intelligence specialists are responsible for the visualization of insights. Besides, you may need front-end developers to create dashboards with easy-to-use UI.
Top vendors for Artificial Intelligence in Ukraine
To compile this list, we have analyzed the Clutch listing of Ukrainian artificial intelligence vendors and selected top five companies with a solid portfolio of AI and ML solutions, a development center in Ukraine, and at least 50+ employees.
N-IX
N-iX is an established Eastern European software development provider with one of the strongest expertise in big data, data science, and machine learning in Ukraine. They specialize in developing self-taught enterprise solutions based on supervised, unsupervised, and reinforcement types of machine learning, including NLP, deep learning, and neural networks.
This company is a reliable Ukrainian artificial intelligence vendor that specializes in real-time data science, AI algorithms & applications, natural language processing solutions, and fraud detection systems. Their portfolio includes robust software in industries such as healthcare, telecom, retail, media and entertainment, fintech, etc. N-iX helps clients around the world hire AI developers and grow their business.
Abto Software
This vendor has expertise in AI-based advanced analytics and chatbot development. They also provide computer vision services and deliver intelligent video analytics solutions.
Quantum
This vendor works with small and mid-size companies, as well as quickly growing startups all over the world. Their clients represent various domains, including agritech, healthcare, security, smart city, entertainment and sport.
Softengi
This company's expertise in AI ranges from big data collection, data mining, predictive analytics, to machine learning and chatbots. They help their clients prepare for and undertake digital transformation successfully.
Infopulse
Apart from their software development competence, they have one of the strongest portfolios of machine learning in Ukraine. They've worked with companies in automotive, telecommunications, banking and finance, insurance, healthcare, manufacturing, and other industries.
To check the viability of your idea and turn it into an AI-powered solution, don't hesitate to get in touch with our specialists.
Why choose N-iX to hire AI developers in Ukraine?
We have presented some of the best experts in artificial intelligence in Ukraine; with strong AI-powered software portfolios. Here's why you should opt for N-iX:
We have over 1,000 experts, available to support your project. Our expertise includes also custom software development, DevOps, UX/UI, BI, QA & testing, etc.
A proven track record in delivering AI-based solutions to clients in various industries across the globe and one of the strongest expertise in machine learning in Ukraine.
N-iX is a reliable and trusted IT partner. We have multiple industry awards as well as recommendations on dedicated platforms such as Clutch.co, GoodFirms, Extract.co, etc.
Flexibility in communication and cooperation. We adapt to our clients' needs and care to find the best solution for each case.
We work with mid-size companies, enterprises, and tech giants from North America, Europe, and the UK.
Sum-up
The demand for AI talent is soaring, and the battle for it is cut-throat. To get a competitive advantage without incurring losses, many businesses choose to cooperate with AI software developers in Ukraine. This is a rational choice thanks to the favourable combination of the Ukrainian AI talent market characteristics: a strong tech background, a thriving talent pool, a booming community of AI/ Data Science/Machine Learning engineers, and the substantial number of reliable AI software development companies with a proven track record of successful projects.
Contact our AI experts to find out how to hire the best specialists in artificial intelligence and machine learning in Ukraine.
---