The overall interest in DevOps services has grown by almost 10 times over the last five years. Some companies struggle to hire in-house DevOps experts. Meanwhile, others choose to outsource their DevOps processes to reliable vendors in Ukraine. And they do it for a sound reason. The country has an extensive tech talent pool of highly qualified experts. What do you need to know about DevOps services in Ukraine? And how to choose the best company? This blog post sheds light on these and many other questions.
Ukraine has the second-biggest tech talent pool in Eastern Europe. With over 192,000 tech experts and 1,600 service providers, the country has been recognized as one of the best IT outsourcing destinations. When it comes to DevOps services, Ukraine has both a large number of experts and companies that offer DevOps outsourcing. As of February 2020, LinkedIn listed almost 6,000 DevOps engineers in Ukraine. Many Ukrainian tech vendors provide DevOps services, and there are 50+ DevOps consulting companies listed on Clutch.
As a company that has 25+ successfully completed DevOps projects of different types and complexity, we know how challenging it can be to find a vendor that can provide you with high-quality DevOps services and meet your specific business needs.
In one of our recent blog posts, we have discussed important aspects of DevOps services and vendor selection. Here's a recap:
Understand what processes can be improved with DevOps services in Ukraine. Whether you need to scale up, review the cloud costs, or set up the whole infrastructure, make sure to set clear KPI's.
Minimize the risks. Check if the vendor has the necessary certifications and discuss the integration and knowledge transfer plans.
Choose a vendor with a rich portfolio. If you are considering DevOps services in Ukraine, make sure to select a vendor with a proven record of successful projects.
Assess the tech expertise. In Ukraine, DevOps services can come in many shapes and forms. You can find companies that specialize in single-cloud solutions, vendors that offer a wide range of DevOps services (including setting up CI/CD processes, cloud-to-cloud migration, and more), and providers that have niche expertise like security infrastructure.
Evaluate the tech stack a vendor has experience working with. With that many companies and DevOps engineers, you can easily find DevOps in Ukraine with knowledge of any cloud, tool, or type of service. However, there are cloud vendors (AWS, Azure) and technologies (Docker, Kubernetes, Terraform, etc.) that each reliable DevOps outsourcing company needs to be well versed in.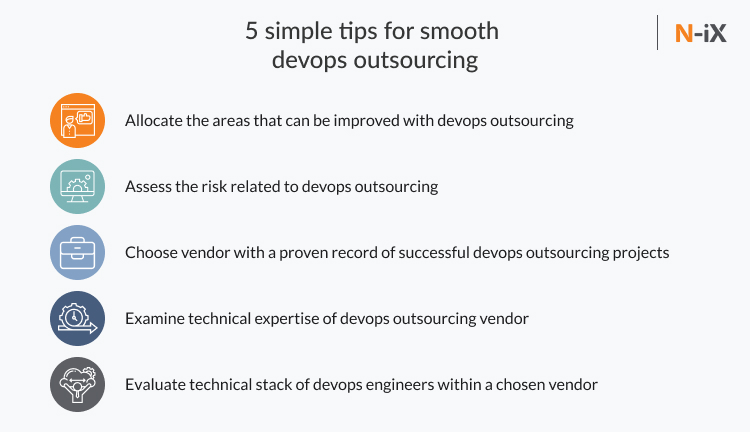 Keep reading DevOps outsourcing: How to make it work.
DevOps services in Ukraine are booming. To compile the list, we have selected the vendors who offer DevOps services in Ukraine, have a portfolio of successful DevOps projects, present for 5+ years on the market, and have at least 50+ employees. Moreover, we've shortlisted these companies, choosing those that have 4.8+ ranking and at least 10 reviews on Clutch. These criteria will help you find the company with experience and ability to scale up quickly if needed. We have also included Clutch reviews and examples of companies these vendors work with.
N-iX
N-iX is a Ukrainian company that offers a wide range of DevOps services. Their expertise includes on-premise to cloud migration, cloud-to-cloud migration, infrastructure set up, etc. N-iX builds strategic partnerships with North American and European clients in fintech, telecom, retail, healthcare, etc. The company's portfolio includes 25+ successful DevOps projects, including some of the recent ones:
fully automated CI/CD pipeline, and cloud migration for Lebara;
cloud migration of legacy infrastructure and multi-tenancy implementation for Orbus Software;
assessment of the existing DevOps processes, streamlining and standardizing CI/ CD processes for a global telecom provider, setting up a DevOps Centre of Excellence for the client. (NDA).
design and development of AWS infrastructure, environment optimization, fully automated CI/CD for an Asian fintech company (NDA).
IT Svit
This vendor initially provided remote system administration services. Nowadays, they employ 60+ software developers, DevOps engineers, and Big Data architects. The company has expertise in CI/CD, GC, AWS, and Azure, as well as infrastructure-and function-as-a-service.
Ciklum
This is one of the largest vendors on our list of the best DevOps consulting companies in Ukraine. This company works primarily with enterprises and mid-market companies in IT, retail, and financial services. Thomas Cook company was looking for DevOps in Ukraine and partnered with this vendor to speed up their online presence and improve their release processes.
DevCom
Established in 2000, this company specializes in Cloud Computing (AWS, MS Azure), DevOps, as well as software development and testing. With 100+ developers abroad, they work with startups and mid-size clients from the US, Canada, Germany, UK, the Netherlands, and other European locations.
Svitla Systems
Founded in 2003, the company has its development centers in Kyiv, Kharkiv, and Lviv; and it employs over 600 experts. This vendor works primarily with mid-size clients in business services, healthcare, financial services, and more. Among the companies that have chosen this vendor for DevOps services in Ukraine are Jumpcut Studios, Patexia, Int-R-View, and Boomer digital.
Attract Group
This is one of the smallest vendors on this list, with a little over 50 experts. This company specializes in web & mobile development, QA, as well as DevOps, and Cloud configuration. They work with startups, small and mid-size clients who represent retail, education, traveling and tourism, and other domains.
ELEKS
Established in 1991, this vendor has been working with both mid-size and enterprise-level clients in finance, transportation, retail, and other industries. They specialize in Infrastructure as a Service, Platform as a Service, as well as DaaS - Database as a Service. The company employs 1,500+ professionals, with the majority of them working in the Ukrainian delivery centers.
New Line Technologies
This company has been on the market for more than 10 years and provides DevOps services as a part of their projects. This vendor has one of the largest portfolios presented on their website. Their portfolio includes companies in FinTech, education and e-learning, insurance & healthcare, and other industries.
Django Stars
Since 2008, this vendor provides its DevOps services in Ukraine to companies that are looking to outsource automated infrastructure provisioning, CI/CD pipelines, scaling and data migration, as well as automation of deployment processes. This vendor works with companies in finance & banking, hospitality & leisure, and transportation.
IT CRAFT
The last vendor on our list of the best DevOps consulting companies in Ukraine employs a little over 200 experts. Apart from software development and testing, they also specialize in DevOps consulting and system optimization. The company partners with small and mid-size companies in business services, transportation, and education.
Summary
Many companies have already chosen to outsource their DevOps services to Ukraine and benefited from it. While selecting the vendor, look for a reputable company with a strong tech portfolio, versatile expertise, while paying attention to the clients and industries they work with.
Why choose N-iX for DevOps services in Ukraine?
We have one of the top expertise in DevOps in Ukraine, including cloud adoption, building and streamlining CI/CD processes, security issues detection/prevention (DDOS & intrusion), firewall-as-a-service, and more.
DevOps teams and experts at N-iX support a wide range of technologies, including AWS, Google Cloud, Azure, Docker, Kubernetes, Terraform, Ansible, and many more.
We partner with North American and European tech companies and enterprises, including Lebara, Gogo, Currencycloud, TuneIn, Fluke Corporation, Travelport, and HotSchedules, to help them bring their businesses to the next level.
If you have any further questions about DevOps outsourcing services we can provide, contact our experts.
---