Considering that JavaScript is the most popular programming language in the world, JavaScript developers are the most in-demand ones. However, well-qualified specialists in this field are hard to find due to the shortage of skillful programmers across the globe. Nevertheless, there are countries with a large talent pool of JavaScript experts. For sure, Ukraine is one of such countries.
The number of Ukrainian JavaScript developers is growing, and the country's JavaScript community is getting bigger and more active. According to LinkedIn, there are more than 62,000 JavaScript developers in Ukraine. As DOU.ua states, JavaScript is a second most widely used programming language in the country after Java. It has shown the largest growth compared to other programming languages in Ukraine since 2012.
With such a significant number of professionals in the technology, more and more international tech companies choose to partner with JavaScript developers in Ukraine. We have compiled the list of 9 tech companies that built their successful software products with the help of Ukrainian JavaScript talent. It is based on a number of different factors such as a long-term period of cooperation, successful results of the partnership, characteristics of the client companies, their location (the USA or Europe), the reliability of the software providers, their experience in JavaScript projects, a portfolio of works, and references from the clients. To make this list we have examined a number of sources including companies' websites, their LinkedIn profiles, Clutch, and others.
Lebara
Industry: MVNO
Location: UK
Partner: N-iX
Lebara is a mobile virtual network operator providing services to more than 5 billion users across the world. It is a global telecommunications company and one of the fastest growing companies in Europe. The company was named Best MVNO (mobile virtual network operator) for several years in a row.
In 2014 Lebara started cooperation with N-iX, one of the leading software development providers in Eastern Europe. N-iX engineering teams have been working on many different products and services for its partner including LebaraPlay, LebaraMoney, MyLebara, Bluepipe, and others. The company provides a wide range of expertise for Lebara such as software development, quality assurance, database administration, application and infrastructure support, BI, and more. N-iX dedicated development team for Lebara counts 110+ software engineers and includes JavaScript developers.
Jarrell Systems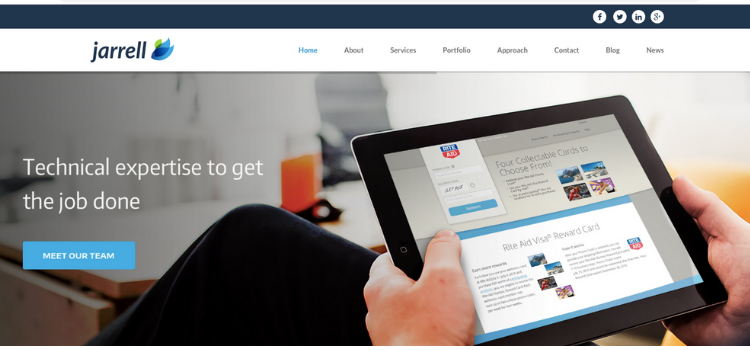 Industry: Information technology and services
Location: USA
Partner: Svitla Systems
Founded in 2013, Jarrell specializes in providing technology solutions. The company works on web applications, mobile apps, websites, e-commerce solutions, hosting and design for its clients. The services it offers include optimizing e-commerce sales, implementing ERP software, designing improved mobile experiences, and building other software solutions.
The company engaged a Ukraine-based software development vendor to fulfill a number of its business needs. They wanted to build new custom extensions for the e-commerce platform, create a Magento-based e-commerce solution, provide Google services integration with the existing solution, and strengthen its product stability. The Ukrainian IT outsourcing company provided its partner with the team of Magento and WordPress developers, leveraged REST API for external services integration, and enhanced consistency in project coordination.
HotSchedules
Industry: Hospitality
Location: USA
Partner: N-iX
HotSchedules provides one of the most popular employee scheduling solutions for the restaurant, retail, and hospitality industries. The tool enables companies to automate various operational challenges including recruiting, training, business intelligence, labor and inventory management. HotShedules serves more 2,8 million users in 160,000 locations and 56 countries.
The company started its long-term cooperation with N-iX in 2015. N-iX dedicated developers have been working on the modernization its existing system and developed new functionality and solutions. N-iX development team including JavaScript engineers has worked on such solutions as HotSchedules Labor (web, iOS, Android), Seasoned (web, iOS, Android), Above Store Console (web), and HotSchedules Clarifi (web).
Optima Curis
Industry: Healthcare
Location: USA
Partner: Yalantis
Optima Curis is a provider of the healthcare ecosystem that combines digital patient engagement and social networking. It created eCuris – a platform where patients, their relatives, and physicians can communicate and interact. This platform helps doctors control their patients' health and relatives monitor their family members' health.
A mobile and web development provider from Ukraine developed this medical platform for Optima Curis. The platform is stable and HIPAA-compliant. Also, it is highly responsive, easily scaled, and easy to navigate. The application includes the admin panel, the chat app, notification service, API connecting back-end and front-end parts, and front-end of the app. The vendors' React.js developers worked on the front-end of the product.
Vable
Industry: Information management
Location: UK
Partner: N-iX
Vable is a content automation platform that enables companies to manage all their sources of information in one place and deliver the best content to the users. Founded in 2004, the company applies AI-automation and human competence to allow organizations to build an effective custom information ecosystem.
Vable teamed with N-iX to build a new solution that would help cover more business cases and reach a wider target audience. As a result, N-iX engineers developed a scalable and flexible cloud-based solution for its client using such technologies as Angular 6, NodeJS, Amazon Web Services, and others. The solution is now available for the audience and has over 17,000 users worldwide.
JustAnswer
Industry: Internet
Location: USA
Partner: Abto Software
JustAnswer is one of the world's leading marketplaces that connects visitors and verified professionals in different categories including finance, healthcare, law, mechanics, and more. The website enables users to ask their questions and get the answers from the experts 24/7. It encompasses more than 12,000 experts in 700 categories.
The US-based company partnered with the development team from Ukraine to improve its platform. Ukrainian team including JavaScript developers helped to reach smooth running of JustAnswer's website with heavy traffic. The developers provided centralized event registration, membership, subscription, and product download, smooth API integration with the payment services, integration with an automatic bidding system, various levels of cache, and other solutions.
XPERTyme
Industry: Internet
Location: Germany
Partner: IT Craft
XPERTyme is an online marketplace for video consultation. It is the platform that connects users who have questions with experts who can answer them. The solution brings value to the users who can find useful content, experts who can share their knowledge, and the organizations that get a secure knowledge sharing system.
The company chose Ukraine as an outsourcing destination for hiring a development team for its project. The Ukrainian team became a long-term strategic partner for the German company. It responded to such challenges as multi-client support, limited timeframe and no set list of requirements. The front-end part of the team includes the specialists in Angular, Moment.js, Socket.io, and Material.
GameChanger Charity
Industry: Nonprofit organization management
Location: USA
Partner: Waverley Software
GameChanger is a charity organization dedicated to helping families and children with threatening illnesses. GameChanger Charity uses technology and innovation to make the life of sick kids and their families better by offering entertaining and educational content.
Ukrainian software house built a cross-platform CMS-based application that enables children in hospitals to have access to the media content provided by Amazon, Twitch, and other partners. Its development team leveraged such technologies as JavaScript, Node.js, AngularJS, and React to develop this application. Overall, the vendor delivered full-cycle development of the project including UI/UX, a web application, its back-end part, and quality assurance.
Hubspring Health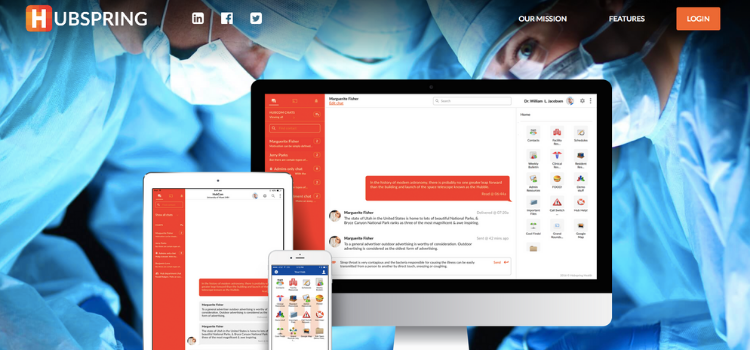 Industry: Healthcare
Location: USA
Partner: S-PRO
The Hubspring platform is a digital ecosystem that provides communication and resource access solutions for hospital stuff. It offers effective messaging, contact management, access to documents, on-call schedules, protocols, assignments, and more functionality for medical groups.
The company started cooperation with Ukrainian vendor to create an application where medical workers can efficiently and securely send messages and share documents. Ukrainian team created an e-clinical product with instant chat for hospital stuff, secure storage for the documents and protocols, file distribution system, and notification system. The company continues to provide application support and improvements.
***
All in all, tech companies that decided to work with Ukrainian JavaScript developers have already obtained many benefits from such cooperation. Ukrainian developers are famous for delivering high-quality services, wide-ranging expertise, and a great level of efficiency. Meanwhile, JavaScript developers are of the most numerous in the country answering the global demand for the technology. There is no wonder that more and more international companies engage Ukrainian JavaScript engineers in building software products for them. If you have any questions, contact our specialists and start creating your solution with JavaScript.
---