Finding experienced tech specialists is becoming increasingly harder these days. The number of new job openings for software engineers and quality assurance experts is expected to grow by 22% annually from 2022 to 2030. This increase will cause a significant shortage of tech talent, leading to approximately 85M unfilled software engineering positions by the end of 2030.
To drive technological innovation or at least maintain/expand their critical projects, businesses will have to look beyond the borders of their home country in search of talent. This is where software team nearshoring comes in. What is it and what benefits can it bring to your business? And how do you find a partner that can help you form experienced nearshore software development teams? Read on to find out.
What is nearshoring and how is it different from offshoring?
First of all, let's clarify what exactly software team nearshoring is. Just like offshoring, nearshoring is part of the enormous software outsourcing market that was valued at $530.15B in 2021. However, in contrast to offshoring, where businesses establish long-distance partnerships, nearshore software development teams are formed in neighboring countries.
Benefits of nearshore software development teams
Software teams nearshoring comes with a number of advantages, some of which are quite unique and cannot be offered by other forms of outsourcing.
Fast team formation and scaling
Nearshoring, just like other forms of outsourcing, allows you to tap into a much broader talent pool. By expanding your search to even a single country you will gain access to thousands of new experts that can quickly fill the tech expertise you require.
Let's look at Germany as an example, which, according to reports, had over 96,000 unfilled IT positions in 2021. One of the best ways to mitigate this shortage would be by searching for talent abroad. Countries nearby like Poland (492,000 experts), Ukraine (298,000 experts), and the Czech Republic (199,000 experts) have some of the largest pools of tech experts in Europe. Local vendors have significant outsourcing experience can form a nearshore software development team rather quickly. Indeed, N-iX, for example, can help their clients fill a tech position within just 4-6 weeks, compared to the several months that it usually takes to do so with experts in their own country.
Easier communication
One of the main advantages of nearshoring is how easy it usually is to establish effective communication with nearshore software development teams. This is caused by several factors:
Close or same time zone. It is much easier to cooperate with people when there is little time difference, as compared to when their working hours coincide with your night time.
On-site visits. Effective communication thrives when people are able to meet and have discussions in person. Traveling to a neighboring country is a lot easier than visiting a different continent. It can be done more frequently, and is, in fact, a common practice for experienced nearshoring teams. This helps teams learn more about your processess, business values, etc.
Cultural similarities. Cultural similarities shared by neighboring countries make finding common ground a lot easier. It would also mean the in-house personnel and nearshoring team are more likely to have a similar work and business approaches.
Flexible and efficient cost allocation
Working with a nearshore team opens the opportunity to optimize your expenses. One of the main draws of software outsourcing is the lower developer rates that are offered by local vendors.
Additionally, nearshore software development teams offer different engagement models, allowing you to choose the one that suits your needs and budgets the most. The most common models are:
Fixed price: suitable for shorter and simpler projects when you already have a vision for your project and need assistance with developing a particular feature, for example.
Time and material: a very flexible model where you hire developers with fixed hourly rates to take care of a particular task.
Dedicated development team: a full development team dedicated solely to your project is formed and prepared to be your long-term partner.
Finding a reliable partner for software team nearshoring: top 5 best practices
Building a strong nearshore software development team requires assistance from a reliable partner. Finding the right service provider in a market that you are less familiar with can be quite challenging. Following these best practices will help you make the right choice.
1. Examine the selection of offered services
Experienced software teams nearshoring providers are no one-trick ponies and should have broad technical expertise. This allows them to form long-term partnerships with clients by matching the new needs that may occur as their cooperation continues and takes new forms.
Therefore, examining the service offering should also be one of the top priorities when selecting a nearshoring partner. Do they have expertise in cloud development and DevOps? Can they help you with Big Data or Data Analytics? Are they proficient in cutting-edge technologies such as AI and Machine Learning? A positive answer to all of these questions is a sign of an experienced service provider. Even more so if they back it up with official certifications and partnerships with recognized technology providers such as Google or Microsoft. Here are some of the certified partnerships possessed by N-iX.
2. Analyze relevant experience and client testimonials
Software outsourcing is a dynamic and rapidly growing market with many young companies constantly appearing on the scene. Partnering with such companies may have its perks, such as, for example, lower cost rates. However, this comes with the risk of obtaining a rather inexperienced partner who will not be able to effectively match your needs.
Therefore, when choosing a partner for software team nearshoring, the first thing to do would be to analyze their experience. Look through a company's portfolio of delivered projects and search for client testimonials on listing platforms such as Clutch.co. Completing these two steps will already paint a clear picture of whether the service provider you are considering will be the right fit for your project. Furthermore, companies that have successful partnerships with companies from your domain and/or country should get extra points and be at the top of your consideration list.
3. Inquire about data security policies
Data security should always be your top priority, especially when sharing data with another organization. Therefore, you must examine the policies that your potential partner has established to make sure that your data will be secured during all stages of cooperation. A few positive indicators that a company takes data security seriously include the following policies:
Using data caching;
Encrypting data traffic;
Implementing static code analyzers;
Scanning for vulnerabilities when using third-party libraries.
Furthermore, your partner must also adhere to the established data protection standards, such as GDPR, or ISO standards, especially if they work with clients from data-sensitive industries such as finance or healthcare. Here is a look at the data security standards that N-iX complies with: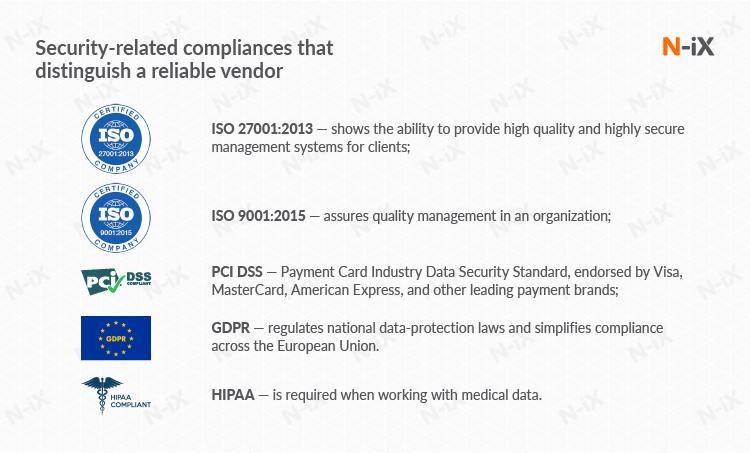 4. Assess the company's size and employer brand
Partnering with a company that has at least 1,000 employees and a strong employer brand comes with several significant advantages that cannot be matched by any smaller company. First of all, a large internal pool of experts helps these companies quickly form and scale teams up or down. If your project requires a sudden increase in development capacity, your partner would be able to quickly reorganize the team and allocate additional experts. They would then easily scale the team down to its original size when the circumstances are back to normal, saving a lot of time in the process.
A strong employer brand also plays an important role in software team nearshoring. Companies with strong industry recognition usually attract top talent that delivers solutions of the highest quality.
5. Learn about knowledge transfer plans
The knowledge accumulated over the course of project development should be easy to access and share. It makes onboarding new employees a lot easier and ensures a smooth transition of responsibilities if you decide to partially or completely transfer the development to a new vendor. Moreover, it plays a crucial role in progress reviews and enables effective planning.
To make sure that nearshore software development teams succeed, your partner must have a solid knowledge transfer plan in place, both on the team and the vendor levels. Regular tech talks, conferences, and one-on-one meetings should be a common practice among all team members. Additionally, your partner must make it clear which information is gathered on all levels (individual, team, organization), who is responsible for gathering and sharing the information, and which tools and methodologies are used for collection.
Wrapping up
Successful software team nearshoring depends directly on your partner. Look for an experienced and renowned company that offers a wide range of services and understands the importance of data protection and knowledge retention. This guarantees that you acquire a reliable nearshore software development team that will match all your project needs.
Why nearshoring software development with N-iX is the right move for you?
N-iX has 20+ years of software teams nearshoring experience and over 2,000 experienced engineers in the internal talent pool;
We offer a wide range of services, from Data Science and Data Analytics to Cloud-native Services, DevOps, and Embedded Software & IoT development;
N-iX is an official partner of many technology leaders, including Google Cloud Partner, Microsoft Gold Certified Partner, AWS Advanced Consulting Partner, SAP partner, and more;
Our company has wide domain expertise, partnering with leaders from healthcare, finance, manufacturing, telecom, and other industries;
N-iX ensures the highest levels of data protection by complying with established data protection standards, such as GDPR, and ISO 9001:2015;
N-iX has representative offices and development centers in Europe and the US.
---