With an increasing demand for energy saving technologies, the companies in the industry need solutions that will help them make better and faster decisions while reducing risks and costs. Also, they need to be a part of the digitally driven world and offer their customers more affordable, efficient, and sustainable solutions. Nowadays, energy businesses face a number of challenges so when it comes to developing a software product, they often decide to outsource it to a company that has enough expertise in the area. Thus they can focus on their core competencies and sustain long-term growth.
When choosing a provider, energy companies in Western Europe and the US often decide to find a team in Eastern Europe. This IT destination is both affordable and geographically close. In this article, we've decided to have a look at the energy companies that outsource IT development to Ukraine. This country offers an extensive number of IT services for the most attractive prices in Europe. It's famous for the solid technical expertise and a huge talent pool of highly-qualified programmers. So here are some of the energy businesses and Ukrainian IT companies that benefited from their cooperation and brought some great products to the market.
Manodo
Outsourcing provider:

N-iX
Manodo (acquired by KTC group) gives a possibility for large real estate owners and enterprises to reduce energy consumption. Moreover, it helps to increase security, improve communications, and get control over property remotely through a web browser which monitors and controls the energy network.
N-iX remote development team worked on the implementation, re-design, and testing of all modules of Manodo Server suite. They included modules which allow to visualize meters in each property and access the meter data. The modules also enable the user to have remote control over the meters, schedule network actions, alert operators, and customize messages for each alarm situation. Furthermore, you can use them to monitor and categorize all premises, as well as keep and categorize system documents.
What's more, N-iX team was involved in the development of new modules, such as Budget module and contributed to the full-cycle development of Manodo Draw, Manodo Manager, and MeView. Finally, the team adapted the system for all web browsers and developed an installation package for Manodo's customers.
Clayster
Outsourcing provider:
N-iX
Clayster is a company that delivers solutions which allow energy companies, large enterprises, and private real estate owners to monitor and manage energy and security networks of the property. They can do it onsite through a control panel as well as remotely through a web application.
N-iX dedicated development team designed and deployed a mobile client to support KTC Control solutions. As a result, all KTC Control solutions are available for remote control via an Android phone. The team managed to deliver an intuitive application based on the Android operating system. The developers were able to reach the desired application response time, which is less than 1 sec. Moreover, they created seamless real-time transitions between the screens.
Petris
Outsourcing provider:
Luxoft
Petris (acquired by Halliburton) is a technology solution provider for the energy industry. The company helps exploration and production companies process, analyze, store, and share business critical data across an entire enterprise. This reduces project cycle times and operating expenses.
Luxoft team helped Petris to complete the Petris WINDS Operations Management Suite development. Petris was looking for a partner who could provide major system upgrades, scalability, and re-engineering of the company's production and management solutions. As a result, Petris team managed to successfully complete the development of the PetrisWINDS Operations Management Suite.
Integra Group
Outsourcing provider:
Infopulse
Integra group aims to form a hi-tech oilfield services group of companies. This energy company provides solutions for all stages of reservoir's life cycle, including drilling and workover, coring, cementing and other.
The Ukrainian team developed a strategically important project for Integra Group. As a result of their cooperation, the company has notably reduced costs and risks associated with carrying out contractual work. At all stages of the project, the developers were capable of finding solutions from an information system development to its industrial exploitation.
Fortum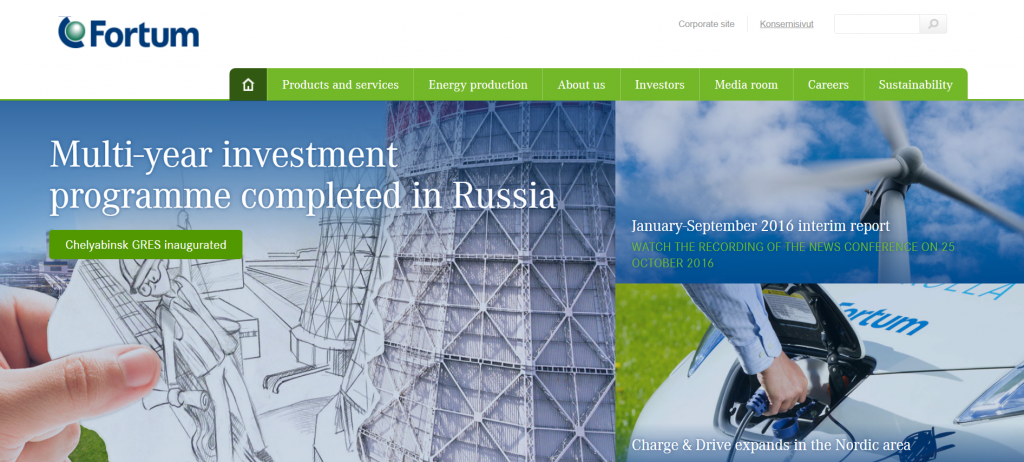 Outsourcing provider:
Sigma Software
Fortum is an energy company which owns a large part of the Swedish electricity grid. The company provides solutions that fulfil the needs for low emissions, energy security, and resource efficiency. Their activities cover the generation, distribution, and sales of heat and electricity and other related expert services.
The remote team from Ukraine helped Fortum proactively communicate with their customers and provide relevant information when a customer is affected by power outages. They created a solution integrated with Fortum Distribution systems for grid monitoring. It continually updates information about customer data and plant data. The service includes a web portal where operators handle customer dialogues. As a result, Fortum can communicate with its network of customers, for instance, during power outages and plan work within the grid.
On the whole, energy companies that outsource IT development to Ukraine have already obtained numerous benefits from cooperating with offshore vendors. They include reduction of operating expenses, the possibility to adopt the most innovative technologies in their products while focusing on their key area of expertise. That is why, such companies as Clayster, Manodo and others have already opted for outsourcing software development to Ukraine. The country's engineers offer cost-effective and scalable solutions, flexible approach to work and seamless project flow. Therefore, we are to see more tech products in the energy sector delivered by Ukrainian developers.

---