Businesses are increasingly going digital as technology advances. In recent years, there have been several digital transformation trends in the financial industry. In this article, we are going to take a look at some of the most popular trends in digital transformation in finance and provide you with some tips on how to get started. Finding the right digital transformation partner, however, is the most essential first step.
How does digital transformation in finance work?
In digital finance transformation, financial services are modernized using digital technologies. The objective is to improve the efficiency, effectiveness, and accessibility of financial services. This can be accomplished by automating manual processes, improving customer interactions, and enhancing transparency.
There have been some major changes in the finance sector as a result of digital transformation:
Mobile banking usage is on the rise
Currently, mobile banking is replacing traditional banking. Many factors are driving this trend, including the growing use of smartphones and the adoption of new technologies by banks. With mobile financial services, customers can access their account information and make payments from any location or time. Moreover, it is more secure due to biometric authentication and encryption.
Fintech solutions drive innovation
From spending tracking and budgeting to chatbots for customer service, fintech companies offer a variety of digital services. As more financial institutions rely on fintech solutions, these companies are playing a key role in driving the digital transformation in banking and financial services.
Digital investments platforms empower investors
Due to digital transformation in finance, there have been significant changes in investment management. Platforms that use algorithms are becoming increasingly popular as they provide investors with a more hands-off investing experience. Aside from offering more affordable investments than traditional investment companies, these platforms are also more flexible.
Platforms that provide online financial advice are another popular digital financial service. Users are provided with personalized recommendations on various financial topics using algorithms on these platforms. These platforms serve as unbiased sources of advice tailored to each user's specific needs.
A new generation of challenger banks is emerging
A challenger bank is a digital-only bank that offers a more convenient and flexible customer experience than traditional banks. Additionally, their rates and fees are more attractive. Challenger banks are a result of the digital transformation of finance. With more financial transactions occurring online, banks must evolve to meet the digital age's needs.
Challenges of digital transformation in financial services
Legacy systems: Converting traditional systems to modern technological infrastructure and digital expertise requires substantial investment and transition costs.
Security and compliance: In contrast with fintechs and other new players in the financial sector, banks, and traditional financial institutions face high-security risks due to the volume of personal data and transaction records, which makes it harder to execute changes and comply with regulations.
Experiences customers expect from digital transformation (UX): Customer efficiency and consistency across platforms are the goals of digital transformation for financial services. This is difficult for traditional banks and enterprises because it takes time, effort, strategy, and marketing to provide the right customer options.
Employee reskilling and workplace culture changes: As talent models change and focus on data scientists and analysts, employees must upskill to remain competitive. A clear strategy, clear objectives, and clear communication are essential here.
Competition: As customers transact directly with fintech players and new online finance players like Amazon, Google, or Facebook, banks are left out of the process. Digital innovation in finance gives banks an edge in terms of security and regulation.
Despite the considerable time and effort required to overcome these challenges at first, digital transformation in financial services offers enterprises the opportunity to secure their market position.
Technologies that accelerate the digital transformation for financial services
Consumer demand for increasingly digital, seamless and tailored experiences requires organizations to take an integrated approach to technology-driven transformation-one that keeps the customer at the center while modernizing for long-term success. Explore the ways digital strategy in financial services can increase employee capabilities, customer experiences, and operational efficiencies.
Robotic Process Automation (RPA)
Organizations can significantly improve their ability to digitalize their finance function by implementing robotic process automation. Employees are freed up to focus on more value-added tasks when RPA automates repetitive and mundane tasks.
Moreover, automation can be used to improve accuracy and compliance by reducing human error risk. With the digitalization of finance functions on the rise, RPA will become increasingly important for improving efficiency and scalability.
Gartner estimates that around 80% of finance executives have implemented or plan to implement automated processes. Despite its challenges, it could add to businesses' digital potential.
The field of finance robotics is rapidly evolving. Analyzing and forecasting financial data could be made more accurate with full process automation. Furthermore, businesses can enhance their efficiency, compliance, and productivity through finance robotics and other intelligent automation technologies.
By automating complex procedures, improving the accuracy of these processes, and improving operational flexibility, N-iX helps companies achieve these goals. Whatever your automation needs are, N-iX has the expertise and skills to help. Read more about RPA services at N-iX.
Artificial Intelligence and Machine Learning
One of the essential digital transformation trends in financial services is the implementation of artificial intelligence and machine learning. The finance industry is undergoing a digital transformation driven by artificial intelligence (AI). Financial services companies can identify patterns and automatically eliminate unfavorable conditions with the use of trained AI systems.
For example, ML can be used for risk assessment, fraud detection, credit decisions, trading, preventing cyberattacks, and more. Forbes reports that 54% of financial services organizations with 5,000+ employees use artificial intelligence.
Financial services digital transformation powered by Big Data
It is no secret that the financial services industry is adapting quickly to Big Data. Considering the massive amount of data generated by mobile devices, computers, and machine sensors, it's prudent to convert it into value. In the modern age of Big Data analytics, financial organizations can validate massive volumes of heterogeneous data instantly.
Financial service leaders are already reviewing new marketing approaches and utilizing data to provide customers with more personalized experiences. Automating processes using ML algorithms is one method for leveraging massive amounts of consumer data. Moreover, Big Data analytics insights can give companies the edge to become digital champions in today's fast-changing world.
N-iX helps businesses with strategy, design, implementation, service personalization, and post-release maintenance for Big Data, Data Science, AI, and ML projects. We provide our partners with an all-in-one solution for their AI projects.
Data visualization in near real time
Keeping up with change is possible with real-time data visualization. The system enables key stakeholders to exchange data and trends in real time without having to guess or wonder whether the information is relevant.
This enables faster decision-making and helps to make better decisions about the organization's direction. This tool is essential for companies that want to stay ahead of the curve and succeed in their digital transformation for finance.
Cloud services
Financial service providers are moving to cloud-based services and processes as part of a digital transformation in financial services. In addition to offering greater scalability, cloud-based solutions can be easily adapted to meet customer demand as it grows. Cloud services also provide greater security and cost efficiency. N-iX experts can help you enhance security, reduce costs, and extend your market reach by making you cloud-native.
Internet of Things (IoT)
By leveraging customer purchasing behavior, financial services companies can create more personalized user experiences. Various IoT applications are being used in the financial services industry today, from usage-based insurance to analyzing biometric data to improve credit underwriting.
The IoT experts at N-iX will assess the specific context behind your business case, formulate credible KPIs, design your project roadmap, and select the most appropriate technology stack and architecture.
Blockchain
Using distributed ledgers, blockchain technology makes transactions and data reliable. Blockchain has revolutionized accounting and finance by allowing for digital, real-time contracts, faster operations, and lower costs of maintaining a central database. Blockchain can facilitate financial transactions more efficiently and effectively with better integration and governance.
In all major blockchain frameworks, smart contracts play a crucial role. To help enterprises reduce transaction costs and remove intermediaries, N-iX integrates smart contracts into the client's business models. In order to ensure safe and secure transactions between peers, smart contracts (also known as self-executing contracts, blockchain contracts, or digital contracts) utilize cryptography.
Prioritising cybersecurity and data privacy during the digitalization in financial services
There is no doubt that financial services companies possess a wealth of sensitive client and third-party information. Data is naturally vulnerable to cyberattacks. Discretion breaches can result in serious consequences, including legal sanctions, and loss of money and reputation.
With this in mind, financial services companies face the biggest challenges in data privacy and cybersecurity. In light of the new digital initiatives, companies must strengthen their real-time defense mechanisms by focusing on detection and response.
In this regard, businesses benefit from partnering with cybersecurity service providers who have extensive experience. N-iX has a reputation for excellence built over more than 20 years in the industry, dozens of successfully delivered projects, and strict adherence to major standards and compliances of the industry.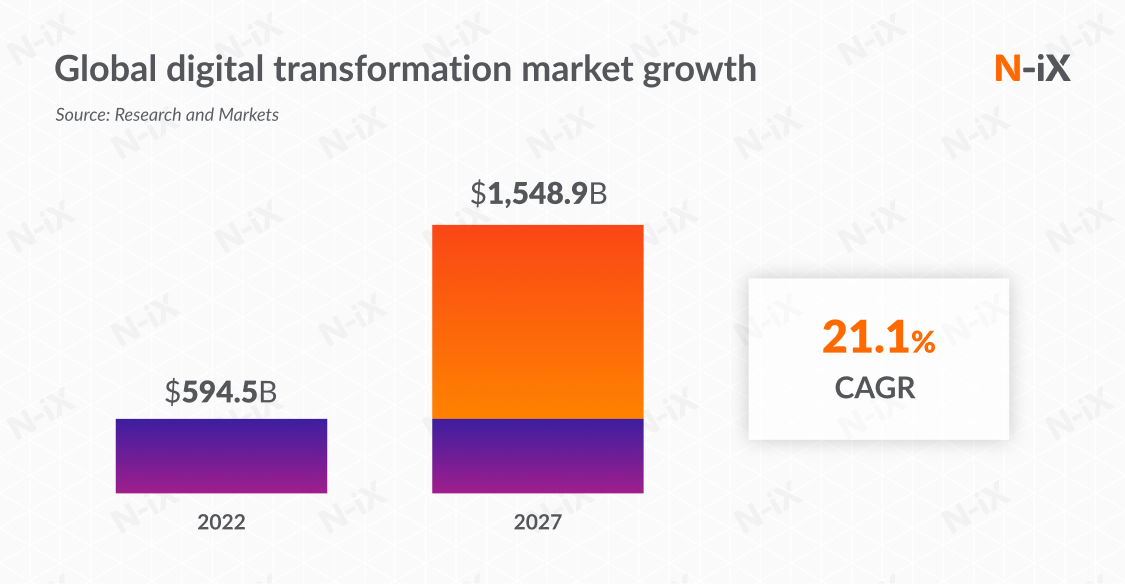 Final thoughts
The financial sector is experiencing increased competition, and strategies to stay on top are evolving as well.
With a clear understanding of digital transformation in finance, you can develop a strategy to help your company stay competitive and thrive in this new era.
For organizations that consider partnering with a software development company to speed up innovation, fill the gap in specific tech expertise, develop a solution from scratch, or get expert consulting, partnering with N-iX is a sensible first step in their successful digital transformation journey.

N-iX specializes in fintech software development, with over 2,000 professionals and essential PCI DSS and FSQS certifications. For fintech and insurtech companies that handle a large amount of credit card data, N-iX's guarantee of maintaining a secure environment is especially valuable. Our development processes are fully compliant with PCI DSS to ensure our clients' commercial operations are completely secure. N-iX is accredited by Hellios Financial Services Qualification System (FSQS). The company has demonstrated compliance with financial sector regulations and is recommended as a trusted and secure vendor to financial institutions.
---