In an increasingly data-centric world, the ability to process and utilize large amounts of data becomes crucial for businesses that want to stay competitive. This is where data governance comes in, as it provides the tools, standards, and methodologies that help effectively collect, store, analyze, apply, and provide proper access to data. As its value becomes more apparent, more enterprises are willing to invest in data governance. The associated market size reached $2.09B in 2021 and is expected to reach $10.93B by 2030, with a 21.2% CAGR.
However, working with data is not that simple, and to make sure that you obtain the desired results, an effective data governance strategy is required. So, what are the steps involved, and what best practices can be applied to design working data governance strategies? Let's find out.
The importance of data governance
First, let's have a brief look at why establishing data governance is so crucial nowadays. In addition to the various benefits that it brings, such as more effective decision-making or consistent security compliance, it also has a very practical application: it saves money. Indeed, a survey by McKinsey that interviewed various enterprises found that approximately 30% of the entire enterprise's time was spent on non-value-added tasks. And the main reason for it is poor quality and accessibility of data.
Meanwhile, with the tools, standards, and methodologies brought by data governance, these tasks can be reduced or eliminated completely. This results not only in reduced expenses but also in increased productivity of employees, who can focus on tasks that add value to the business.
However, as B. Franklin once said, "By failing to prepare, you prepare for failure". To ensure that the time and resources you invest in managing data are not wasted, you need to have a robust data governance strategy.
The 7 steps of designing an effective enterprise data governance strategy
Developing a working strategy without knowing which steps you need to take may cause all sorts of issues, such as incurring additional expenses, not matching the specific requirements of your enterprise, or even complete failure of your data initiatives. Therefore, let's explore the standard steps required to design a clear and reliable strategy for your business.
1. Identifying and prioritizing existing data
The first step involves learning as much as you can about the data that you have. This process consists of several activities that you should complete:
Data classification: distributing both structured and unstructured data into corresponding categories.
Data inventorization: recording all data resources and relevant metadata (the data about other data).
Data and knowledge curation: using data catalogs and metadata management to arrange and manage datasets.
2. Choosing the storage option for metadata
One of the most common issues that make the need for data governance apparent is difficulties in sharing and reusing metadata collected by different departments. The use of separate databases for managing metadata, which is a common practice in many enterprises, leads to siloed data that has limited accessibility. Therefore, it is crucial to choose an efficient storage option, such as a data lake or a data warehouse, that will centralize all metadata collected across the organization. Choosing the right storage solution will tick all the necessary boxes in terms of metadata management, namely:
Collecting metadata from multiple platforms;
Effective reusing of metadata;
Governance and stewardship;
Clear insights into data history.
3. Preparing and storing metadata
This rather time-consuming step in developing a data governance strategy involves reformatting, correcting, and combining datasets of raw metadata into data catalogs. It primarily consists of three activities:
Cleansing and validation to standardize data and hide sensitive information;
Transforming values and formats to make data easily understandable across the entire enterprise;
Building data dictionary and business glossary templates to manage the number of uploaded data assets.
4. Developing a data governance model
Assessing your needs and choosing the model that suits your enterprise best is an important stage when designing data governance strategies. Although there are some variations, data governance models can be generally separated into two categories:
Centralized – authority over data is given to a single group (or even a single person) that determines the rules and distributes accesses.
Federated (or decentralized) – authority over data is distributed among several groups of people, allowing departments with different needs to work effectively using the same assets.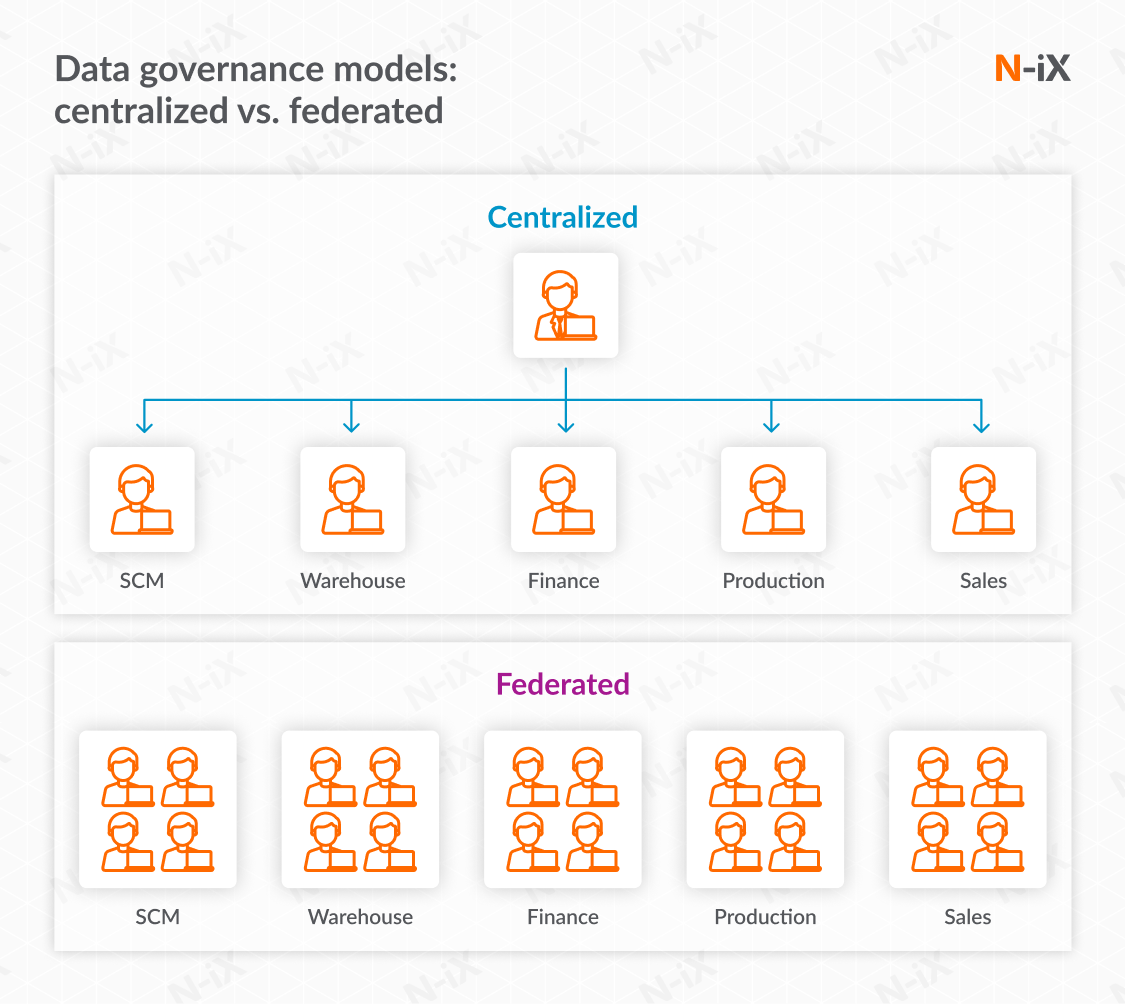 5. Establishing a distribution process
Data governance works only if the people follow its policies. Therefore, a good enterprise data governance strategy should also include the practices that help embed these policies into the normal workflows of employees. These include but are not limited to establishing effective onboarding, conducting regular policy trainings, and encouraging knowledge sharing.
6. Mitigating risks
Knowing and preparing for potential risks is the best way to mitigate them. Data always faces the risk of being compromised in some shape or form, be it by breaches from external malicious attacks or careless behavior of internal users. Mitigating these risks can be achieved with:
Ensuring that all users have as little access to data as possible in order to perform their tasks;
Ensuring that all data is stored in secure locations with the necessary cybersecurity measures.
7. Continuously adapting the data strategy and governance
Business needs change constantly under the effects of the market, and data governance strategies must account for that. Enterprises should be able to constantly monitor the effectiveness of data governance processes and adjust them according to the new policies or challenges that appear in their industry.
At N-iX, for example, all of these steps are included during our Product Discovery, where we help our clients validate their idea, test the product's market viability, and prepare it for implementation.
How to make your data governance strategy work: tips and best practices
Now that we have explored the steps involved, let's look at several tips and best practices that will help you make your strategy as effective as possible.
1. Set clear goals that you want to achieve
For any strategy to be effective, it must include the goals that you want to achieve in the long run. It must also include the actionable steps and a roadmap of how you will achieve them. An enterprise data governance strategy is no different. Whether you want to accelerate data processing, reduce expenses of data management, or streamline cooperation between teams – all of this must be outlined in your strategy.
2. Include a small-scale sample project at the beginning
Data strategy and governance transformation can be complicated and time-consuming. Starting off with such a project may be a daunting task that leads to errors, unforeseen challenges, and changes in requirements. Therefore, instead of beginning with a full-scale implementation, it is highly recommended to start with a small-scale project that is a lot easier to manage. This can be, for example, assessing and improving the process of collecting or storing data by a single department.
3. Asign a data steward or build a data governance office
A governance strategy should outline a person (data steward) or a team (data governance office) that will define and ensure clear data ownership across your organization. This entity will have the sole responsibility of managing and distributing data accesses, making managerial decisions, and ensuring that all teams remain informed about established policies. It will eliminate the risk of using incorrect or altered data, and help boost the productivity of all teams. In fact, having a dedicated data steward was one of the keys to success in establishing effective data governance during N-iX's cooperation with cleverbridge – a leading e-commerce solution and service provider. As a result of our cooperation, cleverbridge was able to:
Increase customer reach by expanding their service offering;
Boost information security of the solution they offer to customers;
Improve their decision-making process with insights about their customers.
Read more: Driving growth in e-commerce with a comprehensive data analytics solution
4. Acquire assistance from an experienced data governance consultant
Setting out on a data strategy and governance journey with little to no prior experience can be quite difficult. Fortunately, there are experienced Tech consulting companies that can not only help you design a working data governance strategy but also provide the necessary experts for the job or even completely take care of the implementation for you.
At N-iX, for example, data governance is included in our extensive data expertise. With over 200 data experts, we help leading global enterprises such as Fluke, Lebara, or AVL, in developing data solutions that help them achieve their strategic business goals.
5. Pick the right set of tools
Picking the right tools for the job is as important as doing the job itself. There are many data governance tools out there, dedicated to specific tasks such as metadata collection, communication between teams, managing data in the cloud, etc. Fortunately, even if you have limited experience with these technologies, a reliable tech consulting partner will assess the specifics of your business and help you pick the tools that match your needs.
6. Ensure compliance with data protection standards
Making sure that all of your information remains protected is one of the most important aspects of any data strategy and governance. Hence, including policies that ensure compliance with established data protection regularities, such as HIPAA, GDPR, or PCI DSS should be your top priority.
Wrapping up
As the amount of data collected by organizations grows, it becomes increasingly important to have the necessary means to manage and utilize it properly. This is where data governance shines, but to make it work, you need to design an effective strategy first. Luckily, by following the steps, taking advantage of some of the best practices, and acquiring assistance from an experienced provider of data governance services, developing a strategy that helps you achieve your goals can be a rather straightforward task.
Why N-iX is the right partner for developing a working data governance strategy?
If you are looking for a reliable tech partner to assist you with your data initiatives, you cannot go wrong with N-iX. Here are a few facts to convince you:
Experience. N-iX has over 20 years of experience in providing data, cloud, embedded&IoT, and various other software development services.
Expertise. Having successfully delivered more than 30 data projects to date, N-iX has extensive expertise in Data Governance, Data Analytics, AI and Machine learning, Big Data, and more.
Reach. With over 2,000 professionals in 25 countries across Europe and the Americas, N-iX serves leading global enterprises and Fortune 500 companies all around the globe.
Recognition. N-iX is a well-known name in the tech industry, having received multiple awards and recognitions, such as an ISG-recognized Rising star in data engineering or a spot in the Global Outsourcing 100 list by IAOP.
Have a question?
Speak to an expert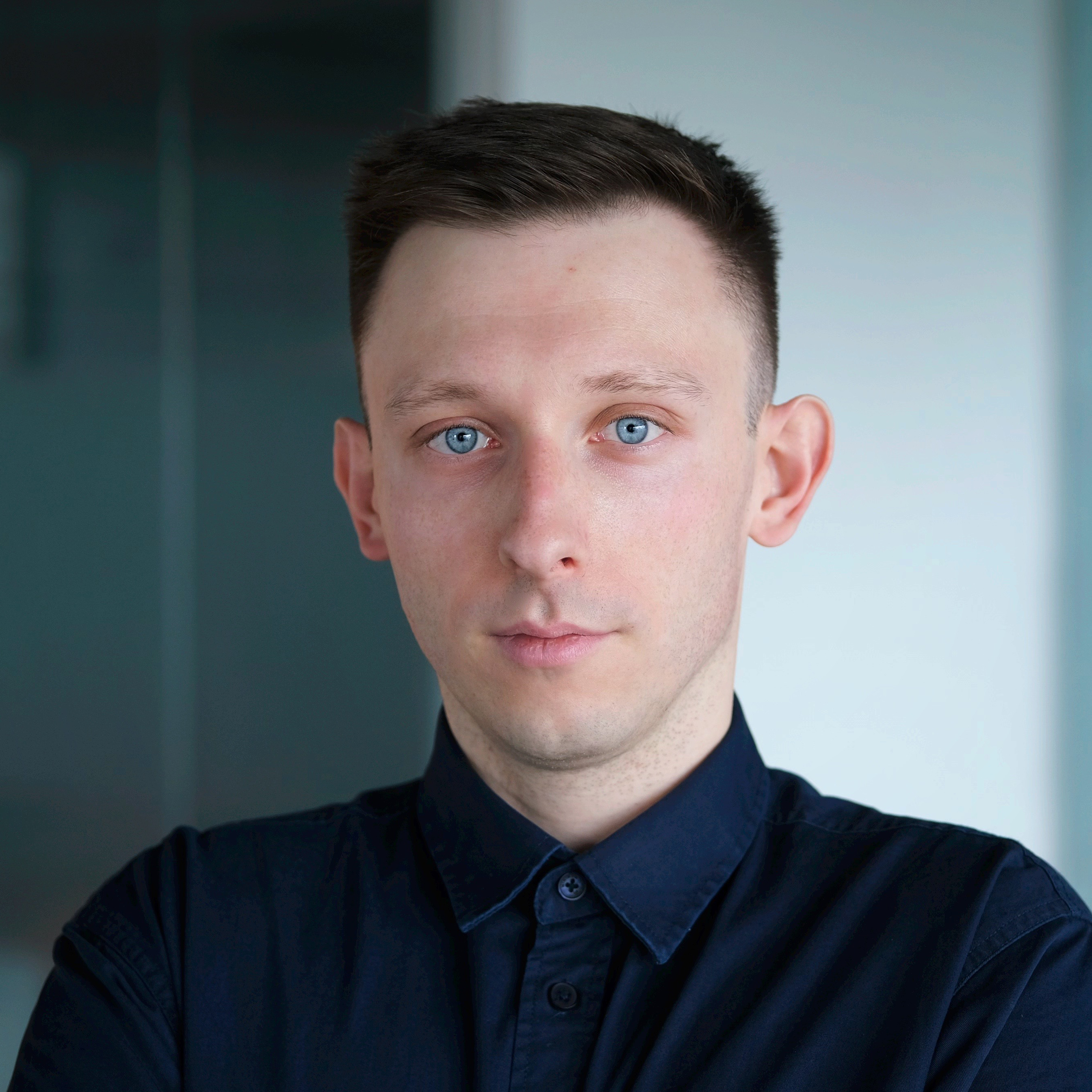 Rostyslav Fedynyshyn
Head of Data and Analytics Practice
---