Latin America is a major player in the global tech industry. In 2022 the number of foreign businesses that hired tech experts from Latin America grew by 156%, topping any other region. Recruitment of Brazil software developers was the highest. Brazil is an attractive place for businesses to hire since it is convenient in terms of time zone, distance, costs, and IT infrastructure.
Now, let's delve into the other factors that contribute to the popularity of Brazilian software developers in the global market. What specific skills and expertise do specialists from Brazil possess that make them sought after by companies looking for team extension in Latin America? How does the cost-effectiveness of hiring local professionals compare to developers from other regions? What industries or sectors do they excel in, and why? Let's explore the reasons behind the growing popularity of IT outsourcing to Brazil and the best ways to find and hire developers in Brazil.
Brazilian IT talent pool overview
Brazil has the largest tech pool in Latin America. The Brazilian IT market had approximately 1.2M employees as of September 2021. Most of them, roughly 630,000, worked in the IT service sector, while 133,000 were employed in the software market.
Moreover, Brazil stands out with its pool of 500K IT professionals engaged in offshore work. It ranked as the 4th best location for IT outsourcing in terms of financial attractiveness, investment climate favorability, technical candidates skills and availability, business environment, and digital resonance, according to the Kearney Global Services Location Index 2023.
Most of the 277 top Brazilian custom software development companies are small and midsize. The country has 30+ large companies as well, with three companies employing over 10,000 workers.
Let's explore the expertise and experience Brazil software developers offer.
Expertise and services provided by Brazil software developers
Software developers in Brazil are well-recognized for their professional accomplishments, as evidenced by their rankings. They hold 14th place in the TopCoder Country Ranking, highlighting their expertise in various technology domains. Moreover, Brazil's software developers rank 14th globally in technology and 2nd in Data Science, according to Coursera Global Skills Report 2023. Additionally, Brazil stands out in terms of its active presence on GitHub, securing the sixth position globally in the number of GitHub accounts, following only the United States, China, India, the UK, and Germany.
Brazilians rank third among LATAM countries in the Coursera ranking, with the second-highest scores in data science (99%) and exceptional in technology skills (87%). Brazil software developers rank #1 in data visualization and similarly high in data management (99%), data analysis (98%), and statistical programming (98%). Regarding technology skills, Brazilian specialists are among the world's best in databases, computer programming (92%), and mobile development (88%). To benchmark skill proficiency at the country level, Coursera measures the skill proficiency of each learner in each skill. Then, they aggregate those proficiencies to compute insights—for example, a country's proficiency in a particular skill is an average of all learners' skill scores in that country.
Web development, mobile application development, and UX/UI design are among the services most commonly provided by Brazil software developers, according to Clutch. They are also proficient in AI development, Big Data, cloud services, Blockchain, and IoT development.
As for programming languages, 24,000 Brazil software developers' are skilled in JavaScript, 13,000 in Python, and 15,000 in PHP. Additionally, there are 34,000 Java developers, 20,000 working with .NET, and 169,000 developers with expertise in C++. Moreover, the country has a large pool of 173,000 developers proficient in C#.
Fortunately, this impressive tech talent is available at rates much lower than in the US or other Latin American countries. Brazil's software developers' salaries are 8.5% lower than in Colombia, 22.6% lower than in Mexico, and 375% lower than in Panama.
ICT education in Brazil
Brazil's tech talent pool is consistently expanding, with over 46K+ students graduating annually in the field of ICT. The nation boasts 2,457 higher education institutions that continually produce graduates with degrees in computer science, information systems, and software engineering. Notably, six Brazilian universities are featured in Latin America's top 30 rankings by QS for 2023, with the Universidade de São Paulo securing the third position.
There are many software developers in Brazil who are good at English, though Brazil does not score high overall in English skills. Researchers at EliteBrains, an assessment and hiring platform for developers, found that almost half of Brazilian software engineers can speak English well enough to work for English-speaking companies. However, many are still at the introductory level or only familiar with English reading and writing.
According to the EF English proficiency index, the country ranked 12th out of 20 Latin American countries, with such tech hubs as Rio de Janeiro and Sao Paulo reaching moderate proficiency levels, while Curitiba, Florianópolis, Porto Alegre, and Campinas were at the highest levels.
Government incentives and digital strategies
Business climate and ICT market conditions are significant factors to consider when making a decision to hire developers in Brazil. Let's take a quick look at some of Brazil's initiatives to create an environment favorable to the development of the ICT sector.
To begin with, due to the government's efforts to promote the tech sector and invest in research and development, Brazil ranked 2nd in Latin America and the Caribbean on the Global Innovation Index 2022. Some of these efforts include startup support, cybersecurity initiatives, and an AI bill designed to regulate the ethical and responsible use of AI. The country rose from 71st to 18th position among 194 countries analyzed in a study by the International Telecommunication Union (ITU). In terms of the Americas alone, Brazil ranked third.
In the case of startups, the government has provided them with funding, mentorship, and government contracts. Consequently, Brazil has made a name for itself as the capital of tech startups, which account for over 5.6% of its GDP. Here, São Paulo, in particular, stands out. Home to over 2,700 tech startups and the largest tech hub in the region, the city's GDP alone is larger than the combined economies of Argentina, Chile, Paraguay, Uruguay, and Bolivia. This demonstrates Brazil software developers' strong technical skills and creative mindsets.
Furthermore, Brazil is one of five countries in the region with a national AI strategy. It placed 35th on the Global AI Index 2023, a ranking of 62 nations based on their investment, innovation, and implementation of artificial intelligence.
In Brazil's AI strategy, courses on AI and programming will be included in the country's national teaching curriculum. As a result, future generations of students will be equipped with essential skills in AI and programming from an early age, fostering a tech-savvy and innovative workforce.
Besides adopting digital transformation strategies, Brazil implemented various reforms to simplify regulations and reduce bureaucratic barriers for enterprises. Efforts like these have resulted in smoother business registration processes, lower costs for digital certificates, and streamlined property registration, benefitting companies in key cities like São Paulo and Rio de Janeiro.
Thus, it comes as no surprise that Brazil placed 44th among the 131 economies on the Network Readiness Index, a global benchmark for the application and utilization of ICT. Brazil earns its strongest showing in its ability to capitalize on its digitally connected people (40th), with equally progressive achievements relating to technology (43rd) and governance (44th). Due to this, AI, Big Data, analytics, Cloud, security, AR/VR, robotics, and IoT are expected to generate over $25.5B by 2025, according to International Data Corporation.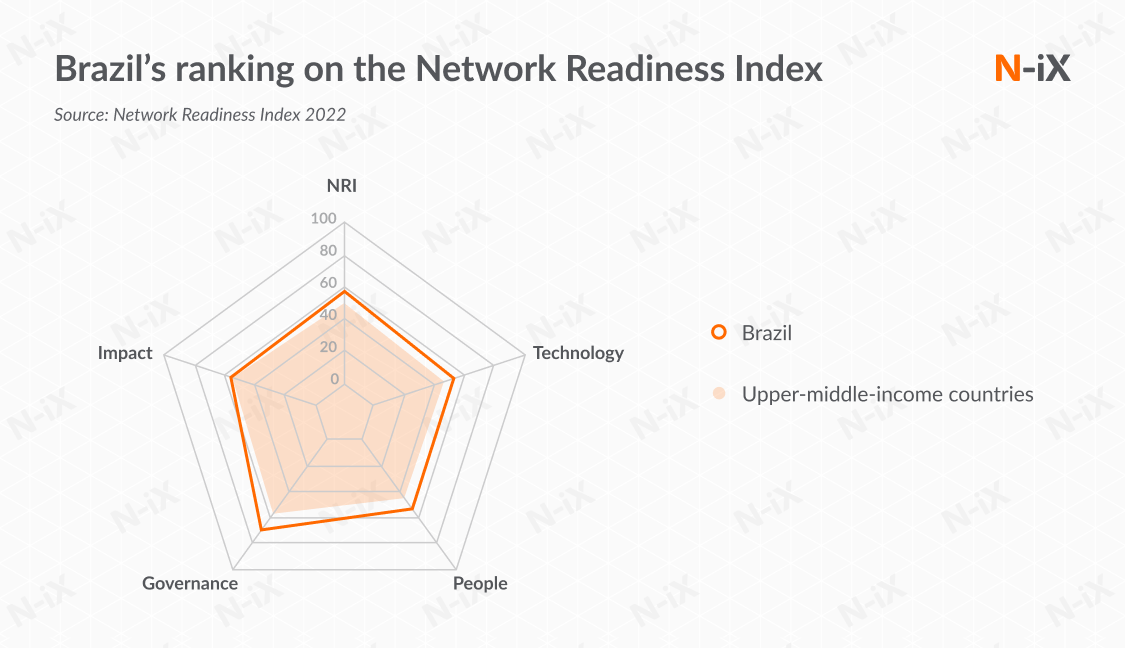 Time zone and cost of living
When choosing a location for software development outsourcing, factors such as a time zone and the cost of living should also be considered. Both Rio de Janeiro and São Paulo are conveniently located just one hour ahead of New York. Whenever offline communication is required, Brazil has 18 international airports with flights to the US, Canada, and Europe, providing enough routes for convenient business travel.
For companies looking for cost-effective ways to hire software developers in Brazil, the country offers 50.9% lower living costs than the United States. Therefore, Brazil's labor costs, office space, transportation, and utilities are also lower. As an example, Brazilian rent is 81.9% lower than US rent.
Key tech hubs
Lastly, we will look at the Brazilian tech hubs, where you will find and hire abundant tech talent.
São Paulo, Brazil's largest city and economic hub boasts a diverse and thriving tech scene with 84 software development firms and representation from various tech sectors. Notable areas in São Paulo's tech landscape include e-commerce, fintech, software development, and artificial intelligence. The city is home to renowned tech companies like Nubank, iFood, and Gympass, and in 2022, it secured the top spot for startups in Latin America and the Caribbean.
In Rio de Janeiro, the focus lies on fintech, housing several fintech startups and 28 software development companies. Other sectors prominent in Rio de Janeiro's tech scene encompass health tech, education tech, and software development. Noteworthy tech companies such as Stone and VTEX have offices in Rio de Janeiro.
Belo Horizonte nurtures a vibrant startup community, emphasizing innovation and technology. Within its tech landscape, Belo Horizonte's 16 top software development companies listed on Cluth work in various sectors, including energy, health tech, and edtech. Renowned companies like Rock Content, Meliuz, Sympla, and Hotmart are headquartered in Belo Horizonte.
The Florianópolis tech scene focuses on IT services and software development. In Florianópolis, you can find companies such as Softplan, Resultados Digitais, and Neoway. Twenty-five local software development firms mainly focus on mobile app development, web development, and UX/UI design.
Tips on how to find and hire software developers in Brazil
So, you've recognized the advantages of Brazil as a prime destination for hiring software developers and are now prepared to enhance your team with local specialists. The initial step involves determining the most effective method of recruiting skilled Brazilian tech professionals to significantly contribute to your business growth while optimizing your time and resources. Let's explore the available options: utilizing freelance platforms, partnering with recruitment agencies, or collaborating with established outsourcing vendors. Here's an in-depth breakdown of each approach:
Engaging freelance experts
This route entails hiring software development professionals on a freelance basis and engaging them for specific projects or tasks. Many enterprises that seek engineers independently often turn to renowned platforms such as Upwork or Fiverr. While this choice promises high flexibility, reduced legal complexities, and access to a diverse talent pool, it comes with its share of challenges. Freelance developers might be juggling multiple projects simultaneously, which can potentially result in delays, compromised code quality, and difficulties in managing project backlogs. Additionally, concerns related to recruitment hurdles and safeguarding data confidentiality may arise.
Leveraging recruitment agencies
Another way for hiring software developers in Brazil involves enlisting the services of local recruitment agencies. By entrusting the recruitment process to a staffing company, you eliminate the need to conduct technical interviews in-house. However, it's crucial to note that not all recruitment agencies possess extensive networks and access to the requisite expertise. To ensure a successful hire, these agencies must have proficient technical experts who can conduct thorough interviews with potential candidates.
Collaborating with an outsourcing vendor
A proven and reliable approach to harnessing top-notch software development expertise while delegating hiring responsibilities is forming a partnership with a respected outsourcing company. Established outsourcing firms like N-iX take on the responsibility of identifying the best-suited candidates with relevant experience, conducting comprehensive interviews, and assembling a dedicated team tailored to your project's specific demands.
In summary, when it comes to hiring software developers in Brazil, your options include engaging freelancers for flexibility, recruiting agencies to outsource the hiring process, and outsourcing vendors for a comprehensive and dedicated approach. Each approach presents its own benefits and challenges, making it crucial to align your choice with your project's specific needs and long-term goals. By making an informed decision, you can ensure that you're tapping into the exceptional pool of software development talent that Brazil has to offer.
Partnering with the right outsourcing company to hire software developers in Brazil
For those contemplating the idea of outsourcing software development to Brazil, it's essential to take the following steps first:
Find the right partner for your LatAm operation. Look for reliable outsourcing companies with a track record of offering tech talent in a staff augmentation model. Investigate their background, clients, workforce satisfaction, and turnover to ensure credibility.
Look beyond technical skills. Your partner should understand your company's needs and match them with suitable candidates from their talent pool. A comprehensive understanding of cultural and behavioral/communication capabilities is crucial for successful collaboration.
Define your project's goals and needs. Have a clear vision of your project and determine the specific tech talent required. Whether you need one person or a dedicated team, a customized solution can be provided to meet your unique requirements.
Make sure you have the necessary infrastructure. Establish how the partnership will function in terms of structure, access, and daily exchanges between the partner and your team.
By carefully considering these points, you can ensure a successful experience of hiring Brazil software developers, leveraging its benefits like top-tech talent, cultural proximity, and time-zone alignments to impact your business positively.
Keep reading: Nearshoring to Latin America: Quality without cutting corners
Why choose N-iX as your software development partner in Brazil?
N-iX is a global software engineering company with offices in the USA, Sweden, and Malta and development centers in Poland, Ukraine, Bulgaria, and Colombia. We have a presence in over 25 countries in the Americas and Europe, giving us access to a talent pool of over 1M experts;
In addition to its strategic partnerships with global industry leaders and Fortune 500 companies, N-iX has partnered with ebay, Bosch, Fluke and Currencycloud;
We also partner with American tech giants such as Microsoft, OpenText, AWS, and GCP, providing our clients with consulting and development services;
N-iX has a vast internal talent pool of 2,000 professionals who specialize in software engineering, cloud-native services, data analytics, embedded software, IoT, machine learning, and other cutting-edge technologies;
With 60+ experienced recruiters overseeing our major locations, as well as 200K+ candidates in our database, we are able to fill positions quickly;
N-iX's established employer brand attracts the best talent and our rigorous interview process helps us hire qualified engineers, who have soft skills and are culturally suited.
References
Seizing the opportunity: the future of AI in Latin America | Economist Impact
Network Readiness Index
Estudo do Mercado Brasileiro de Software 2023
Global Innovation Index 2022 - BRAZIL
Number of employees in the IT market in Brazil 2021, by segment
Forbes. How Latin America Is Quickly Becoming A Leading Supplier Of Technology Talent To North America
Topcoder Statistics 2023
Where Do The World's Software Developers Live?>
Coursera_Global_Skills_Report_2023
IDC forecasts indicate 5% growth for Brazil's ICT market in 2023 - BNamericas
Worldwide IT Industry 2023 Predictions Latin America Implications
The Global AI Index - Tortoise
Regenerative talent pools - Kearney
QS Latin America University Rankings 2023
EF EPI 2022 – EF English Proficiency Index
Forbes. Cloud And 5G Investments To Boost Brazilian ICT Market In 2023
---