The experts agree that the 2023 tech industry is experiencing something that can be described as a "COVID-19 hangover". After the global lockdown and 2021-2022 spending spree, many tech businesses face the need to shrink their budgets and optimize operations.
That is one of the reasons why US and Canadian enterprises opt for outsourcing to Latin America. In this article, we will overview the current state of the tech market in the region, its pros and cons, and go through the most prominent outsourcing destinations in Latin America.
IT outsourcing in Latin America: market overview
IT outsourcing vendors in the region has become trusted tech partners for software development and staff augmentation in Latin America for many businesses worldwide. Let's now break down the reasons why you should consider outsourcing in Latin America as a way to withstand the possible upcoming recession.
A strong and growing talent pool
The talent capacity of your potential outsourcing destination is a crucial aspect to consider. In these terms, Latin America is an attractive option — the region is home to an extensive talent pool of 1M ICT specialists. With over 500,000 of them residing in Brazil, the country is the LatAm leader in terms of talent working in digital. Other prominent locations where you can outsource to Latin America are Colombia (150,000 experts), Mexico (225,000), and Argentina (130,000).
Many countries of the Latin America region show consistent growth in wealth and social standards. This development includes rapid modernization of the industries and a growing number of tech experts and companies across the region.
A vast network of tech companies
The number of tech companies in a country correlates with its population. So, Mexico, Colombia, Argentina, and Brazil are home to the most significant number of top IT outsourcing companies in Latin America. The numbers of companies that can help you outsource to Latin America are:
Mexico – 400+ companies;
Colombia – 350+ companies
Argentina – 350+ companies;
Brazil – 250+ companies.
Furthermore, the region attracts US-based tech giants like Apple, Google, Amazon, and Microsoft. European companies have also established their presence in Latin America. For instance, N-iX, a global software development company, has chosen to expand its presence to Medellin, Colombia, mainly to provide its US partners with access to new and highly skilled talent.
Broad tech expertise
According to LinkedIn, the most popular tech specialization in Latin America are JavaScript (71,600 job postings), Python (64,000), HTML (63,800), and C++ (51,700). Increasing demand for the Internet of Things and embedded solutions also drives more tech talent to connected infrastructure tech. All in all, tech experts in Latin America cover every possible area of expertise, making it easy to find the best-suited professionals for your project in the region.
Governmental support
Kearney Global Services Location Index place Brazil, Mexico, and Colombia 5th, 11th, and 13th based on their business environment, financial attractiveness, experts' skills and availability, and the new digital resonance. One of the reasons why is the governmental support of the tech branch.
Yes, governments across the region work to attract foreign capital and expand the digital sector. Due to these initiatives, digital export in Colombia, Argentina, Brazil, Chile, Mexico, and Uruguay is expected to generate over $140B annually by 2030 compared to $34B in 2022. The initiatives targeted at digital export make Latin America a trusted destination for North American businesses.
All these factors make outsourcing to Latin America a viable choice for your business. Take a look at the image that shows how well-suited different countries of Latin America are for outsourcing.
Read more about nearshoring to Latin America
Top locations of IT outsourcing to Latin America
In this section, we will overview the destinations with the most developed tech sphere and countries that are home to the best outsourcing companies in Latin America. Let's take a closer look.
Colombia
Colombia is a vibrant hub you should consider if you want to outsource to Latin America. The number of tech graduates has doubled in the past decade and grown its IT industry by 38% in the past five years. So, now the country boasts the fourth-largest tech sector in the region. To foster continued growth, the government is investing $6.5B into science, technology, and innovation over the four years to 2022, aiming to train 100,000 tech experts. Such a fast-developing market attracts new investments, and businesses choose this country to scale.
And here is why:
Learn more about software development in Colombia
Mexico
Mexico is the LatAm country with the most significant number of top IT outsourcing companies in Latin America. It is on track to provide its tech industry with the talent it needs to meet growing demand with a strong flow of qualified graduates. For example, the state of Jalisco is building a reputation for its tech smarts, with 85,000 students graduating each year from its 12 universities.
Brazil
Brazil is the richest destination for IT outsourcing in LatAm in terms of the talent pool. It has the largest population in the region and the most significant pool of experts. Brazil's technology sector is growing rapidly, as it is fueled by strong IT higher-education programs that produce over 100,000 graduates annually. The city of Florianópolis is frequently called "Brazil's Silicon Valley" because of the number of universities and research institutes that produce talent in both software and hardware.
Argentina
This country you can choose for outsourcing to LatAm houses the region's second-largest number of tech companies. Moreover, it is home to the fourth-largest tech talent pool in the whole region. As a result of government-supported free higher-education programs, the country consistently ranks among the most educated ones, with high rates of literacy and English proficiency. Take a look at some numbers that represent this hub.
Read more about outsourcing software development to Argentina
Benefits of outsourcing to Latin America
Although IT outsourcing to Latin America is not new, North American businesses have largely overlooked this destination due to the popularity of China and India. Here's what Latin America can offer when it comes to outsourcing:
1. Full workday overlap with US time zones to facilitate real-time collaboration
Outsourcing to overseas destinations is often associated with considerable communication delays resulting from differences in time zones. Working with tech experts in Asia has been a common cost-reduction solution for over two decades. However, it has also been inconvenient for businesses that require perfect and on-time communication. Partnering with outsourcing companies in Latin America eliminates that problem, as the time zones across South America coincide with the time zones across North America almost perfectly.
2. Accelerated development time
By cutting recruitment time and eliminating communication delays, you can accelerate the development speed of your project. And with a reliable partner that has a track record of delivering projects successfully, you are guaranteed to speed up your time-to-market.
Moreover, proximity for travel and no jet lag allows easy face-to-face visits with your software development team that can also significantly reduce the development time.
3. Reduced dependence on established outsourcing hubs
As we have already mentioned, India has dominated the outsourcing market for decades. Now you have access to a wide array of outsourcing locations worldwide where you can find optimal professionals for your project. In the 2010s, the global tech industry has seen the rise in popularity of numerous outsourcing hubs in Eastern Europe. In the 2020s, more US-based businesses turning their eyes toward Latin America.
Why choose N-iX as your IT outsourcing company in Latin America?
N-iX is a reliable global engineering vendor with proven experience in software development for manufacturing, logistics, healthcare, agriculture, fintech, telecommunications, and other industries.
With over 20+ years on the market, N-iX has opened its offices throughout Europe, including Poland, Bulgaria, Sweden, Malta, as well as in Latin America.
The vendor's specialists are skilled in cloud solutions development, business intelligence, big data and data analytics, IoT, embedded systems implementation, and more.
International enterprises such as Fluke, Gogo, Currencycloud, and many Fortune 500 companies are among our clients.
The company adheres to international cybersecurity standards, including PCI DSS, GDPR, ISO 27001:2013, and ISO 9001:2015.
N-iX has earned industry recognition: the vendor appeared among the global best engineering providers in the CRN Fast Growth 150 List, IAOP Global Outsourcing 100, and many other rankings.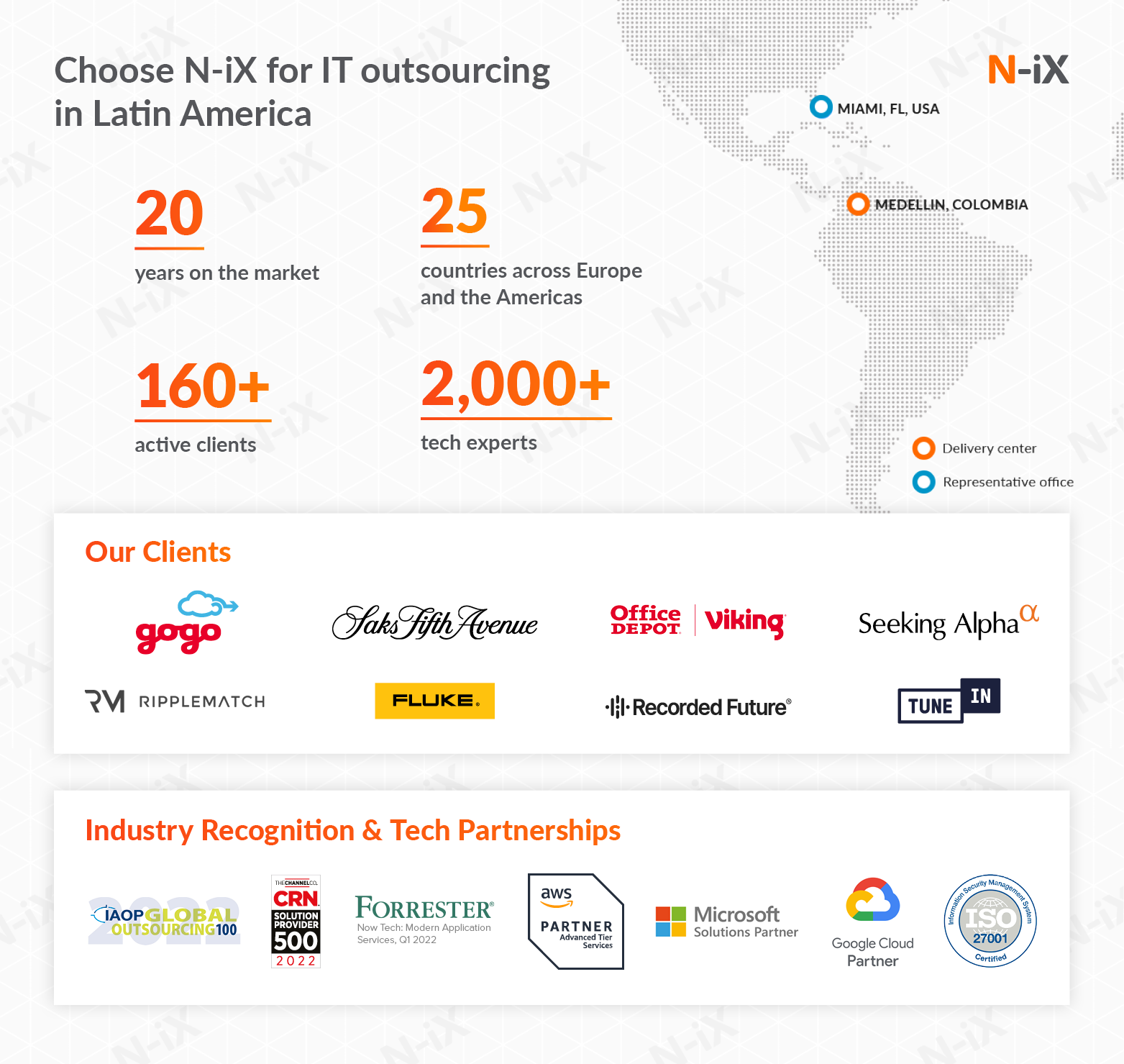 Have a question?
Speak to an expert
Erika Gutierrez Cardenas
Location delivery director @ N-iX Colombia
---