Lviv IT Arena, a conference organized by Lviv IT Cluster on October 2-4, brought together more than 1400 IT-professionals from 20 countries to share their experience and discuss the latest tech trends. A number of visitors coming this year exceeded organizers expectations and reached the venue maximum capacity turning Lviv IT Arena into a largest industry event in Ukraine.
For the next three days, software developers, designers, project managers, investors and entrepreneurs were invited to attend three discussion streams called Product, Technology and Business, listen to over 100 speeches and take part in 10 workshops dedicated to sales, customer relations, legal aspects of establishing company in the US, agile project management and object-oriented system design.
One of the panel discussions gathered founders and CEOs of regional IT-clusters from Kharkiv, Dnipropetrovsk, Cherkasy, Odessa, Lutsk and Lviv. During the session they discussed the cooperation between IT and regional government and agreed on closer cooperation, mutual support and a joint projects to promote Ukrainian IT.
Lviv IT Arena 2015 was attended by visitors from the US, Belgium, Germany, Spain, England, Estonia, Poland, Russia, Belarus and of course from different parts of Ukraine. Among the invited speakers there were representatives of well-known global companies such as Facebook, FitBit, HP, Amazon, Mail.ru, Epson and Ukrainian companies such as SoftServe, Eleks, EPAM, Luxoft and N-iX.
This year's event topic was the Internet of Things and many speakers were focusing on the future of internet-connected devices and their impact on our everyday life.
On October 2-3, all conference participants were welcomed to attend Hi-Tech Expo which was held in Lviv for the first time. Expo guests were able to see military and civil drones, 3D printers, robots, try VR glasses and meet several Ukrainian startups developing innovative solutions such as lucid dreams catcher or smart fitness gear.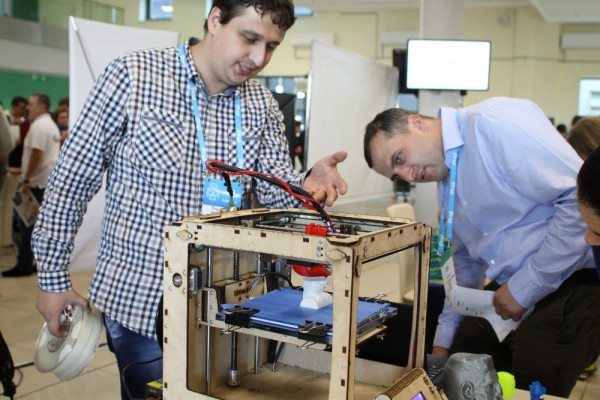 Conference organizers offered plenty of entertainment and networking opportunities such as startups competitions, Tesla car racing, daily afterparties and TNMK concert during the closing ceremony.
The second Lviv IT Arena event not only created a successful platform to discuss latest trends in IT business, product and technology development, but also proved Lviv as a leading IT destination in Ukraine.
---