Every year tech world gathers in Dublin at the Web Summit to meet and learn from the people changing the world, faster and further than any generation in history. The conference is Europe's largest tech event with a center topic of internet technology. As banks and other companies get ready to transform digitally, newcomers are ready to disrupt the existing business models. This year it will bring together 20,000+ attendees, including companies from the Fortune 500, exciting world's startups, investors and media from 90+ countries across the globe from November 4-6. Web Summit supports successful startups worldwide through their startup programs, such as Alpha Program, a competition for early stage startups. Last year's program included Nest, Stripe, Coursera, Vine and others, who managed to grow significantly after the Summit. This year the Alpha Program includes 12 finalists from Ukraine.
ThickButtons
Industry Sector: Developers
Website: thickbuttons.com
Elevator Pitch: ThickButtons is a touchscreen keyboard for smartphones that allows to type more accurately by enlarging the keys for the users.
Description: ThickButtons patented technology enlarges and highlights keys, which you will most likely press next and shrinks the remaining ones, reducing the chance of making an error (especially on touchscreen phones with small and medium-sized screens).
Concepter
Industry Sector: Hardware
Website: concepter.co
Elevator Pitch: Tech company that creates innovative gadgets and software. In 6 month they entered the global market, including Amazon and Apple Store.
Description: Concepter is a consumer technology company, that creates innovative gadgets and software in the field of mobile technology. First product was the iblazr – the world`s first smart portable LED-flash for smartphones, tablets and digital cameras.
Dressboom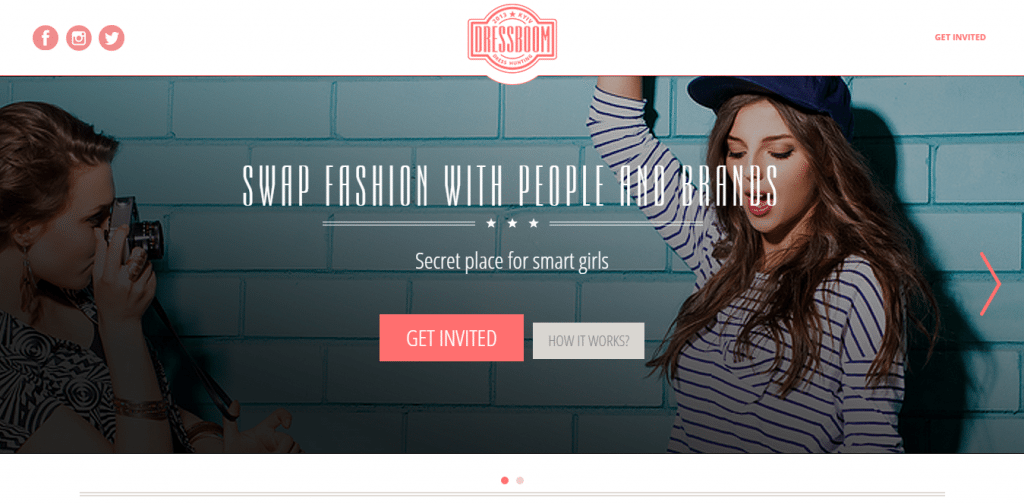 Industry Sector: Ecommerce
Website: http://dressboom.com
Elevator Pitch: Dressboom is a secret place, where girls swap fashion with each other and brands. Companies use it to promote brands and increase sales.
Description: We resolve eternal "I have nothing to put on" problem. Dressboom is fashion swapping platform, girls use to get new outfit and realease wardrobes. We know what you wore last summer and much more, so Dressboom is a powerfull marketing tool for brands.
Ecoisme
Industry Sector: Enterprise
Website: ecois.me
Elevator Pitch: EcoisMe is a B2B2C service that helps people to monitor their energy consumption and helps utility providers to reduce power peaks.
Description: EcoisMe is a B2B2C service that provides easy, low-cost and effective solution for saving energy for householders, and reduces power peaks for utility providers. The system analyzes power consumption and spectrum to single out every device.
Funtick
Industry Sector: Ecommerce
Website: http://funtick.club
Elevator Pitch: A social platform for organizing, sharing, selling and discussing events.
Description: Funtick will help people to organize or attend any type of events: from master-class at home to rock festival at stadium. No organizational skills will be required: we will help them to find a good place and all the necessary inventory for the event.
Hitlab

Industry Sector: Lifestyle
Website: http://gastrolab.tv
Elevator Pitch: Every geek loves food porn. Now we provide you a way to act. Meet Gastrolab, food porn with real action.
Description: GastroLab is the best way to film, watch and share food in motion. Create short and beautiful video-recipes in a quick and fun way! Share your videos, create your own cooking show, become a real chef! Oh, did we mention it's free?
Hotelinpocket
Industry Sector: Travel
Website: http://hotelinpocket.com
Elevator Pitch: We create a platofrm for rapid development of mobile apps for hotels. Apps are a great tool for marketing, guests communication and service.
Description: The platform for rapid development of mobile apps for hotels. Apps is a good marketing tool to improve the service and build a communication channel with hotel visitors. The business model is the annual subscription based on modules chosen by hotel.
izzly
Industry Sector: Ecommerce
Website: http://izzly.co/
Elevator Pitch: What do you get if mix Siri + Zillow? Meet izzly – a Voice Recognition AI for Real Estate that can find you any Housing or Office you need!
Description: Searching for House online is exhausting – sometimes it takes months to find the one that totally satisfies you. We see the solution in using Voice Recognition. It allows system to totally understand User's request and to find the house much faster.
Publicfast
Industry Sector: Ecommerce
Website: publicfast.com
Elevator Pitch: Platform for promotion through opinion leaders' social reach. Connecting socially active people on social media with their favorite brands.
Description: The place where brands and influencers get together to create successful influence marketing campaigns. It is beneficial for both: brands messages are not perceived as advertising & reach people while influencers grow their audience and get paid.
Ringostat
Industry Sector: Ecommerce
Website: ringostat.com
Elevator Pitch: Intelligent Call tracking and VirtualPBX SaaS. Our mission is to reduce wasted money by maximizing advertising efficiency for our clients.
Description: We are solving to issues for our clients: 1) Analytics conversion to calls of di?erent advertising channels. 2) Monitoring of processing phone calls for further analysis in order to improve business processes.
Travvi
Industry Sector: Social
Website: http://travvi.com
Elevator Pitch: Travvi – is a Social Network of New Generation, specialized on hobbies, travel, leisure and events.
Description: Travvi – is a social network of new generation focused on events, places and preferences. Its a convenient tool to choose and plan leisure time, hobbies & travelling via innovative calendar, hobbies catalog, contact list, and catalog of sights.
Finova
Industry Sector: Ecommerce
Website: http://finova.com.ua
Elevator Pitch: The set of interconnected online landing pages aimed to bring new clients to official auto dealers, financial and insurance companies.
Description: Best offers of new cars, their finance and insurance for clients. We generate sales for official auto dealers. Clients get the information on the market's best deals. Dealers are presented to their potential clients.
The material about Ukrainian early stage startups is based on companies' profiles from the Web Summit website.
---